Premier League remains opposed to winter World Cup, despite calls to switch 2022 tournament in Qatar
Summer heats in Qatar pose huge problems for football's greatest tournament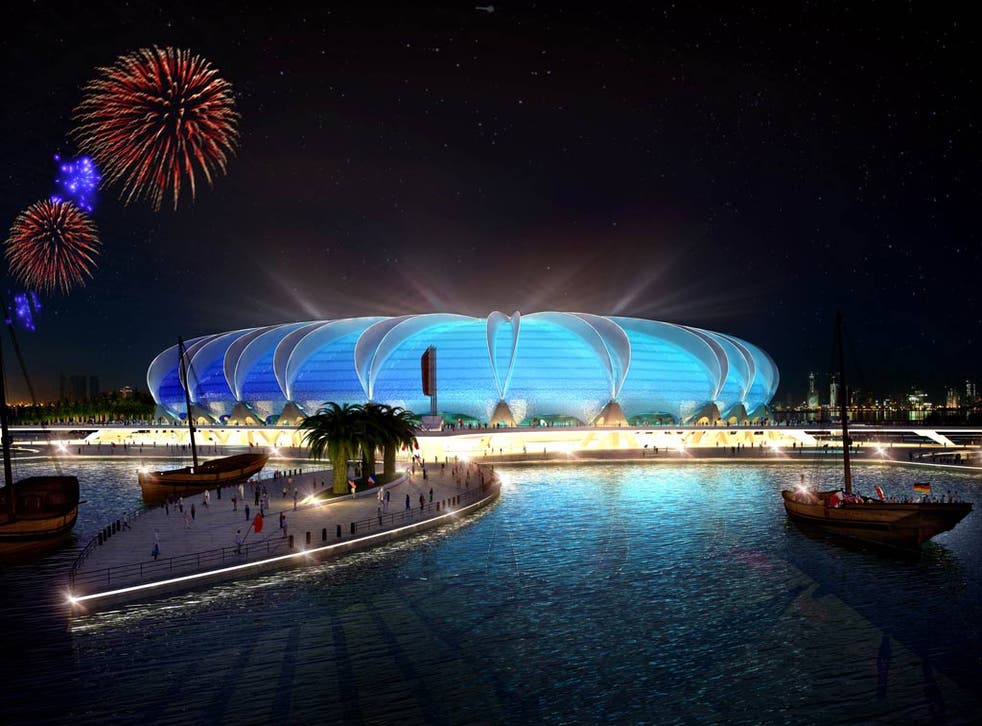 The Premier League today underlined its steadfast opposition to the prospect of the 2022 World Cup in Qatar being switched to the winter despite Sir Dave Richards, the league's chairman, suggesting "common sense would prevail" and the finals moved from their traditional summer date.
Richards, speaking at an event in Qatar, claimed that while at present the Premier League – along with the rest of Europe's leading clubs – remain opposed to any tinkering with the established calendar that may well change by the time the 2022 finals come around given due notice.
Richards, who steps down as the league's chairman in June, said: "I think they will play [the World Cup] at a time that is proper for football but they will have to speak to the leagues in Europe. They will have to agree proper times when we can start and finish.
"At the moment it has a tremendous amount of implications for Europe. For us, at this minute, the answer is 'no'. But, if we take a proper view, we have to find a way to have a winter spell where we don't play and I think common sense will prevail.
"We've got FIFA now saying that medical people are saying that they can't play in Qatar in the summer because of the heat, which is probably right. I think over the next few years, things will change and they will come to a compromise."
The Premier League responded to their chairman's words with a statement. It read: "The Premier League's view remains unchanged. We are opposed to the concept of a winter World Cup for very obvious practical reasons that would impact on all of European domestic football."
Support for a switch to the winter has been growing in recent months. Jim Boyce, Britain's Fifa vice president, added his voice to those who believe it will happen, while Jerome Valcke, the world governing body's general secretary, has previously raised the prospect for medical reasons. Daytime temperatures during the Qatari summer can reach 45c.
Boyce said: "The World Cup is the greatest event in football and from a spectator point of view it has to be played at a time of year when people can enjoy it in comfort. People I know who live in Qatar say it would be very uncomfortable for the fans. There is also a medical and health concern for both players and spectators and if it is going to be safer to play it in January instead of July then I would be in favour of that.
"Many other countries already have a winter break so for them it should not be too problematic. England is probably the main country where there is no winter break but I believe that even there if they are given enough notice then for just one season it should be possible."
The likelihood of a winter World Cup remains though some way from reality given the strong opposition offered by Europe's leading leagues and clubs. It would entail up to a 60-day interruption of their domestic seasons – much longer than any winter break. If Sepp Blatter, as he has hinted recently, is to run again for the Fifa presidency, and win it, it makes the prospect even less likely. Michel Platini, Uefa's president and the biggest supporter of a switch, is likely to run in the next Fifa election but he does not have wide support outside Europe.
This is not the first time Richards has gone off message while on a trip to Qatar. A year ago he accused Fifa and Uefa of stealing football from England before stumbling into a water feature at a reception in a Doha hotel.
Join our new commenting forum
Join thought-provoking conversations, follow other Independent readers and see their replies