As it happened
ended
1545504066
Real Madrid win Club World Cup after comfortable victory over Al Ain
Latest action from the Club World Cup final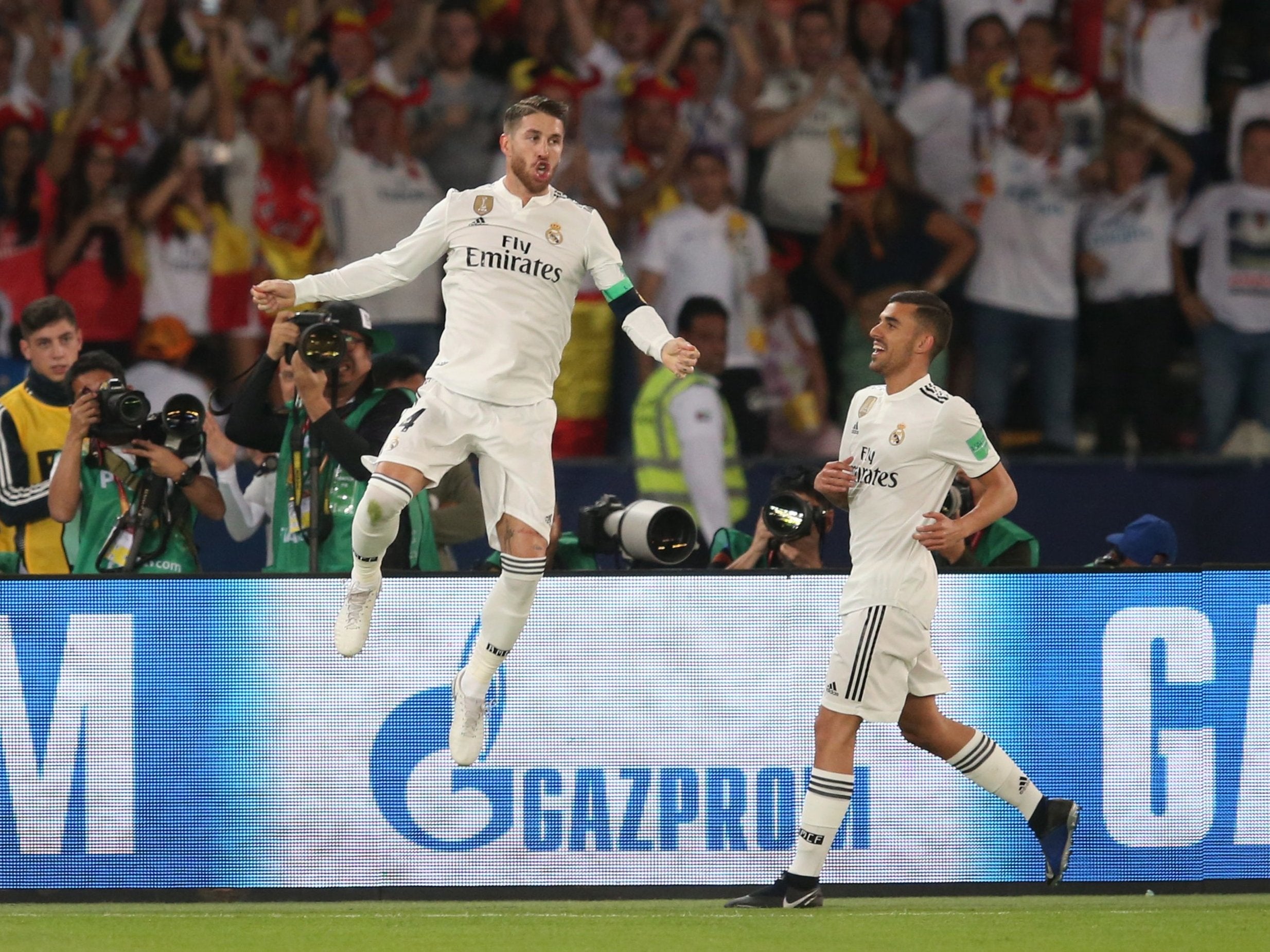 Real Madrid eased to a 4-1 win over Al Ain to claim a fourth Club World Cup on Saturday.
Ballon d'Or winner Luka Modric and Marcos Llorente scored from outside the area, and Sergio Ramos added a late goal to lead the European champions to the world title.
Madrid, who have won the last three Champions Leagues, also won the Club World Cup in 2014, 2016, and 2017.
Please allow a moment for the blog to load
1545492878
Welcome to our coverage of the Club World Cup final between Real Madrid and Al Ain in Abu Dhabi.
The Spanish side are looking for their third consecutive world title, but they are up against a side who have already caused one shock in this year's competition by knocking out Copa Libertadores winners River Plate in the semi-final.
However, as shown below, Gareth Bale starts and has scored six goals in five Club World Cup games, which includes the hat-trick he scored in the semi-finals against Kashima Antlers.
Kick-off in just over 50 minutes time. 
Kishan Vaghela
22 December 2018 15:34
1545493570
Plenty of rumours have gone around about just how content Gareth Bale is with the European Champions, and having sung his praises in midweek following his hattrick, it seems Santiago Solari's relationship with the Welshman has reached a rather interesting stage.
Kishan Vaghela
22 December 2018 15:46
1545493759
  ↵Of course, Bale seems to be just as happy on the pitch as he is off it. Following his three goals in midweek he spoke about how he feels the departure of one of the icons of the club this century leaving has benefited him.
Kishan Vaghela
22 December 2018 15:49
1545494282
Marca's description of the relationship between Bale and Solari is arguably not the most wonderfully strange thing to have come out of the pre-match build up.
Al Ain coach Zoran Mamic described the final as a race between a Smart car and a Mercedes Formula One car. However, the Croatian didn't rule out an upset.
""Real Madrid is the biggest club there is, but sometimes a Smart car can beat a Mercedes," said the Croatian.
​"We want to make the final very complicated for Real Madrid. We hope that whoever is in charge of the stadium makes their goal smaller. Real Madrid is the big favourite but sometimes machines don't work as well as you expect them to."
Kishan Vaghela
22 December 2018 15:58
1545494720
Mamic will certainly hope that the Spanish machine is not as well oiled as it has been in the past, because history is certainly on the side of the European Champions.
Al Ain became just the second Arabic team to qualify for the final of the Club World Cup since 2005, which was when the current format was introduced.
The first came in 2013, when Raja Casablanca beat an Atletico Mineiro side featuring a certain Ronaldinho in the semi-finals.
However, the Moroccan outfit were beaten 2-0 by Bayern Munich. Is there a similar fate in store for Al Ain against another European superpower, who are aiming for their seventh overall world title?
Find out in just over 20 minutes time.
Kishan Vaghela
22 December 2018 16:05
1545494931
Here is the Al Ain line up for today's big game. 
Kishan Vaghela
22 December 2018 16:08
1545495124
Looks like their players aren't the only ones with unique vision....
Kishan Vaghela
22 December 2018 16:12
1545495923
Real Madrid beat Gremio 1-0 last year to win their second consecutive Club World Cup. No team has ever won it three times in a row. Another day of history for the world's most historical club then? The players are on their way out.......
Kishan Vaghela
22 December 2018 16:25
1545496244
One is already a world national champion. Will both now become club world champions? 
Kishan Vaghela
22 December 2018 16:30
Join our commenting forum
Join thought-provoking conversations, follow other Independent readers and see their replies