Sam Allardyce: An exercise in avaricious bragging - the FA have to part company with England boss Allardyce
The job requires a 21st century leader and are instead stuck in the 1980s with an individual who has revealed himself to be an unreconstructed, avaricious braggart
Ian Herbert
Chief Sportswriter
Tuesday 27 September 2016 08:38 Comments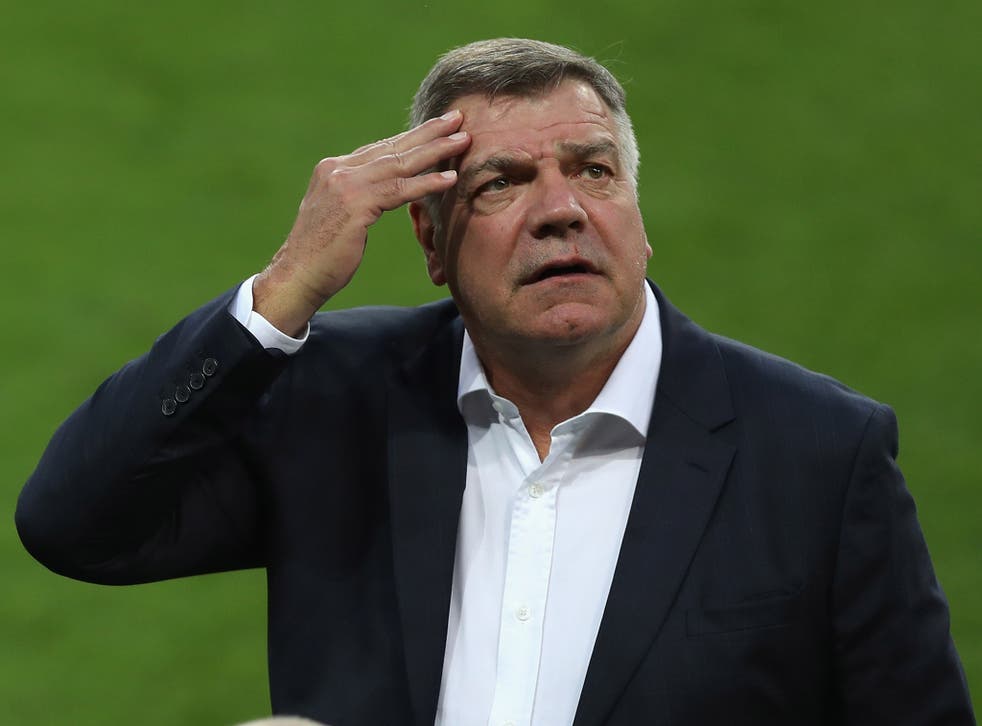 The Football Association's response to Pep Guardiola's representatives when he expressed interest in the England job four years ago always did seem perverse. But with each passing chapter in the car crash story of the England national football team, their disinclination even to meet him is enough to make you bang your head against the nearest brick wall.
Guardiola was 41 at the time, had decided to leave Barcelona and thought he could improve England. The governing body had decided to go with an Englishman, who would be Roy Hodgson.
Their staggering lack of curiosity is worth raising again today because the taped conversations between two undercover Daily Telegraph reporters and Sam Allardyce, first in a Mayfair hotel and then last week in Manchester's Wings Restaurant, reveal how desperately the England team need the modernity and intelligence that such a manager would have brought.
Sam Allardyce England manager could face FA investigation
The job requires a 21st century leader and are instead stuck in the 1980s with an individual who has revealed himself to be an unreconstructed, avaricious braggart. What a desperate state of affairs.
The really difficult part of the conversation for Allardyce to explain away is his tacit approval of third party ownership which creates such gross potential for players to be manipulated that the Football Association and Uefa have banned it. "You can get around it," he boasts.
But it is his braggacicio – so excruciating that you want to cover your head with a restaurant table napkin in the way that Allardyce does during one of these meetings – which make him a laughing stock today, to the supreme and fatal detriment of the players who he will be asking to adhere to his commands in a week's time.
"Keynote speaking, that's what I'd be doing, keynote speaking. I'm a keynote speaker," Allardyce tells the reporters, sensing that he'll be trousering the £400,000 being talked about. "Doing meet and greets" is what Sam is all about, or so he says.
Sam Allardyce career in pictures

Show all 21
You didn't need to have been there to appreciate that Allardyce – with whom the FA had just agreed £3m a year plus bonuses - and his agent Mark Curtis were like bees around the honey pot as the wine flowed in Mayfair. Curtis goes all fake casual as he tossed out six figure numbers, thinking that they might just stick. "I'd want a million pound but I mean you're not going to pay that," he says. And later: "You pay first class travel, and a hotel. And I would have thought, a hundred thousand pounds."
Subsequent to this, Curtis unilaterally decided the agreed fee had been £150,000. The money-grabbing is excruciating beyond words. Such is the company that the emblem of our national team keeps.
Our 'keynote speaker' Sam kills himself with his own words, too. There are his dull, cheap cracks about his predecessor 'Woy'; his crashing indiscretion about the Duke of Cambridge not turning up for an FA event; and his analysis of another member of the Royal Family. "Harry's the helicopter man. Harry's a naughty boy. He's a very naughty boy, very naughty. He shows his bottom and all sorts…" Please pass the table napkin again.
There is his willingness to offer open comment on Joe Hart, Alex Oxlade-Chamberlain and Marcus Rashford to individuals in whose company he had been for less than an hour. And, perhaps as grim as anything, there is a disturbingly hazy grasp of detail. Gary Neville, he says, told Roy Hodgson about "when to bring Rushford on" One of his advisers corrects him: "Rashford."
When Hodgson left this summer, spitting fury and victimhood in a valedictory press conference which was a case study in humiliation, Allardyce appeared to represent a new, more decisive, less muddled form of management for the England team. That was briefly something to celebrate. But then – before he'd managed the team through 90 minutes - the moneymen knocked and he salivated and spewed out his not so imaginative secrets on England v Iceland to complete strangers, for all the world to see…
"So I'd have come in at half time and gone, right: bang bang bang bang bang. And then if that didn't work I'd have gone bang, substitute, substitute, know what I mean?"
Allardyce's credibility, with his players, employers and the nation, is shot to pieces. The FA should part company with him now and write it off to experience. "Bang bang bang bang bang… substitute, substitute," as he might say.
Register for free to continue reading
Registration is a free and easy way to support our truly independent journalism
By registering, you will also enjoy limited access to Premium articles, exclusive newsletters, commenting, and virtual events with our leading journalists
Already have an account? sign in
Join our new commenting forum
Join thought-provoking conversations, follow other Independent readers and see their replies