Spain's talent pool shows unfounded depth as La Rojita maintain their 100 per cent record
Shuffling the pack did not penalise the Spanish's Group B endeavours, as a long bus journey, heavy rotation, a change in weather and a different stadium ended with the same predictable conclusion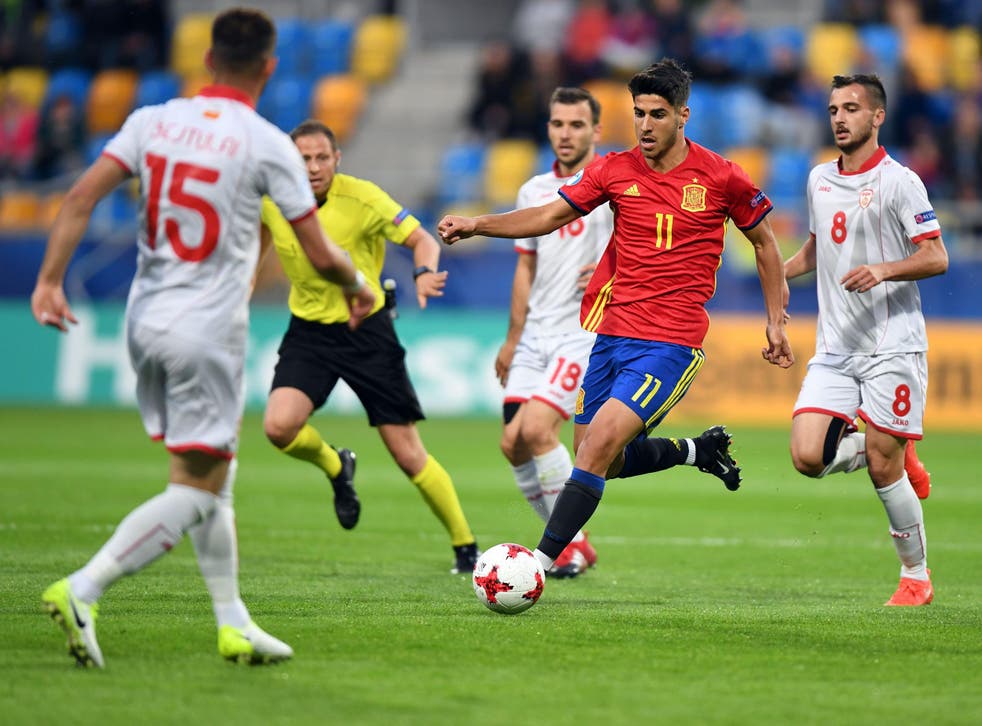 Plenty had been made of Spain's performances at the under-21 European Championship. The wonders of Marco Asensio, the big-game mentality of Saul Niguez, the ever-reliable unsung talents of Jesus Vallejo, Kepa and Marcos Llorente. La Rojita went out again on Friday evening, this time against Serbia in bleak conditions in Bydgoszcz, but the end result toed the party line.
Except there was something different. The kit still bore the same crest, the touchline still sported the same manager, but the players who spaced themselves out diligently in formation as the referee put the whistle to his lips were different. Entirely different.
Eleven changes, was the outstanding figure. Eleven. Spain had travelled across mainland Europe with a 23-man squad in tow, and they were going to go a long way towards using the entire group in just three group stage games alone. A hard-fought win, one where the second string enjoyed a strong first half but lost their direction in the second against the scorned 10 men of Serbia.
Depth was one of the important factors behind Real Madrid's domestic league triumph, as Zinedine Zidane was able to call upon quality reserve players during a congested period of the season, allowing for his stars to recuperate properly. Head coach Albert Celades has the same luxury, one which became apparent as captain Gerard Deulofeu and Marco Asensio jogged gently around the outskirts of Spain's training session just a day prior to match day three.
Mikel Merino, who would normally ply his trade in central midfield, found himself deployed at centre back after a difficult year of few opportunities with Borussia Dortmund. Goalkeeper Pau Lopez, who displayed his English skills at the pre-match press conference, arrives after a season on the bench with Tottenham.
Real Sociedad's Alvaro Odriozola featured at right back, after being one of LaLiga's revelations, alongside inexperienced Sevilla defender Diego Gonzalez. At this youth tournament, each player is arriving at a different stage of their first-team development, with each as deserving of an opportunity as the next.
Valencia's brightest hope Carlos Soler started in midfield, to the delight of his family. They had travelled to both Gdansk and Gdynia to witness his first under-21 cap, but had previously only had the pleasure of watching him warm up and then anticlimactically back down again post-match once his teammates had done their job against Macedonia and Portugal.
Villarreal playmaker Rodri Hernandez, who was on holiday just two weeks earlier, and Real Madrid forward Borja Mayoral got their first minutes of the tournament, as did Real Sociedad forward Mikel Oyarzabal. Regular substitute Inaki Williams was deployed from the off. In total, the starting line-up made 220 top-flight appearances last season between them.
Six debuts meant that it was not a vintage performance, but the ability to still fend off a hardworking opponent was striking. Five of their number will be eligible for the next under-21 European Championship, but Celades knows that several could be fast tracked to the senior team with the upcoming World Cup in mind. This was a chance to bookmark their progress.
"We have some players that can play with the next generation, but we are focusing on this one, we put the team together to play here," Celades explained post-match.
"We didn't pay attention to the ages of players, we just brought the players with us that we think can help us to win games. The age of the players is not important."
Benfica winger Andrija Zivkovic provided the bright spark for Serbia, who had their fair share of good chances. Pau Lopez was even forced to make a fingertip save late on. It was not a classy win, but rather a showcase of how La Rojita can be competitive with what they deem to be their entirely reserve XI. It is a confidence that few nations in the world can confess to having.
Denis Suarez netted the winning goal, after an intelligent assist from Alvaro Odriozola, which proved enough to earn him a man-of-the-match award. It was a game of nearly moments, one in which 11 new teammates tried to make sense of the melting pot they had been thrown into. They came out of the ordeal perhaps a little shaken and buffeted by the storm, but all the stronger for it.
It was a statement. One with the future in mind, not only as a short-term rest for their stars, but to highlight that Spain have a golden generation.
Pablo Fornals, who enjoyed a brilliant season with Malaga, did not even make the cut. Neither did Levante-owned Victor Camarasa, who was part of Alaves' surprise package under Mauricio Pellegrino. The talent pool runs deeper than the contingent currently in Poland.
If it's not broken, don't fix it. That is the usual clichéd mantra. It is not necessarily, however, one that Celades has to heed by.
Register for free to continue reading
Registration is a free and easy way to support our truly independent journalism
By registering, you will also enjoy limited access to Premium articles, exclusive newsletters, commenting, and virtual events with our leading journalists
Already have an account? sign in
Register for free to continue reading
Registration is a free and easy way to support our truly independent journalism
By registering, you will also enjoy limited access to Premium articles, exclusive newsletters, commenting, and virtual events with our leading journalists
Already have an account? sign in
Join our new commenting forum
Join thought-provoking conversations, follow other Independent readers and see their replies