Today at Euro 2012: Sweden v France
Tuesday 19 June 2012 19:34 Comments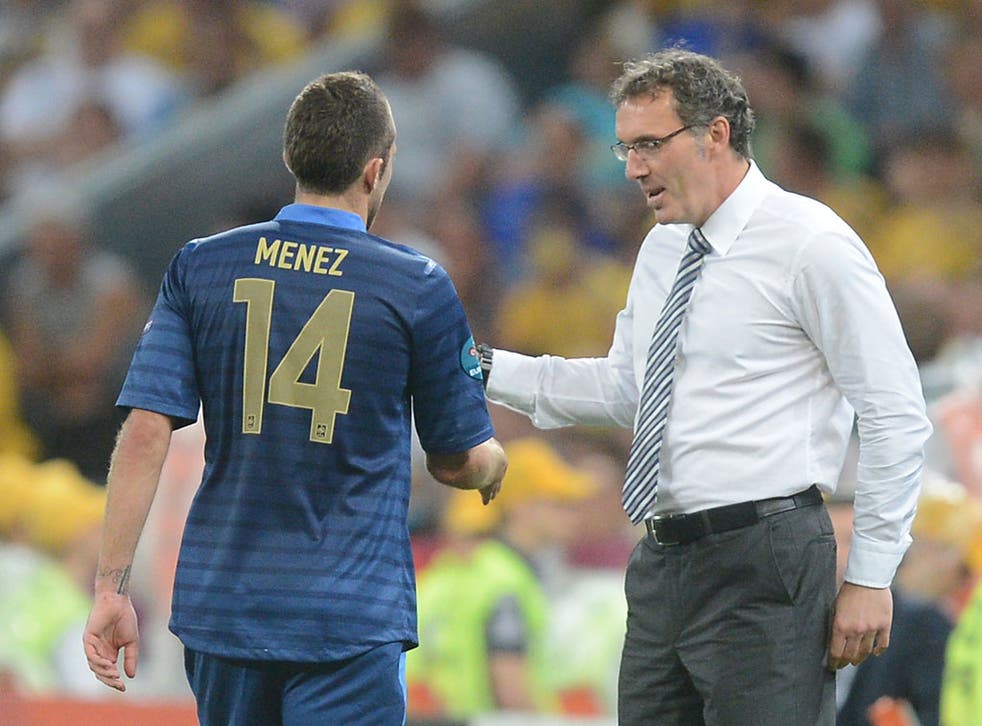 France can right the wrongs of their World Cup capitulation in South Africa two years ago against Sweden in Group D this evening.
Midfielder Samri Nasri said the squad are desperate to secure the point they need to reach the knockout stages for the supporters, laying to rest the ego-drenched campaign of 2010.
"Our fans have not forgiven us yet but we will do everything to change that," Nasri said.
"In France the image of the national team was really bad so we have tried hard for the past two years to change that and we are 23 games unbeaten now."
Yohan Cabaye said Laurent Blanc's side want to beat the Swedes to avoid reigning champions Spain in the next round. "We'll have to give everything against Sweden so that we win and stay in first place," the Newcastle United midfielder said.
Cabaye is likely to shake off a thigh niggle that forced him off against Ukraine while Yann M'Vila could make his first start of the competition in place of Alou Diarra. It is a straight race between Gael Clichy, who played against Ukraine, and Patrice Evra, who faced England, to start at left-back.
The 3-2 defeat to England spelt the end for Sweden, but even though they are going home, captain Zlatan Ibrahimovic is aiming to upset the French.
"We'll be playing for our honour. We want to take some points home with us," he said.
"To motivate ourselves for the France game isn't a problem. We have one more match to do something good. France has to win, we'll just go out and play."
The match is likely to be the last at international level for the likes of Olof Mellberg and Anders Svensson, with coach Erik Hamren hinting at shuffling the old guard ahead of the World Cup qualifying campaign.
Probable teams
Sweden: 1 ISAKSSON, 2 LUSTIG, 3 MELLBERG*, 4 GRANQVIST, 5 M OLSSON, 8 SVENSSON*, 9 KALLSTROM*, 7 LARSSON, 10 IBRAHIMOVIC, 6 ELM*, 11 ELMANDER
France: 1 LLORIS, 22 CLICHY, 5 MEXES*, 4 RAMI, 2 DEBUCHY *, 6 CABAYE, 18 DIARRA, 7 RIBERY, 11 NASRI, 14 MENEZ*, 10 BENZEMA
*misses next match if booked
Kick-off 7.45pm, Kiev (ITV 4) Ref P Proenca (Por) Odds: Sweden 5-1 draw 13-5 France 4-6.
Player to watch: Jeremy Menez
After a slow, rusty display ran into England's two banks of four, France changed and won well against Ukraine. Florent Malouda was dropped and replaced by Jeremy Menez, who brought instinctive movement, attacking edge and the opening goal in a 2-0 win.
Mnez's impact was obvious. He was France's most threatening player all afternoon, bursting into the box from the right-hand side of Laurent Blanc's 4-2-3-1. Before he scored he missed more than one good chance. Ukraine never learnt to shackle his runs into the box, and it cost them.
What made Menezeven more impressive was that this stormy afternoon in Donetsk was just 10 days after his first international goal. In France's confident 4-0 dismissal of Estonia in Le Mans, Menez came on late but made his uses obvious: finding enough chances for himself, and eventually taking one.
If the emergence of Menez among Samir Nasri, Karim Benzema and Hatem Ben Arfa is a surprise, it should not be. For years Menez has been seen as their peer, part of the "1987 generation" which won the European Under-17 Championship in 2004. And like those other three, he was seen as risking the waste of his gifts, at least until this season.
Menez, who has recently turned 25, is already at his fourth senior club. He started at Sochaux, before moving to Monaco and from there to Roma. It was only in August 2010 that Laurent Blanc, trying to build a new France out of the chaotic demise of Raymond Domenech, called up Menez for the first time. He played through the qualification for Euro 2012, and showed enough to be brought back to France last summer.
Paris Saint-Germain have bought many good players since their Qatari takeover, and Menez was one of them in 2011. But he was overshadowed in profile by another import from Italy, as Javier Pastore arrived from Palermo for €40 million. PSG, of course, did not win Ligue1 but Menez learned enough in his three Serie A seaons to show that he deserves to be retained, regardless of whoever else Paris buy. He has the Champions League to light up next season, but for now the European Championship will do.
Register for free to continue reading
Registration is a free and easy way to support our truly independent journalism
By registering, you will also enjoy limited access to Premium articles, exclusive newsletters, commenting, and virtual events with our leading journalists
Already have an account? sign in
Join our new commenting forum
Join thought-provoking conversations, follow other Independent readers and see their replies