Uninspired England left undone by Morgan
England Women 0 United States Women 1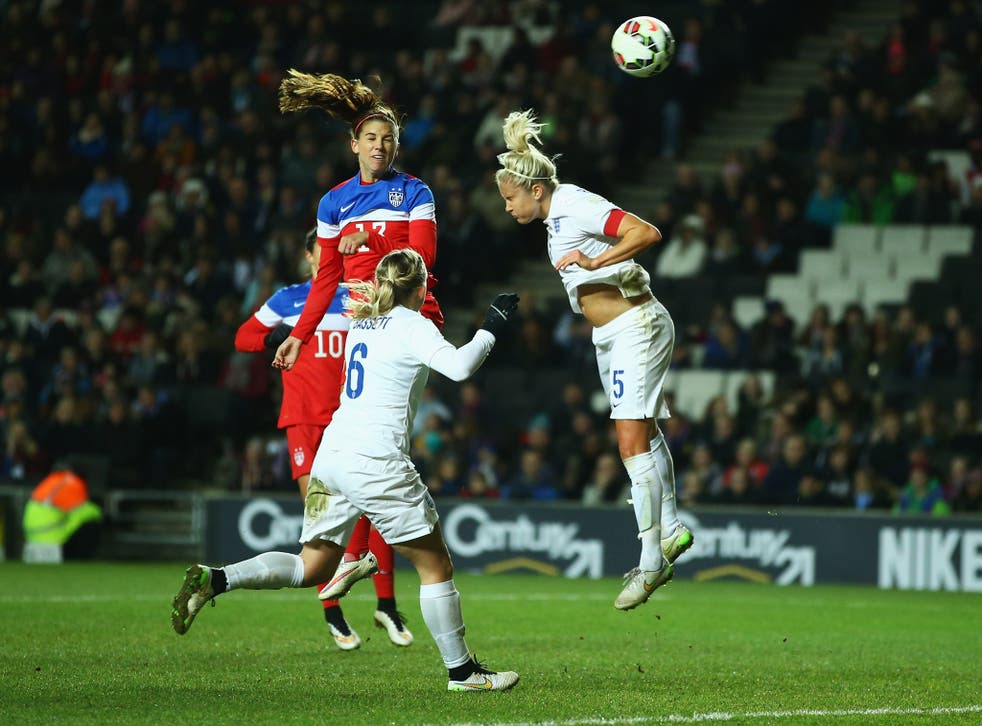 The Women's World Cup trophy was on show here ahead of this disappointing game, neither side showing that they might lift the trophy in Canada.
England at least looked a more solid unit than they had against Germany in November, when they were comprehensively beaten 3-0 at Wembley.
This was only their third loss in 14 games under the head coach Mark Sampson, appointed 14 months ago, but the defeats have come against the world's best three teams – third-ranked France, top team Germany and now America, who were top for seven years before Germany went past them last month – and the gap between Sampson's team and the very best was again in evidence.
Below par though the US are at the moment, they still had the better of the game and won it through the striker Alex Morgan's 25th-minute goal. England were unfortunate, however, to have a 55th-minute equaliser ruled out for an incorrect offside call.
England started well enough, their 4-4-2 formation providing a stronger defensive base than the diamond midfield which so exposed the back four in November's defeat by Germany.
The Americans, coming off the back of a run of unusually poor results for the two times world champions – just one win and two defeats in their previous five games – pushed for an early goal but were comfortably held in check.
England likewise made little headway when they were able to attack, and neither side produced a shot on target until the American midfielder Morgan Brian's 21st-minute drive was blocked six yards off the line.
Four minutes later, however, the visitors went in front when the striker Alex Morgan, drifting in between two defenders to meet the midfielder Lauren Holiday's cross, headed home her 50th goal in 79 internationals.
Buoyed by their goal, the Americans pressed to double their advantage and grew increasingly dangerous towards half-time.
Holiday had a 25-yard free-kick saved by the goalkeeper Karen Bardsley, who then had to pull off a smart save from the right back Ali Krieger five minutes before half-time.
As the opening half went into stoppage time the England defence had to scramble away a couple of corners, and they were under pressure again in the early stages of the second half as the Americans pushed.
That gave England opportunities on the break, however, and in the 55th minute they were denied an equaliser by an incorrectly waved offside flag.
The striker Fran Kirby's 20-yard shot was pushed on to the bar by Ashlyn Harris, and as Kirby's striker turned in the rebound the offside flag went up – incorrectly, as TV replays proved.
England: Bardsley, A Scott, Stokes, Potter, Houghton, Bassett, Nobbs, J Scott, Taylor, Kirby, Carney.
USA: Harris, Krieger, Engen, Sauerbrunn, Klingenberg; Press, Brian, Holiday, Lloyd, Morgan, Wambach.
Join our new commenting forum
Join thought-provoking conversations, follow other Independent readers and see their replies