Wales vs Portugal Euro 2016: The world flocks to hear Chris Coleman, a manager who nearly threw his career away
Coleman is hot property after turning his career around via Spain, Greece and the Championship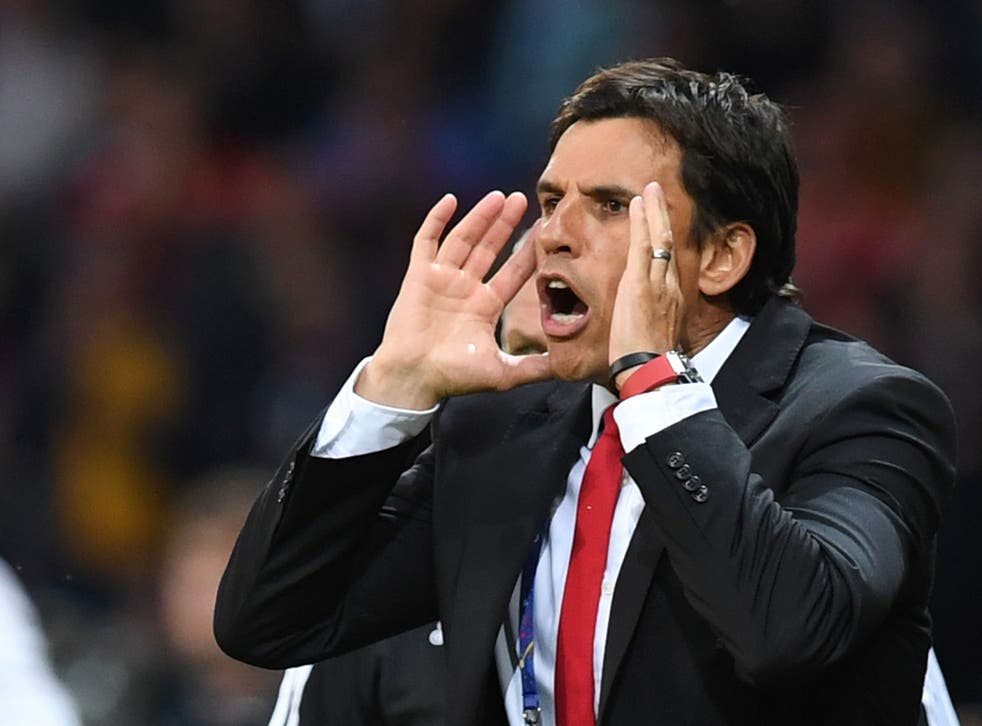 The crack in Chris Coleman's voice came when talk had turned to Gary Speed. Their friendship had been so open and easy that when Speed beat him to the Welsh manager's job in 2010 he rang Coleman, laughing, from the big leather chair in the office and told him: "It would have suited you just fine."
But the reasons for Coleman's emotions stretched way beyond the loss of Speed - a room-mate from their days in the squads of Mike Smith and Bobby Gould, who also shared his passion for playing the guitar. Suddenly on Tuesday afternoon, the whole world seemed to have packed into a press conference room wanting to hear Coleman's views on such diverse topics as Cristiano Ronaldo, Italian football, and the nuances of the 3-5-2. That took some adjusting to, considering that for very many months in these past 10 years so, no one had wanted to know Coleman's views on the price of fish, let alone football.
He did not let the moment pass. Coleman held court and enjoyed the moment, as he was entitled to do as after joining Terry Venables, Bobby Robson and Alf Ramsey on the list of British managers who have led a nation to an international tournament semi-final. But in keeping with the beautiful essence of this Welsh team's entire campaign, there was no little modesty and honesty from him. Coleman lived life to the maximum in his playing and early managerial days and he was not the only one who suffered the collateral damage.
It was at high speed that his Fulham playing career ended, in the wreckage of the Jaguar he wrapped around an iron fence in Surrey in January 2001. The emergency services considered amputating his leg at the scene and even now, 15 years, on the sight of the damage is shocking. The realisation that he had brought this fate on himself contributed to some very dark days. "I wouldn't say it was depression, but there were periods where it was quite dark and it lasted a while because I had been fighting for so long to try and get fit and battling with the doubts and fears," Coleman tells the journalist Chris Wathan in an interview for his book on the Wales journey, 'Together Stronger.'
And though when Mohammed Al Fayed installed him as Fulham manager there was initial success, steering the club to mid-table with such players as Edwin van der Sar, Louis Saha and Steed Malbranque, chaos continued to stalk him after the club was sold and he was sacked.
Coleman admitted on Tuesday that in the years that followed he had failed as a manager, though he did not even mention the calamity of his time at Real Sociedad. The ousting of the president who had appointed him didn't help there. Neither did Coleman blaming his late arrival for a press conference on his washing machine flooding the kitchen, only to be confronted with photographs in Marca of him apparently partying until the early hours of the morning.
"I have had to change quite a bit about myself and that is probably maturity as well," Coleman said last week. "When I was 32 I'd look back to when I was 20 and think, 'Why did I do that; that was stupid' and, equally now, I look back to when I was 32, 33 or 34 and think, 'I can't believe I did that…"
He had resigned within a season of arriving at Sociedad and then almost got his next club, Coventry City, relegated from the Championship. "It's hard, you know," Coleman said on Tuesday. "Especially as a manager. If you get it wrong, two jobs running getting it wrong it's hard to get a third one. That's generally the rule. I got it wrong at Coventry. I could give you sob stories but, if I'm honest, I should have done better. Should have done better. Then I was out of work for a year."
It was Sir Alex Ferguson, Coleman said, who had advised him to take "whatever came up," even when that was a job managing Larissa in the Second Division in Greece, in 2011. The club was bust and didn't even pay him – which only went to show how close any manager is to obscurity. "There's such passion in Greece," he reflected on Tuesday. "If you lose two or three on the bounce it's goodnight. I had that to contend with. What I didn't realise when I went there was I would be working for nothing because we never got paid."
With more of the candour which has been such an extraordinary foil to that England campaign which ended with the Roy Hodgson "I don't know why I'm here" press conference, Coleman admitted last week that for a time he was "getting worse" as a manager. "If you want to stay in just to kick about I think you actually get worse. When I decided to do everything I could to make myself better - and I had to make some serious choices - it made me improve."
The year he succeeded Speed seemed to be a pivotal moment when those unspecified choices about life were made. It began badly - with five straight defeats, including the 6-1 loss in Serbia that left him inclined to walk away. Ian Gwyn Hughes, the head of public affairs at the Football Association of Wales, and Kit Symons, his then assistant, helped persuade him not to. Another significant influence at that time was his girlfriend Charlotte Jackson, who is now his wife.
He and she became engaged that year and are now expecting their second child.
There is a sense that Coleman also struggled with the Speed legacy, asking "What would Speeds have done?" when needing to follow his own path. "He had a difficult start but since he's put his own stamp on the team he's been absolutely incredible," Gareth Bale recently reflected of Coleman. "He never leaves any stone unturned. The preparation is second to none. He initially wanted to try and not change too much, too soon. Obviously results did not go the right way. He changed it and it has paid massive dividends."
Football Association of Wales staff speak of the zeal with which Coleman has thrown himself into the many grassroots events which have formed an integral part of building a relationship between supporters and players. The route from his home in Winchester deep into mid-Wales is one he has become intimately familiar with. "He throws himself into these events," says the FAW's Gwyn Derfel, secretary of the League of Wales and a member of the association's backroom team at their Brittany base.
There is a real sense that the esprit de corps in this team is borne of the fact that players and manager have made a difficult journey together. "With international football at a tournament, there are a million different opinions on this, that and the other," Coleman said. "When you worry about what's being said, about people's opinions of you or the team, you quickly lose focus. Whether people say good or bad things, it's only every been about what we think of ourselves and each other. We believe in each other."
A Belgian journalist told Coleman on Tuesday that his own nation's players had considered his tactics to be excellent in Wales' 3-1 quarter-final win, and asked would he care to be the team's next manager. "I have to say, the Belgian players are obviously very wise," Coleman said, grinning, before embarking on a soliloquy about a manager only being as good as his players. "I'm lucky," he concluded – and you had to feel that he meant it.
Register for free to continue reading
Registration is a free and easy way to support our truly independent journalism
By registering, you will also enjoy limited access to Premium articles, exclusive newsletters, commenting, and virtual events with our leading journalists
Already have an account? sign in
Register for free to continue reading
Registration is a free and easy way to support our truly independent journalism
By registering, you will also enjoy limited access to Premium articles, exclusive newsletters, commenting, and virtual events with our leading journalists
Already have an account? sign in
Join our new commenting forum
Join thought-provoking conversations, follow other Independent readers and see their replies