Wilfried Zaha and Alex Iwobi deserve credit for turning down England chance - not condemnation
By choosing not to pursue an England career, players make themselves less marketable and therefore less rich. In what world does that represent the 'easy' way out?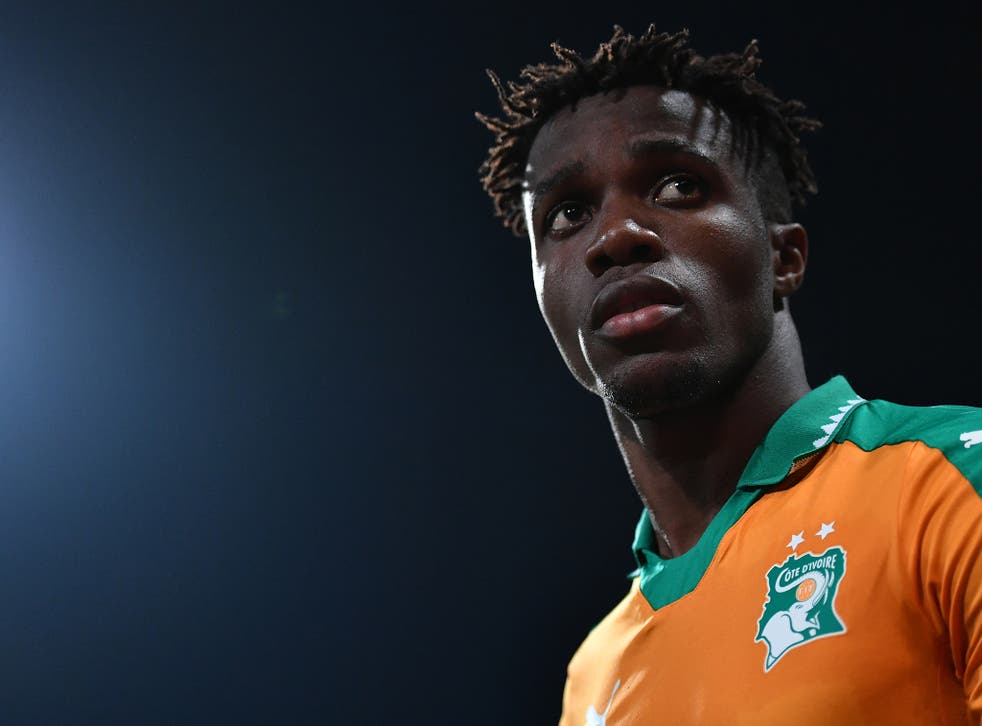 What exactly is "easy" about the taking the option of playing for Cote d'Ivoire rather than England? That is what Wilfried Zaha was accused by Danny Mills of doing this week, but no description of the life of playing for a Premier League club but an African country could be further from the truth.
This international break, England played in Dortmund and then at Wembley. They trained at St George's Park, in Hertfordshire and at Spurs' base in Enfield. Everything was immaculately prepared for the players, as it always is.
Cote d'Ivoire meanwhile had to fly to Krasnodar to play a lucrative friendly against Russia before playing Senegal in France, a match that was abandoned due to crowd trouble. Having stayed in Europe this time, this counted as a less complex international break for Zaha than it might have been.
Crowd trouble at Ivory Coast vs Senegal

Show all 12
Of course there is no international football until the end of the season but in June, Cote d'Ivoire resume their qualification campaign for the 2019 Africa Cup of Nations with a home game against Guinea, after their friendly against Holland in Rotterdam. England have their own away trips that week, but just to Glasgow and Paris.
The point of international football is not the money, especially for players on Premier League salaries. But the fact is that being an England international is a commercial dream. Marketers of football boots, fizzy drinks, video games or whatever else would always want to have an England international on their adverts. By choosing not to pursue an England career, you make yourself less marketable and less rich.
If Cote d'Ivoire do qualify for the next Africa Cup of Nations, as they surely will, then Zaha will spend a big chunk of the 2018-19 season playing for them in Cameroon. He will likely be joined there by plenty of other English-raised players who have chosen to chosen to represent their parents' homeland.
The easier option would have been to ignore all of this hassle. Zaha could have spent his international breaks back here at home, resting and recuperating, training at Crystal Palace, focusing on his club form. That club form might help him into the England team, which would bring more glamour and money than representing his parents' country.
Zaha, then, has not taken the easy option but the difficult one. His bravery should be recognised. So should the courage of the next generation of English players whose roots are not in Cote d'Ivoire but Nigeria.
This week The Independent reported that Chuba Akpom, Ola Aina, Fred Onyedinma, Ebere Eze, Josh Maja and Joe Aribo were all likely to represent Nigeria, rather than England, as senior internationals. The Nigerian Football Federation held a training camp in Barnet last week to persuade the English-based players to play for the Super Eagles, and it was successful in doing so.
By Mills' logic, Aina and Akpom are taking the "easy option" by giving up on England. Akpom has played for England up to Under-21 level, Aina up to under-20s, but that part of their careers is over.
Alex Iwobi set the precedent, playing for England under-16s, under-17s and under-18s before declaring for Nigeria, where he was born. It took some adjusting at first, as Iwobi learned the 'Broken English' language, and he had to get used to getting mobbed at airports by fans asking for his boots. But now he is just over a year away for playing for his country at a World Cup, and has persuaded many of his closest friends to join him.
There will be inevitable criticism from people who do not realise that identity is complex. These young players have to make decisions that are not just professional and sporting but which get to the heart of who they are as people.
Gareth Southgate has usually found the right tone as England manager but he did not when he said that he wanted England players to be "desperate" to play for the national team, who did not need to have England sold to them. These are difficult decisions and if some players in these positions do need persuading – Ademola Lookman is currently deciding who he wants to represent as a senior international – then English football should be big enough to do that.
For anyone in football to demand that African immigrants and their children – or indeed immigrants from anywhere – must instantly and enthusiastically embrace the English national team is to fly far too close to the toxic 'Tebbit Test'. That was simply a stick to beat the West Indian and Asian communities with and almost 30 years on we must make sure that we do not do the same.
Zaha, Iwobi, Aina and every other player in their position have to make the most of their careers as footballers, in a way that is rewarding and fulfilling, while staying true to how they see themselves as people. There is nothing easy about it.
Join our new commenting forum
Join thought-provoking conversations, follow other Independent readers and see their replies