Will England win World Cup 2014? Yes, as long as it's cold and we wear red
Stephen Hawking reveals his World Cup winning formula and how to take the perfect penalty ahead of England's push for success in Brazil
Brett Leppard
Wednesday 28 May 2014 15:05 Comments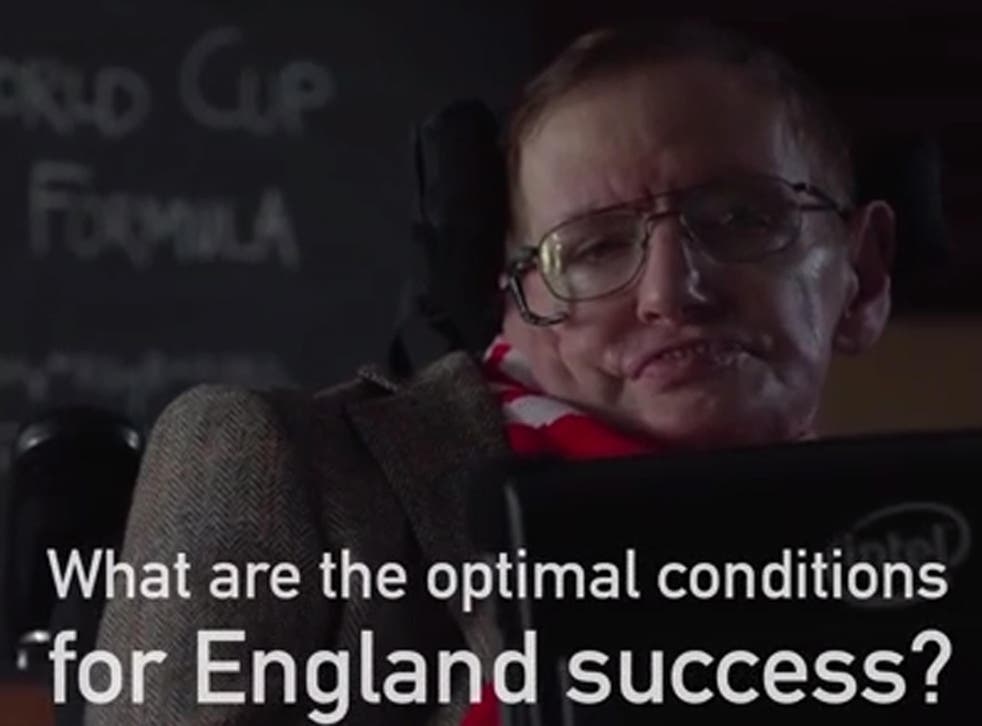 It doesn't take a genius to work out that when it comes to the World Cup, England are often left sitting in the corner with a cone on their heads wondering where it all went wrong. What does take a genius, however, is working out how England can succeed this summer.
Fortunately England have a genius in Professor Stephen Hawking, who has taken some time out from solving the mysteries of the universe to pinpoint how England can optimise their chances of coming home as winners from Brazil.
"It is hugely complicated", Professor Hawking said. "In fact, compared to football I think quantum physics is relatively straightforward."
Teaming up with bookmakers Paddy Power, Professor Hawking has examined England's World Cup performances since 1966 - looking for the key factors and variables which separate the winners from the losers.
And the result? A World Cup winning formula that might be a tad tough to decipher for those not versed in theoretical physics.
While Professor Hawking's formula might look well outside the world of football, it reveals a number of key variables that could make the difference on the pitch, from how to take the perfect penalty to why playing 4-4-2 is a losing strategy.
The ideal conditions
It seems the conditions in Brazil might not quite be in our favour. With late kick-offs, a hot climate and being so far away from home, England's squad will probably struggle.
•Mild climates are best: A 5⁰C rise in temperature is expected to reduce England's chances of winning by 59%.
•Altitude: England are twice as likely to win when playing below 500m above sea level.
•Stay close to home: England are 22% more likely to win when travelling short distances. Cultural differences and jet lag take their toll.
•Kick-off: England are creatures of habit and their chances of winning could improve by a third when starting at 15.00 local time.
•Formation: A confident 4-3-3 has a success rate of 58% compared to 48% when playing 4-4-2.
•Wear red: England's success rate has been 20% higher in coloured shirts. Red makes teams feel more confident and can lead them to being seen as more aggressive and dominant.
•Keep the referees European: Referees give England the best chance of success. England have a win percentage of 63% with a European referee, compared to 38% when the referee is from elsewhere.
How to take the perfect penalty
•Be a striker: Forwards have the best scoring record for penalty shootouts at 81%, but their teammates aren't too far behind with midfielders scoring 67% and defenders scoring 65%.
•Be blond or bald: Fair-haired and balding players have a success rate of 84% and 71% compared to darker haired player who have 69% success.
•Run up: There is only a 58% probability of scoring if your run-up is three steps or under.
•Side footed: Place the ball with the side foot and you are 10% more likely to score than if you whack it with your laces
•Aim for the top corner: 84% of penalties in the top corner go in. The highest percentage of any area.
•Goalkeepers: They are 18% more likely to save the ball if they move from side to side.
Register for free to continue reading
Registration is a free and easy way to support our truly independent journalism
By registering, you will also enjoy limited access to Premium articles, exclusive newsletters, commenting, and virtual events with our leading journalists
Already have an account? sign in
Join our new commenting forum
Join thought-provoking conversations, follow other Independent readers and see their replies