Women's World Cup 2015: Mark Sampson seizes his chance to shine as England get ready for opening match
The England manager knew he would not make it as a player by the age of 12 so threw his energy into coaching. Two decades on, he is at a World Cup and tells glenn moore all the hard work in the non-league game has paid off
Glenn Moore
Tuesday 09 June 2015 14:19 Comments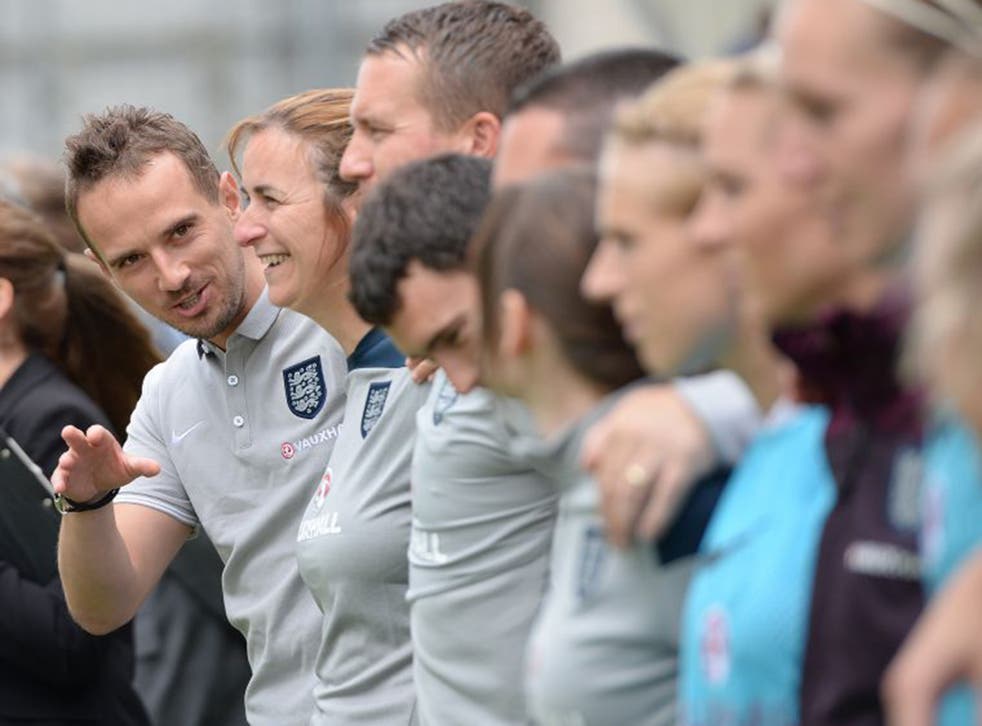 As Mark Sampson sits down to talk to the media, a colleague offers him a cycling helmet to shield himself from the inquisition. "Not yet, leave it for a few days," he says with smile. He will need some form of protection one day, all England managers do, whatever the sex of their charges, but Sampson hopes to get through this summer at least.
The manager of the England women's team is tonight embarking on the biggest challenge of his career, the World Cup in Canada. At a tender 32, younger than some of his players, it caps a meteoric rise from managing Welsh non-league club Taff's Well five years ago. Is he nervous? Yes, and he is unapologetic about that.
"I think nerves are a good thing," he said. "If you haven't got any nerves at an event like this it probably doesn't mean enough to you. I think all the players and staff will be in the same boat, I hope a lot of our supporters back home are. It is how we use that nervous energy, how we use that pressure."
England have been using a sports psychologist to work on the team collectively and Sampson added: "We have done a lot of work with the players. We are really smelling and sensing this as an opportunity. I think we're, 'You know what? We have worked hard all our lives to get here, this is the pressure we wanted, these are the nerves we wanted'."
There are no excuses. The team are travelling business class and staying in five-star hotels. There is a 19-person staff accompanying them including an exercise scientist, two video analysts and a chef as well as that psychologist. Whether this will make the difference in the opening match tonight remains to be seen. England have not beaten France in the lifetimes of either Sampson or his players.
At least, unlike when England met France at the 2011 World Cup, and the 2013 European Championship, defeat – which did for Sampson's predecessor, Hope Powell – is not fatal to the team's chances. Indeed, given the draw it might be beneficial as it would probably mean avoiding favourites Germany and the United States.
Sampson's parents and girlfriend are flying out for the match, which means his biggest critic will be there. "It's bit more added pressure for the game because he's my biggest judge, my father. You guys think you're tough, wait till you see him. His line is that I ruined his professional career apparently, but I've never heard that from anybody else."
Sampson realised early on he would not be a player himself, though not as early as his father. He added: "There was an article I did for someone a while ago, where I said by the age of 12 I pretty much worked out that I wasn't going far as a footballer. The next time I went home, my father reminded me that he could have told me at six."
Having accepted he was not going to play football at the top level, Sampson began to look at alternative ways of staying involved. "When you are passionate about football, it's any way you can to work at the highest level possible. You are very privileged to work in the game as a professional player, coach or whatever role you are in."
So while playing non-league – as recently as two seasons ago he was turning out for Cardiff Corinthians – he focused on coaching, gaining his qualifications young, right up to the Uefa A licence. He worked under Roberto Martinez at Swansea City's academy before taking over at Taff's Well in 2008. Then the opportunity came to move into the women's game at Bristol Academy, a club trying to forge its way by relying on a development programme linked to a further education college, rather than being supported by a men's club such as Liverpool or Chelsea.
"It was an opportunity to be the boss, and a great chance to go to a fantastic developing club and a brand new project and leave a legacy. That was the motivation, whether it was male or female football.
"Bristol was a fantastic challenge, it was club entering into a completely new era, going from amateur to semi-professional, but in a big league with TV interest and the potential of international players and foreign players. That opportunity was something I felt I would learn a lot from. It was a fantastic experience at Bristol, it shaped me as a coach and a person."
Bristol are underfunded compared with the competition as the FA Women's Super League has grown in stature, but Sampson steered them to second place in 2013. This achievement persuaded the FA to hire him in preference to more experienced contenders when they replaced Powell late that year. It was a bold choice. The next month will go a long way to determining whether it was the right one.
So far Sampson has done most of what could be asked of him. Powell did an outstanding job in pushing through development of the women's game, but her approach grew authoritarian. Sampson introduced a more liberal regime, bringing back into the fold players who had either fallen out with Powell or been rejected, such as Lianne Sanderson, Katie Chapman and Jodie Taylor. He also axed the defensive 4-4-2 formation in favour of a more attacking game that garnered 52 goals in 10 qualifying matches (all won). However, 4-4-2 has returned since a chastening Wembley defeat by Germany in November exposed a soft centre.
That was Sampson's previous biggest match and he said: "It was a fantastic experience, looking back on it, but at the time it was horrible, particularly walking down the tunnel at half-time. The team were brave, we wanted to go toe-to-toe. We wanted to try and force our game on our opponents but we got punished.
"After that game we needed to find the balance between when we can force our style on opponents, and when we need to respect and make sure we can manage the game. We learnt some big lessons." Tonight he, and we, will find how well those lessons have been learnt.
Register for free to continue reading
Registration is a free and easy way to support our truly independent journalism
By registering, you will also enjoy limited access to Premium articles, exclusive newsletters, commenting, and virtual events with our leading journalists
Already have an account? sign in
Join our new commenting forum
Join thought-provoking conversations, follow other Independent readers and see their replies