World Cup 2014: 10 things we have learned so far
European teams struggle, Van Gaal's a master and attack has been rewarded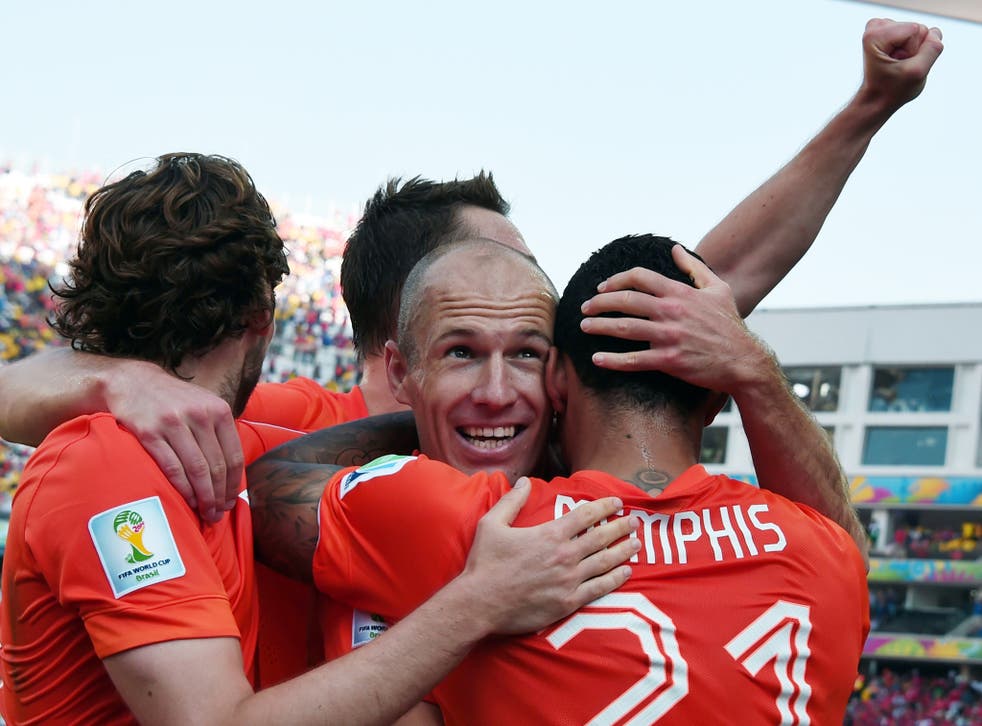 European teams struggle
It's difficult to tell whether it's the conditions or the quantity of support, but the location still has an effect. Of the nine Latin American teams in the tournament, seven made the second round. By contrast, only six of 13 European sides have qualified, the joint lowest since the tournament expanded in 1998.
Ferguson's theory correct
Sir Alex Ferguson once said that "a four-year cycle is probably the most you can achieve in terms of success", and this tournament is backs up that theory. Spain dominated between 2008 and 2012. One of the most con- spicuous things about their elimination was the manner of it. They seemed unable to do the things that used to make them great, no matter how hard they tried. It has a major effect on this tournament. For the first time since 2006, no side is guaranteed to reach a level all the rest must match. The World Cup is open. Spain closed out after four years.
Spain offer no defence
Robin van Persie's brilliant goal first pegged Spain back, and set the tone. The Manchester United forward's strike was the first of 29 headers scored in the group stage, indicating how susceptible defences were to crosses. Spain have played their part in this. The emphasis on possession meant more defenders who could primarily play the ball, and less of a necessity for those best at the old-fashioned job of heading it away. The lack of top-class defenders has been another trend.
This Cup rewards attack
Colombia coach Jose Pekerman said that defensive football is no longer enough. "This is a World Cup with attacking, offensive characteristics." It has struck a chord. Greece are perhaps the only conservative team left but even they realised that, to get through, they had to change. Their win over Ivory Coast saw a genuine late rally, and it has all made for what is so far the highest scoring World Cup since 1970.
Dark side of kit clashes
Some kits have not been easy on the eye. When have you ever seen Germany in all white, or Brazil not wearing yellow, blue and white? The odd combinations are a consequence of Fifa regulations about clashes, and how one side must wear all "dark" colours, and the opposition "light".
Argentina gets Messi
For so much of Lionel Messi's career, one of the questions was why he was viewed so coldly at home. That has changed. Even before he started rescuing their entire campaign, his name was included in a version of Creedence Clearwater Revival's "Bad Moon Rising", alongside Diego Maradona and Claudio Caniggia.
Van Gaal still a master
Around the time that the Dutch manager was mooted to replace David Moyes at Manchester United, there was debate over whether Van Gaal was still capable at the elite end; whether he was past it. Van Gaal has been at the vanguard of the tournament. He was first to indicate how productive a back three would be, with Holland's evisceration of Spain, then he out-thought Chile.
Qualifying books torn up
Mexico scraped into the World Cup after an inability to score. France needed a turnaround in the play-offs, following the usual tension. None of that has been evident here. The Mexicans have been one of the most well-balanced in the World Cup while France have ended a decade of disgruntlement. Much can change for international sides in seven months.
Capello's preparation woe
Alongside one Champions' League and a domestic title at every club he's managed, two early eliminations from World Cups don't look great. Fabio Capello attempted to explain it after Russia's first-round exit but there may be something deeper. In South Africa, Graeme Souness claimed England's acclimatisation was not right. Here, after a 1-0 win over Russia, Belgian manager Marc Wilmots claimed Capello's players were exhausted. That sounded familiar. Given how easy he found qualifying, there may be an issue with the Italian's preparation.
Robben's flying Dutchman
One of the images has been Arjen Robben tearing through the Spanish, leaving defenders in his wake. He was clocked at a 37kph. That is sensational, but all the more so for a 30-year-old. Most pacey players lose some speed by the late 20s due to injuries and wear, as with Ryan Giggs and Michael Owen. Robben has struck his own path, and in style.
Join our new commenting forum
Join thought-provoking conversations, follow other Independent readers and see their replies