The Independent's journalism is supported by our readers. When you purchase through links on our site, we may earn commission.
World Cup 2014: Germany could rule the world for years to come
World Cup-winning squad members are of a decent age and there is plenty more talent ready and able to step up
Sam Wallace
Tuesday 15 July 2014 00:15 Comments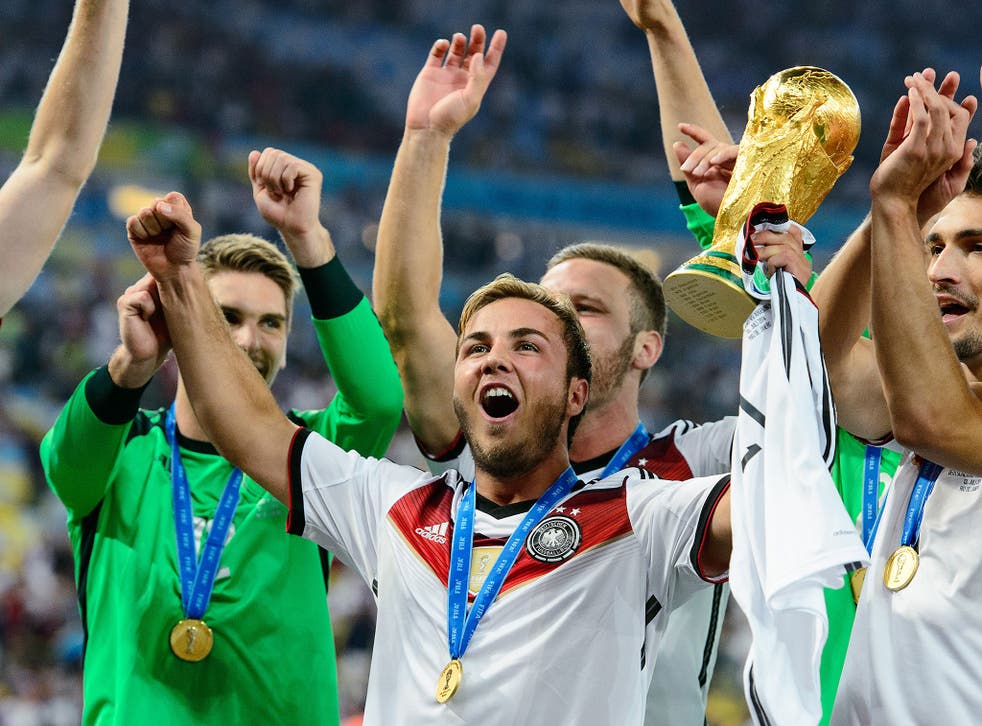 The aftermath of a World Cup final in the area of the stadium in which journalists and players can mix – albeit separated by a barrier, to remind us of our place in the Fifa order – is always an intriguing environment. One squad of players walks in as just your average superstar internationals, and walks out hours later having written their names into history.
In 2002, in Yokohama, the Brazil team emerged en masse singing, dancing, playing drums and tambourines with the trophy carried before them. The Italians came out in 2006 like men released from jail, after the Calciopoli scandal of the previous months had dragged the reputation of their game into the muck. The Spanish in 2010 emerged to share the moment with their media, with whom they have a close relationship, like glowing children greeting their parents at sports day.
On Sunday, the Germany team, as is their way, walked out as if adding the fourth star to their shirt was the most perfectly normal thing in the world. Some of them had made an exception to their usual standards of excellence by drinking the official sponsors' beer, laid on for them in the dressing room. Per Mertesacker tried to get a song going but he was so out of tune that it was difficult for any of his team-mates to follow.
Germany as Weltmeister? It fits. Third place in 2006 and 2010, the Euro 2008 beaten finalists and semi-finalists at Euro 2012, one can hardly say it had not been coming. "We started this project 10 years ago," said coach Joachim Löw. The only question that remains is how much longer the great German 21st-century generation can continue to dominate the game. In football we have come to believe that all success comes in cycles and that even the best must eventually cede the throne, or, like Spain at this World Cup, have it seized from them.
The next four Germans waiting in the wings

Show all 4
But Germany have refined a system that is consistently producing players of the top level. In this tournament alone they were denied Marco Reus, Ilkay Gundogan and Lars Bender through injury. Julian Draxler, the highly prized Schalke midfielder, played just 14 minutes. Even Mario Götze, the substitute who scored the match-winning goal in the final, was lightly used.
Last season at Bayern Munich, Pep Guardiola challenged Götze to try to attain the levels that Lionel Messi has reached. It will be intriguing to see how Götze develops in his second season at Bayern. His winning goal is one further step towards being the level of player which Germany believe he can be.
Aside from the 36-year-old Miroslav Klose, now surely set to call time on his glorious international career, the oldest outfield player in the squad is Philipp Lahm, at 30. Bastian Schweinsteiger will be 33 come the next World Cup finals; Manuel Neuer will be 32; Mats Hummels, 29; Thomas Müller, 28; Götze, 26. They will all be more than capable of defending their title – the question will be who the Germans have developed by then to challenge the older guard.
"You never know what happens in the future," Schweinsteiger said. "But we are fit, we are hungry and we have some good players who are around 25 years of age. It will give us hunger. The important thing is that the young guys have the experience of this tournament. Experience is very important in football.
"We have some players who have a big future and I think the Spain team and the Brazilian team changed a little bit. We believe we are now the No 1 team in the world. We have to enjoy this moment and not talk about the future too much.
"The most important thing is that we have quality, we have quality players, and that we have the tradition in our game. We have the mentality of the Germans. We can run, we can make pressure, we can defend and the mix between this is the solution. We have a young team. But we have some players like Philipp Lahm, Mesut Özil and Per Mertesacker who have the experience. This mix makes a big difference."
Naturally, all paths lead back to that Germany Under-21s team that beat England 4-0 in the European Championship final in Malmo five years ago. Had Sami Khedira been fit to start Sunday's final, six players from that Under-21s team – Neuer, Benedikt Höwedes, Jérôme Boateng, Khedira, Özil and Hummels – would have started the game against Argentina. An astonishing return by any reckoning.
Asked whether this was Germany's best generation, Hummels dodged the question, although he did acknowledge the achievements of that Under-21s team. "I was only born in 1988. I only saw 20 years of German football. Maybe it's the best generation of the ones I have seen, but I can't say anything about 1974, 1982, 1986, 1990 because I didn't see them.
"We knew that this was a special team in 2009. If you see the names, there are something like 10 players in the World Cup who played in that tournament. Six or seven of them are from Germany, the rest from other countries." He added: "We're very happy with what has happened, the whole tournament. Winning the World Cup is something special not just for your career but for your whole life."
Indeed, it gets no bigger than this and the challenge now, having accomplished the mission laid out in the aftermath of Euro 2000, is to keep this golden generation hungry for more success. They will be received in Berlin as heroes, the first team from a unified Germany to win the World Cup. In 1990, months before reunification, their homecoming celebrations were in Frankfurt. They seem, on the whole, to be a humble, grounded bunch, but they now have a status that German footballers have not experienced for a generation.
Later this month, the Under-19s European Championship is staged in Hungary with Germany involved, as well as the defending champions Serbia although not England. The English are current European champions at Under-17 level, Spain at Under-21. If ever there was evidence of the importance of these junior tournaments it was there at the Maracana on Sunday night when six Under-21s team-mates carried out the World Cup trophy.
Register for free to continue reading
Registration is a free and easy way to support our truly independent journalism
By registering, you will also enjoy limited access to Premium articles, exclusive newsletters, commenting, and virtual events with our leading journalists
Already have an account? sign in
Join our new commenting forum
Join thought-provoking conversations, follow other Independent readers and see their replies