World Cup 2014: It's chaos in Brazil – but don't panic
Despite the threat of crime, protests and delayed building work, officials insist this summer's tournament will be fine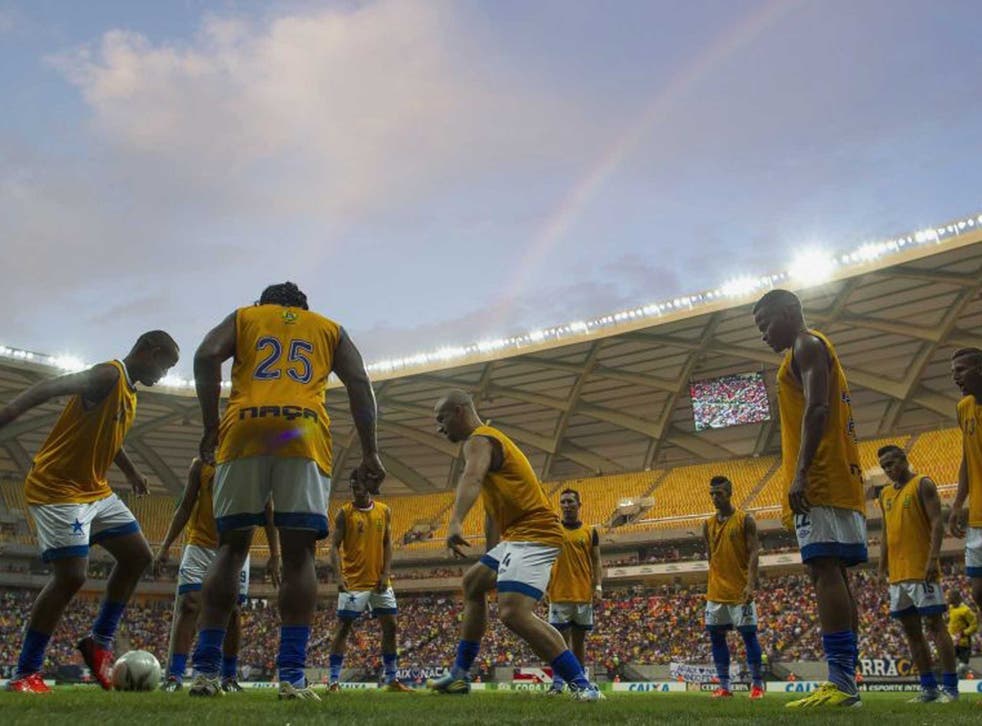 The builder they call "Mr Luis" perhaps best defines the challenge Brazil has faced in staging a World Cup.
With intense local pride, they've been wheeling him out at Arena Castelao, the stadium at Fortaleza on the country's north-east coast, because he has learned to read and write in classes offered to stadium workers there in their downtime.
"All of Brazil has heard my story," Mr Luis says, thrilled with skills which would be a given in any developed nation – but not here, in a country where the working class's lack of educational opportunities has, until recent years, left millions below a very low poverty line.
The World Cup which launches just over 80 days from now is being staged in a developing nation, and though the move from city to city reveals that sparkling Brazilian optimism that things will get done, the question of when is less easy to answer.
The new second airport terminal at Manaus, where 2,000 fans will arrive to see England play Italy on June 14, remains unfinished, and even on a regular, lazy Thursday afternoon this week there was a hot, 45-minute wait in the luggage check-in queue. Check-in machines to ease congestion are a forlorn hope. Work on three of the 12 stadiums remains unfinished: Cuiaba, due for completion next Friday; Sao Paulo (April 15) and Curtiba, where local organisers' chaotic engagement of 16 contractors rather than one project manager, means an estimated completion date in early May.
Brazil's erudite deputy sports minister Luis Fernandes told The Independent on Sunday that the airport at Fortaleza had been "a worry," while the Sao Paulo international terminal isn't finished and Belo Horizonte has had to expand capacity with a temporary terminal. Accommodation prices in Manuas had also "raised concerns", the deputy minister admitted – part of a broader picture of hoteliers "initially announcing very unreasonable prices. We got together with them to tell them it was not an intelligent move."
It is some task he faces, working with a country the size of western Europe only 26 years out of the debilitating grip of dictatorship and still deeply statist in outlook. The young democracy's eagerness to haul itself into modernity is reflected in something as innocuous as the decision to change electricity sockets from two-pin to three. The result, moving around the country, is a baffling uncertainty as to whether the next destination will let you plug in. But never mind; that Brazilian optimism was always on hand as one converter plug after another was promised then helpful gestures made about how to saw off one of the pins.
So there may be some chaos ahead, and amid such penury there will be crime, too. This correspondent's walk on Rio de Janeiro's Copacabana beach with four others at 2am proved ill-advised – and perhaps naive – when a half dozen youths materialised demanding watches and cash and wielding weapons. They vanished with nothing.
But none of this means that the World Cup will not work. Pretournament panic always leads to premonitions of disaster, as the G4S crisis before London's Olympics proved. Some of Fernandes' experiences at those Games – being diverted off the M6 during a drive south from Brazil's football semi-final at Old Trafford and arriving back at 7am – leads him to question whether the developed nations are fair in their assessment of Brazil. "If people don't have a more generous outlook [towards developing countries] then these events will become like rich men's parties," he said. "We have to put the [World Cup organisation] problems in context. It is a work in progress rather than things getting worse."
It is precisely because of the fact that its infrastructure needs upgrading that the nation wanted to stage this summer's tournament. "The World Cup and 2016 Olympics [in Rio de Janeiro] gave us an opportunity to set up investments but that would [otherwise] take us a long time to put into practice," Fernandes said.
Fortaleza had waited 14 years for the completion of work on a first Tube line but it was the advancing World Cup which saw it speed up for completion last year. The completed stadium in that city will also form part of a sports village where Brazil's athletes will prepare for the Olympics – a desperately needed micro-economy in Brazil's deeply impoverished north. Rio's Maracana, with a Tube line on its doorstep, has been spectacularly modernised. Fibre-optic broadband expansion, another part of the World Cup investment, means that you can email video from a mobile while on the Amazon river, if you'd rather not look for Cayman alligators.
That's not quite the image we have developed of remote Manaus, a sophisticated and impressive city which is rather prickly about what it sees as English negativity. Brazil's aim in offering 12 World Cup venues rather than Fifa's obligatory eight is to sell a far wider image of the country to the world. The misconception that Rio offers the only attraction is dramatically disproved by Manaus.
Though poverty stares out from everywhere – not least in the faces of the destitute who climb to the Fortaleza favela they call "Enchanted Castle" without the faintest irony – the argument runs strongly through Brazil that salvation needs economic stimulus rather than hand-outs alone. The argument is fortified by President Dilma Rousseff's rigorous social-welfare programme. There will be protests ahead, though even the Amazonian military leader, General Ubiratan Poty, whose walks around with a chained pet jaguar, agreed that demonstrations were a democratic right.
Fernandes concurs: "You need to know that those of us in government were brought up fighting for democracy in a culture of political resistance to dictatorship."
Outside on the seafront, beach futebol matches continued into the dusk and the Ipanema night life was just kicking in. The tournament about to start may have imperfections but it will live long in the memory.
Register for free to continue reading
Registration is a free and easy way to support our truly independent journalism
By registering, you will also enjoy limited access to Premium articles, exclusive newsletters, commenting, and virtual events with our leading journalists
Already have an account? sign in
Register for free to continue reading
Registration is a free and easy way to support our truly independent journalism
By registering, you will also enjoy limited access to Premium articles, exclusive newsletters, commenting, and virtual events with our leading journalists
Already have an account? sign in
Join our new commenting forum
Join thought-provoking conversations, follow other Independent readers and see their replies