World Cup 2022: Increasing chance of Qatar losing the tournament because of 'political risks', report finds
The new report investigates the political crisis between Qatar and its neighbouring countries and concludes the nation is under 'increasing risk' of losing the tournament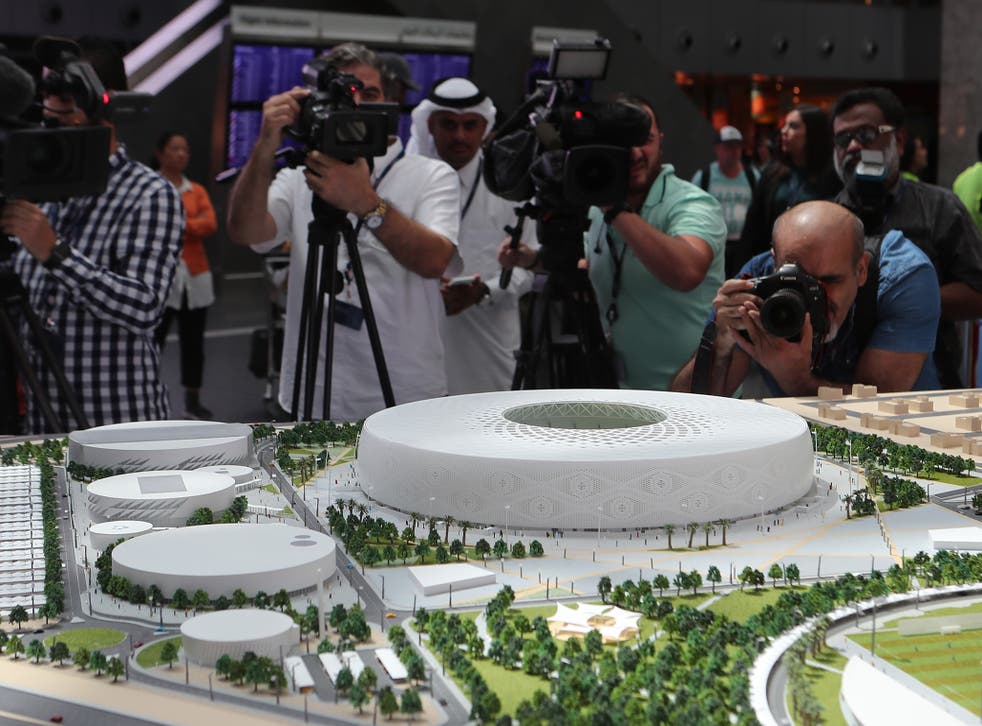 The controversial 2022 Fifa World Cup in Qatar is under increasing risk of being moved to another nation because of "political risks", according to a confidential new report examining the multitude of risks surrounding the tournament.
Fifa handed the 2022 World Cup to Qatar in 2010. It will be the first World Cup ever to be held in the Middle East and the first not to be held in June or July, with the tournament instead scheduled for late November until mid-December because of the high temperature.
However, numerous accusations of corruption have been made relating to how Qatar won the rights to stage the event. And in June, Saudi Arabia, Bahrain, Egypt and the United Arab Emirates (UAE) all cut ties with the Gulf state, alleging it was destabilising the Middle East by supporting terrorism.
The new report into the tournament, compiled by management consultants Cornerstone Global and obtained by the BBC, investigates the impact of this diplomatic crisis as well as the current infrastructure project underway in the country to develop 12 stadiums in the time for 2022.
It claims that the country's £153bn programme is a "high-risk project", before concluding that it is "far from certain" Doha will host the tournament.
"Western diplomats have privately stated they do not know whether or not the tournament will take place as planned," the report reads.
"The reasons for this are many and include open allegations of corruption - both in the bidding process and in the infrastructure development.
"Qatar is under greater pressure regarding its hosting of the tournament... the current political crisis has seen - or at least raised the possibility of - a Qatari opposition movement emerging.
"This means an increased risk for those working on, or seeking contracts for World Cup 2022 infrastructure... with a risk of non-payment and no realistic ability to enforce any legal contracts.
"Given the current political situation... it is certainly possible that the tournament will not be held in Qatar."
However, the report has been dismissed by Qatar's Supreme Committee for Delivery & Legacy, who claimed in a statement published in response to the BBC that there is "absolutely no risk" of the World Cup being taken away from Qatar.
"In the context of the current political situation we question the motives of an organisation - which makes no secret of its affiliation to the countries blockading Qatar - of publishing a report based entirely on media reports and anonymous sources," their statement read.
"The intention to create doubt regarding the tournament, while attempting to cause resentment amongst Qatari citizens and anxiety amongst foreign businesses and residents, is as transparent as it is laughable.
"There is absolutely no risk to the future of the first World Cup in the Middle East."
Join our new commenting forum
Join thought-provoking conversations, follow other Independent readers and see their replies