Laura Bassett: England defender bounces back from a year of unwanted headlines
She knows she will never be allowed to forget her own goal in a Women's World Cup semi-final, but there have been some unexpected benefits from her infamy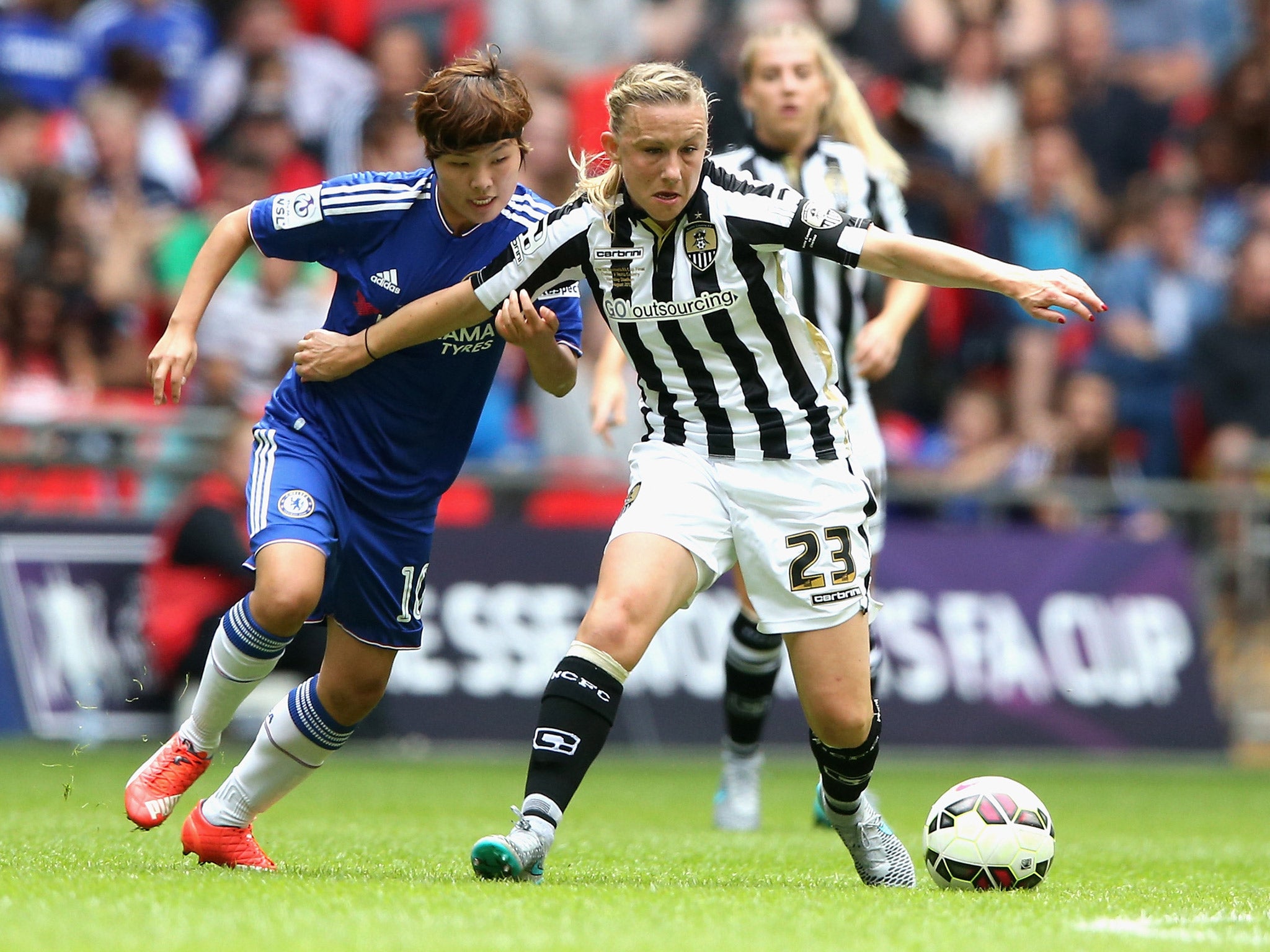 Her tears had dried, her team-mates had hugged her, her manager consoled her. Now Laura Bassett just wanted to get away for a few hours and try to forget about the Women's World Cup semi-final and an own goal she knows she never will do.
So she went, with close family, for a quiet meal in a quiet bar. They were in Edmonton, Canada, and as in most North American bars there were televisions everywhere. She looked up at one and suddenly, unavoidably, saw herself a few hours earlier, stretching to cut out a Japanese cross, deflecting the ball over England goalkeeper Karen Bardsley and into her own net. It was the injury-time own goal that had cost England their debut in the World Cup final. And it was everywhere she looked.
"We were having some food and reflecting and I saw it; and every half-hour, when it was repeated, I saw it again and again," Bassett told The Independent, as she looked back on a memorable year. "But I also thought, '10 to 15 years ago that would not be on TV. We want to make the women's game more high-profile, we have to accept what comes with that'."
The last six months have been full of such bittersweet ironies. The 32-year-old Notts County Ladies defender has just returned from a holiday in St Lucia, a freebie no less, which she absolutely loved, but wishes she had never been offered. Then there was the letter from Prince William, an unwanted souvenir to treasure.
The royal connection had been established before the finals, with the Prince meeting the team at St George's Park before they left for Canada. After Bassett's own goal he wrote to her. "He said how proud he was of what we had done and that he was right behind us all the way. I'll keep that [letter]," she said.
The holiday, added Bassett, followed a tweet by travel company Kuoni along the lines of 'Let's cheer Laura up and give her a holiday'.
She said: "My first thought was, 'I don't deserve anything like that'. I thought it was a joke, so I left it, but someone at the Football Association or my club followed it up and it became clear it was serious. I'm not really that sort of person but people said, 'Why not? Take it'. So I did, and it was great."
Bassett got back just in time to fly to Belfast last weekend and join team-mates at the BBC's Sports Personality of the Year awards. Inevitably, the own goal was shown again.
"There's been lots of video montages about the finals and I have to accept that I will watch these with different feelings from everyone else," said Bassett. "There's always unanswered questions. What would have happened if it had gone into extra time? Or if it had happened earlier in the game, when there was time to recover? We are a very resilient group, so who knows?"
England, considered outsiders at the start of the tournament, had matched the holders and were looking the stronger side as extra time loomed. Bassett won possession and launched another attack, but Japan stole the ball back and countered. In trying to clear the danger, Bassett diverted the ball into her own goal off the underside of the bar. It bounced out so quickly goal-line technology was needed to confirm the goal.
"If it had happened in the first half, and that had been the result, it would still have been awful, but the circumstances, with no chance of recovery, were cruel," said Bassett.
Defeat meant a third place play-off with Germany. England had lost 18 and drawn two of the 20 previous meetings. "I had a meeting with [manager] Mark [Sampson] the next day," said Bassett. "He made it clear he wanted me to play. As a player I wanted to play, but I'm only human. I thought, 'What if it happens again? What if I let my team-mates down, let my country down?' But, as a player, to hear the manager say he wanted me to play meant a lot to me and allowed me to grow in confidence."
England won, in extra time, with Bassett part of a defence that kept a clean sheet. It was the first step to recovery. Another was provided by support from team-mates and the general public. Inevitably, there have been some unkind comments, but a minority.
"There's been a lot of support, but with every 10 to 15 comments you get one person who feels they need to inflict their comment, mainly on social media. Then there's people who said things in humour when it was still quite raw and you had no choice but to laugh it off. Some tell me I lost them money because they had a bet on us. People do not want to mention it at the start. They wait 20 minutes, until they feel they have got a rapport. I think I have learnt a lot about me, as a person and a footballer."
There were more tests. At the start of the domestic season, which runs from March to October, Bassett left Chelsea for Notts County. Chelsea had decided to go full-time, but Bassett lives in Coventry and she and her boyfriend, Mark, had just bought a house. The travelling was not feasible. Chelsea, runners-up in 2014, went on to win the Women's Super League while County came fifth.
Chelsea also won the FA Cup, beating Bassett's County in the final, the first played at Wembley. "We were proud to get to the FA Cup final, but we did not show up on the day," said Bassett. "After not doing ourselves justice our aim was to get to the final of the Continental Cup [the women's equivalent of the Football League Cup] and put that right."
They reached the final but lost again, with Bassett harshly dismissed. County were 1-0 down to Arsenal when Bassett went into a tackle and, to her shock, was given a red card. "You know if you make a late tackle, or mistime it: you think, 'I hope I'm lucky there'. I just did not have that feeling. It was the most surreal moment.
"I was devastated. I am not normally emotional on the pitch, I'm passionate and fiery but not emotional, but it just came out. I was numb. It's strange, throughout my career I've not really been one for headlines, but I've found myself in them for more bad than good this year."
Indeed, Bassett also came to prominence when she was elbowed by France's Camille Abily during the World Cup, resulting in a colourful black eye. It says much for her unaffected personality that when she appeared for interviews the following day she was quite happy to pose for photographs with it, finding the whole experience funny.
There was also her starring role in Ellen White's goal for Notts County at the start of the WSL season against Arsenal at Meadow Lane, Bassett pretending to argue with Alex Greenwood at a free-kick before White scored. The video went viral.
"I got so much banter, stuff like, 'Bassy's going to Hollywood, she signed up with an acting agency'," said Bassett. "In training we rehearsed it and ended up laughing, so it was great for it to come off."
Bassett's future lies not in Hollywood, but in the heart of defence for club and country. The Women's European Championship, in the Netherlands in 2017, is the target, with England seeking to make good on their new status as contenders and Bassett hoping to keep out of the headlines, or make them for the right reasons.
Join our commenting forum
Join thought-provoking conversations, follow other Independent readers and see their replies