Lionel Messi: Every goal, assist and key moment so far this season at Inter Miami
Messi has made an immediate impact in the MLS and has already racked up a stunning highlight reel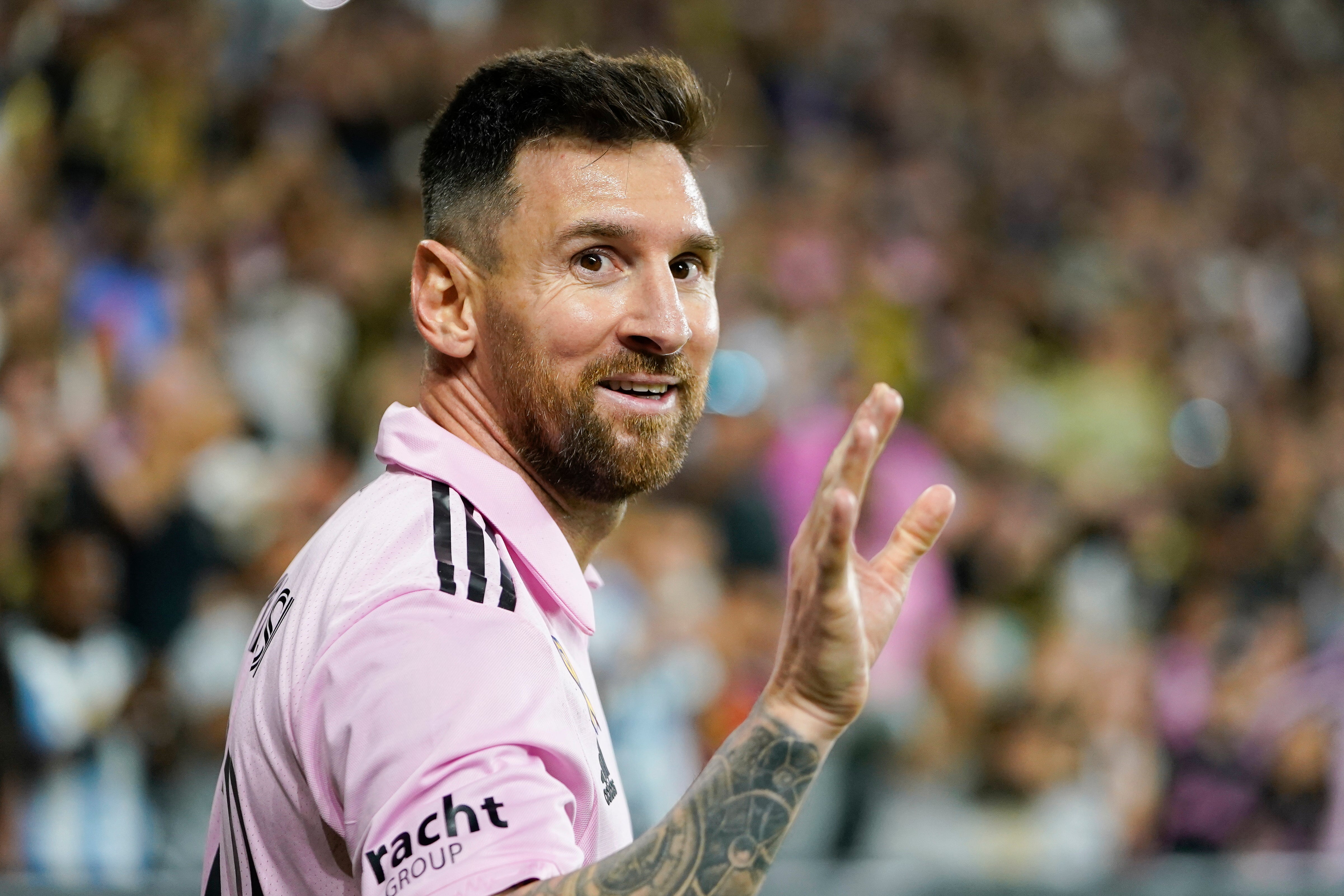 Lionel Messi's impact on MLS side Inter Miami has been profound, and the Argentine currently has 11 goals in 11 games alongside five assists.
The World Cup winner made the move to America after leaving Paris Saint-Germain at the end of his contract - the first time he has played his club football outside of Europe - and his arrival has sparked a frenzy of excitement around the league.
Messi has also delivered on the pitch, with a stunning series of moments already since making his first appearance in July.
Here's a rundown of every goal and assist from the season so far.
16th September, Atlanta United vs. Inter Miami (MLS)
Messi didn't play in this match for the first time since his debut, and the side suffered their first loss (5-2).
3rd September, LAFC vs. Inter Miami (MLS)
Two assists
Messi failed to score in his side's 3-1 win but contributed to the scoreline with assists for Facundo Farias in the 14th minute and Leonardo Campana in the 83rd.
30th August, Inter Miami vs. Nashville SC (MLS)
No goals or assists, 0-0 draw
26th August, New York Red Bulls vs. Inter Miami (MLS, debut)
One goal
Messi scored a late goal to impress on his MLS debut in the 89th minute to make the final score 2-0 and end their 11-game losing streak in the league.
23rd August, Inter Miami vs. FC Cincinnati (U.S. Open Cup, semi-finals)
Two assists
He was not on his usual goal-scoring form but nonetheless helped his team to reach another final.
Lionel Campana scored a header in the 68th minute from a Messi free-kick to move the away side within one goal at the TQL Stadium. He then linked up with Josef Martinez , who scored Miami's second goal from a header and gave them the lead in extra time. FC Cincinnati equalised on 114 minutes to take the game to penalties.
Messi scored the first penalty and his side won 5-4.
19th August, Nashville SC vs. Inter Miami (Leagues Cup, final)
One goal
Messi scored Inter Miami's only goal in normal time that secured a 1-1 draw to take them to penalties. His goal in the 23rd minute after he gathered a clearance at the top of the box.
Miami went on to win on penalties 10-9, which saw Messi win his 42nd senior title, the most in the history of men's football, and his club's first in franchise history.
15th August, Philadelphia Union vs Inter Miami (Leagues Cup, semi-final)
One goal
Messi scored his ninth goal in six games in Miami's 4-1 win that took them to the final. He scored the team's second goal in the semi-final 20 minutes in.
11th August, Inter Miami vs Charlotte FC (Leagues Cup, quarter-final)
One goal
Inter Miami had a comfortable 3-0 lead at home and Messi added a fourth in the 86th minute to secure the eventual 4-0 win.
It was Messi's eighth goal for the club in five games which drew him level with the club's top goal-scorer in the season Josef Martínez who scored the same over a span of 25 games.
6th August, FC Dallas vs Inter Miami (Leagues Cup, round of 16)
Two goals
Messi got off to another stunning start, this time at his first away fixture as Miami travelled to the Toyota Stadium to face FC Dallas in the Leagues Cup round of 16. He scored the first of two six minutes in to give the away side an early lead.
The Argentine scored his second to draw the two sides level at 4-4 and took them to penalties, where he scored his.
Inter Miami advanced to the next round 5-3 on penalties.
2nd August, Inter Miami vs Orlando City (Leagues Cup, round of 32)
Two goals
Messi contributed a further two goals to Inter Miami's 3-1 win against Orlando City which saw them advance to the round of 16. The first came seven minutes into the game at their home ground DRV PNK Stadium.
Josef Martínez scored from a penalty in the 51st minute before providing an assist for Messi's second, which was scored on 72 minutes.
25th July, Inter Miami vs Atlanta United (Leagues Cup)
Two goals, one assist
The newly-named captain made his first start for Inter Miami against Atlanta United and scored two goals in the process in their 4-0 win. He scored the first goal of the match eight minutes in, and a second in the 22nd minute.
He then went on to provide an assist for teammate Robert Taylor, who went on to score the remaining two goals in the 44th and 53rd minutes.
21st July, Inter Miami debut vs Cruz Azul ( Leagues Cup)
One goal
Messi made his Inter Miami debut in the 54th minute and went on to score from a free-kick in the 93rd minute after he was fouled by Jesus Duenas.
Join our commenting forum
Join thought-provoking conversations, follow other Independent readers and see their replies