Fifa presidential election: Sepp Blatter questions timing of corruption arrests and claims 'You can't just ask people to behave ethically'
Fifa president believes the timing of the arrests in Zurich were meant to have an impact on today's Fifa presidential election
Jack de Menezes Comments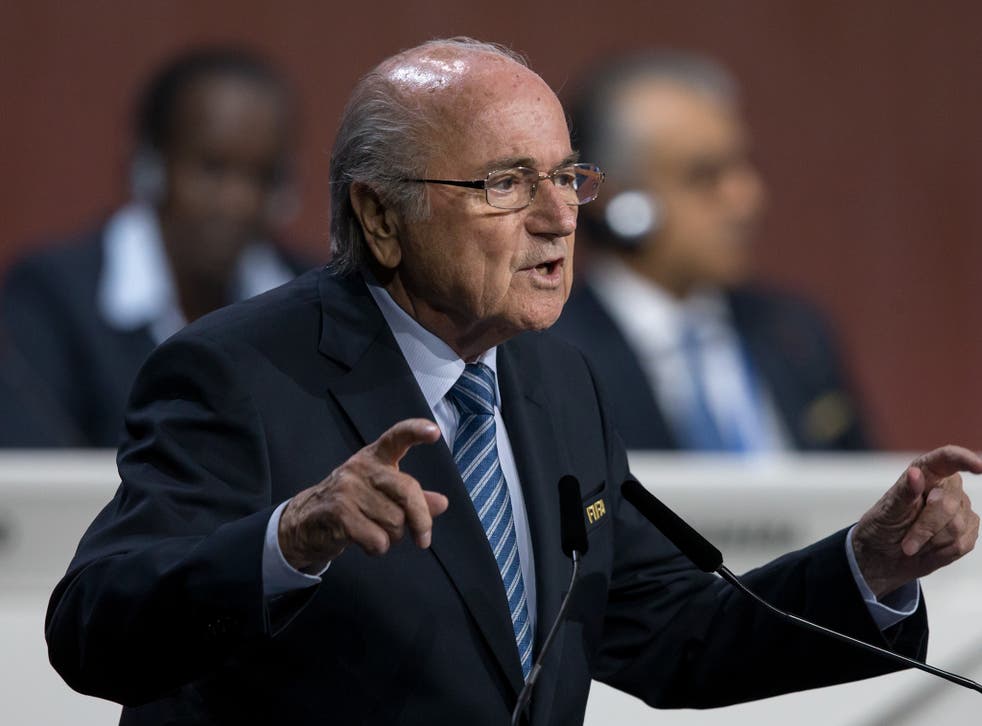 Sepp Blatter has questioned the timing of Wednesday's arrests of current and former Fifa members and suggested that they were carried out in order to influence the presidential vote.
Blatter is bidding for a fifth term as Fifa president today as he goes up against Prince Ali bin al-Hussein, with the pair the only two candidates running for the presidency. However, Fifa has been rocked by the corruption charges brought against 14 Fifa members past and present that led to the arrests as part of a dual corruption investigation led by the United States' FBI and Swiss prosecutors.
Both Mr Blatter and Prince Ali had the chance to address congress on Friday morning before the 209 Fifa Member Associates go to election, and Mr Blatter launched an astonishing and at times desperate defence of his leadership in a bid to sway voters in his favour.
The Fifa bigwigs facing charges

Show all 14
Addressing Wednesday's raids in Zurich that saw seven Fifa members – including vice-president Jeffrey Webb – arrested and facing extradition to the US, Mr Blatter said: "I won't say it's a coincidence, but I do have a small question mark.
"You can't just ask people to behave ethically just like that."
Blatter also questioned whether the investigation into how the 2018 and 2022 World Cups were awarded to Russia and Qatar respectively would have happened had other countries won the bidding process.
"If two other countries had emerged from the envelope I think we would not have had these problems," Mr Blatter added. "But we can't go back in time, we're not prophets, we can't say what would have happened.
"The events of this week unleashed a storm," Mr Blatter said in his opening statement.
"It was even questioned whether this Congress would go ahead but I am appealing for unity and team spirit to tackle the problems that have been created and to solve them.
"It will not be done in a single day, it will take some time.
"The important point today is to move ahead - and the important point is transparency. We have a problem to solve."
The meeting was temporarily disrupted by two protesters who managed to gain access to the main room and unfurled a Palestinian flag, before Mr Blatter called for "security" and they were removed. Before the Congress meeting, the Palestinian Football Association had called for Israel to be removed from Fifa.
As he acknowledged in his opening ceremony speech on Thursday, Mr Blatter accepted that there could be further troubles for Fifa in the coming months, but insisted that he is the man to lead the world governing body through the mire and regain the trust of football fans and Associations worldwide.
"We are going through troubled times. Events have thrown a shadow across Fifa. Let's try to lift that shadow. Let's try to lift our spirits"
"We can't let the reputation of Fifa be dragged through the mud. We have reached a turning point."
"These are individuals, they are not the entire organisation."
"We need to pull together and move forward. We cannot supervise everyone in football - that's more than 300 million people."
He ended with a plea to "stop the boat rocking", which was greeted with applause from the Congress members in attendance.
"Help us put Fifa back on right track, where the boat will stop rocking and go placidly into the port."
Register for free to continue reading
Registration is a free and easy way to support our truly independent journalism
By registering, you will also enjoy limited access to Premium articles, exclusive newsletters, commenting, and virtual events with our leading journalists
Already have an account? sign in
Join our new commenting forum
Join thought-provoking conversations, follow other Independent readers and see their replies