Liverpool vs AC Milan LIVE: Champions League result, final score and reaction tonight
Two giants of European history met for a first ever competitive encounter outside of a final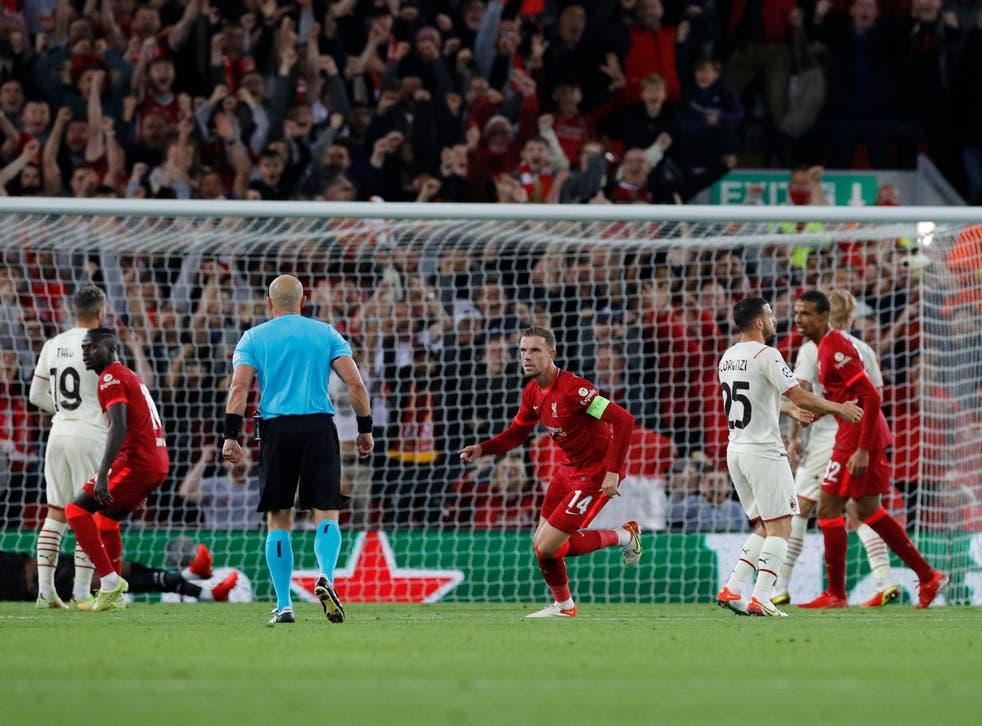 The Champions League continued tonight and Premier League side Liverpool started their group campaign with a thrilling 3-2 home win againstAC Milan.
Despite the two clubs being among the most successful handful of teams in European Cup history, they had only ever met twice in competitive games – the 2005 and 2007 Champions League finals. This occasion, then, was set to be a rather different one and a first visit for the Serie A giants to Anfield. Neither one had lost a match yet this term, with Jurgen Klopp's Reds in the group level on points at the top of the Premier League and the Rossoneri similarly positioned in Italy's top flight.
That changed this evening, however, with Liverpool edging an enthralling encounter. Trent Alexander-Arnold's deflected shot put the hosts ahead, before Mohamed Salah's penalty was saved. Still, the Reds were rampant, yet Milan netted twice in quick succession against the run of play to head into the break with a 2-1 lead – Brahim Diaz and Ante Rebic the goalscorers. Salah put away a dinked pass from Divock Origi, though, to equalise early in the second half, before Jordan Henderson's drilled half-volley restored Liverpool's lead – which they retained until the full-time whistle.
Relive updates of the Champions League Group B encounter between Liverpool and AC Milan below:
1631740632
Liverpool edge AC Milan on barely believable night of Champions League magic
A beautiful night, barely believable in stanzas, condensed the magic of the Champions League into 95 minutes.
Liverpool and Milan, so tightly stitched into the fabric of this tournament, produced one of those matches you hoped wouldn't end.
Jurgen Klopp's side were the victors, only just, having initially shaped up to be ruthless vanquishers. Milan were on the ropes, then touching the sky, before falling to the turf.
Liverpool 3-2 AC Milan: The group-stage game ebbed and flowed until Jordan Henderson settled it with a fine half-volley
Michael Jones
15 September 2021 22:17
1631740533
Sign up to our free sport newsletters
Sign up to our free sport newsletters for regular updates straight to your inbox.
Whether you would like a weekly rundown direct from our chief football writer Miguel Delaney or you want weekly sport digest from our sport editor Ben Burrows, or you want all the latest tips for your Fantasy Football game from our resident expert Mark Critchley, you can sign up by clicking here and scrolling to the sport section.
The latest breaking news, comment and features from The Independent.
Alex Pattle
15 September 2021 22:15
1631740430
Reaction from Robertson
Liverpool left-back Andy Robertson speaking to BT Sport:
Michael Jones
15 September 2021 22:13
1631740366
Henderson named Player of the Match
Jordan Henderson has been given the Uefa Player of the Match award for his 69th minute winner against AC Milan. I think that's harsh on Trent Alexander-Arnold who was fantastic all night for Liverpool. He set up the first and third goals for the Reds.
Michael Jones
15 September 2021 22:12
1631740042
Henderson's strike sinks Milan
Mo Salah and Jordan Henderson popped up in the second half for Liverpool and both found the back of the net. Henderson scored in the Champions League for the first time in seven years to secure all three points for Liverpool.
Michael Jones
15 September 2021 22:07
1631739567
Liverpool 3 - 2 AC Milan
A few stats for you. Liverpool had 23 shots at goal with eight on target compared to Milan's seven and four. The Reds won 15 corners and made 11 fouls.
Oh, and Mo Salah moved level with Steven Gerrard as Liverpool's joint top scorer in European competition.
Michael Jones
15 September 2021 21:59
1631739315
Liverpool 3 - 2 AC Milan
Jurgen Klopp goes over to the Liverpool fans in the Kop. He raises his fist and is met with loud cheers. I think he might have enjoyed that one.
Michael Jones
15 September 2021 21:55
1631739202
Full-time: Liverpool 3 - 2 AC Milan
90+5 mins: Milner twice takes the ball into the corner and shields it from the Milan defenders. A free kick comes long and Alexander-Arnold's clearance comes to Brahim Diaz. He slides it to Theo Hernandez who shoots from outside the box but the effort goes over the bar.
That's that. The final whistle goes and Liverpool have the win! Great game, and a great result for Liverpool.
Michael Jones
15 September 2021 21:53
1631738957
Liverpool 3 - 2 AC Milan
90+2 mins: Mane is released into the box but he can't get the ball from under his own feet in time to shoot. He gets closed down and Liverpool are forced to retreat.
They keep hold of the ball though and switch it out to Robertson on the left but he's dispossessed by Calabria and Milan storm forward.
Michael Jones
15 September 2021 21:49
1631738875
Liverpool 3 - 2 AC Milan
90 mins: Five minutes of added time still to play. As we saw in the Manchester United game yesterday that's plenty of goal to find a goal.
Michael Jones
15 September 2021 21:47
Join our new commenting forum
Join thought-provoking conversations, follow other Independent readers and see their replies