How Paul Pogba could be crucial to Manchester United's remaining summer transfer business
If United are to add to the signings of Jadon Sancho and Raphael Varane, they may need to find a way to sell their big-name midfielder
Miguel Delaney
Chief Football Writer
Friday 30 July 2021 14:20 Comments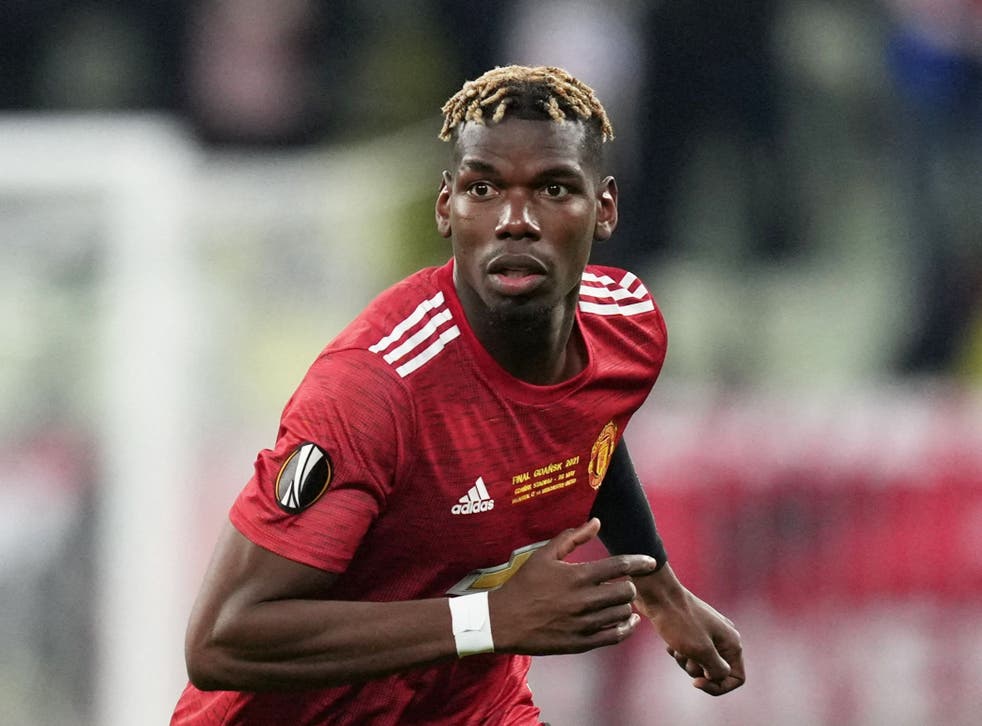 Within Manchester United, there is satisfaction at a good job done so far, if also an awareness there could yet be a lot of work to do.
That may be more to do with sales than purchases. United are prepared for the Paul Pogba situation to get complicated, as talk grows of a likely bid from Paris Saint-Germain. The French midfielder wants to leave.
That could yet change the tone of the entire summer. As it is, that tone is highly positive.
United have not just been impressively efficient so far in securing Jadon Sancho and Raphael Varane, but also got ahead of the game.
They are the only super club in Europe to so far significantly upgrade their first XI, and it means they are responsible for over half of the Premier League's net spend so far. United have put down £115.7m of the £210m that had left the division by late July.
Many around the Premier League believe that outlay is a pointed response to the dissent around the Super League plans. Sources among other hierarchies involved in the ill-fated venture have even been talking about how the American-owned clubs expected lean summers before that, which makes this such a change.
There have also been a few acerbic comments within the game at how fan dissent has died down.
That is unfair since it can be simultaneously true that supporters get excited about new signings – as is the very essence of support – and be disgruntled with the general direction of the ownership and what it represents. It also points to the reality that any fanbase, and particularly such a super-global fanbase, will have multiple factions.
Within the club, though, the reasoning is much more prosaic.
United had always planned to sign Sancho this summer – and ended up getting a better deal than they would have in 2020 – while the interest in Varane is long-standing and goes back years. Lines had been kept open, to the point the defender was very keen to come from early this summer.
That was still dependent on high wages, believed to be around £200,000 basic, which is one area where United did "push the boat out". It's possible they might not have been quite so proactive in a less fractious year.
At the same time, Ole Gunnar Solskjaer wanted a commitment from the board on signings, and the working relationship is obviously strong in that area.
Multiple sources have pointed to how it's so different to working with Jose Mourinho, who would abruptly switch targets late in processes or windows. Some have quipped how he suddenly saw Toby Alderweireld as the future of the defence in 2018, but the Belgian is now playing in Qatar at 32.
The signings in Solskjaer's time have generally worked out, or suggested promise, which comes from a more coherent process. Lessons have been learnt from past mistakes and the structure has gradually been honed and improved.
The purchase of one of the game's outstanding young talents and a world champion centre-half would represent good business in itself. As it stands, it looks like United's best summer since 2012 and the purchase of Robin van Persie.
That could have read the best summer since 2016 and the signing of Pogba, but the French midfielder's example points to how the "success" of any transfer can only be determined long after the signing, and is dependent on a lot more than profile at the time of purchase.
The Pogba situation may yet influence the success of Sancho and Varane under Solskjaer.
The Norwegian still wants a midfielder to complete the squad's best XI, and it does not feel uncharitable to say Fred and Scott McTominay are where the potential cracks are.
The question is whether that prospective signing would play alongside Pogba or replace him.
It has now been made clear to Solskjaer that United need to sell to buy. They have a lot of players they would like to offload as well as a huge wage bill, and there is the danger of an overly bloated squad. What, for example, will happen with the likes of Dan James, Phil Jones, Eric Bailly and Brandon Williams?
Some in the game have criticised United's ability to offload players – "that's the mark of a well-run club" – but that is now a problem every super club is having. There are too many players on too many big contracts, which has backlogged the transfer market. It has made United's situation there that bit more difficult.
There are currently no takers for any of Juan Mata, Nemanja Matic or Andreas Pereira. Milan would like Diogo Dalot, but the clubs are a long way apart in terms of finances, and any deal for Atletico Madrid's Kieran Trippier is dependent on that.
The Spanish club and West Ham United have expressed interest in Jesse Lingard, but United aren't currently interested in selling. That is partly down to his performances, and partly down to cover in that area.
Marcus Rashford's fitness complicates the picture, as a final decision still needs to be taken on whether he will have an operation on a torn rotator cuff. There is a feeling on both sides he needs it, but ongoing discussions over the timing. For all United's immense strength in depth in attack, the start of the season could be staggered for some players.
Some will be at different levels of fitness. Some will be getting back from international duty.
Whether Pogba is among them is the big question.
His preference remains to return to Juventus or go to one of Spain's big two, but none of those can afford him. Pogba would be open to PSG, but wants to be the biggest earner. That could influence what type of deal the French club are open to.
With only 11 months left on Pogba's contract, they won't be willing to spend big in terms of offer. And if any offer is less than £35m, it means United could actually lose money on the French midfielder this year due to his wages.
There is much to play out, and much to consider. One stance to think about is that it might be worth selling Pogba in any case, and that it might have even been logical to let him go last summer.
Brilliant as he can be, he has tended to only look like that for one game in three at United. There is an argument that selling him and signing a different profile of midfielder would bring even better balance to the team and the squad.
As it is, United are close to what Solskjaer would idealise but not fully there yet.
No one can say he hasn't been backed, though. This summer's spending means United have outspent all of the big six during Solskjaer's time by at least £90m.
He's mostly been given what he wanted.
"You're in Frank Lampard territory last summer," one well-placed source commented.
The work may only be beginning, not least with Pogba.
Register for free to continue reading
Registration is a free and easy way to support our truly independent journalism
By registering, you will also enjoy limited access to Premium articles, exclusive newsletters, commenting, and virtual events with our leading journalists
Already have an account? sign in
Join our new commenting forum
Join thought-provoking conversations, follow other Independent readers and see their replies