Manchester City's second-half shift reveals steely streak of potential Champions League kings
The maturity, composure and – above all else – control of their display was exactly what Pep Guardiola demanded at half-time, above the execution of any minor tactical tweaks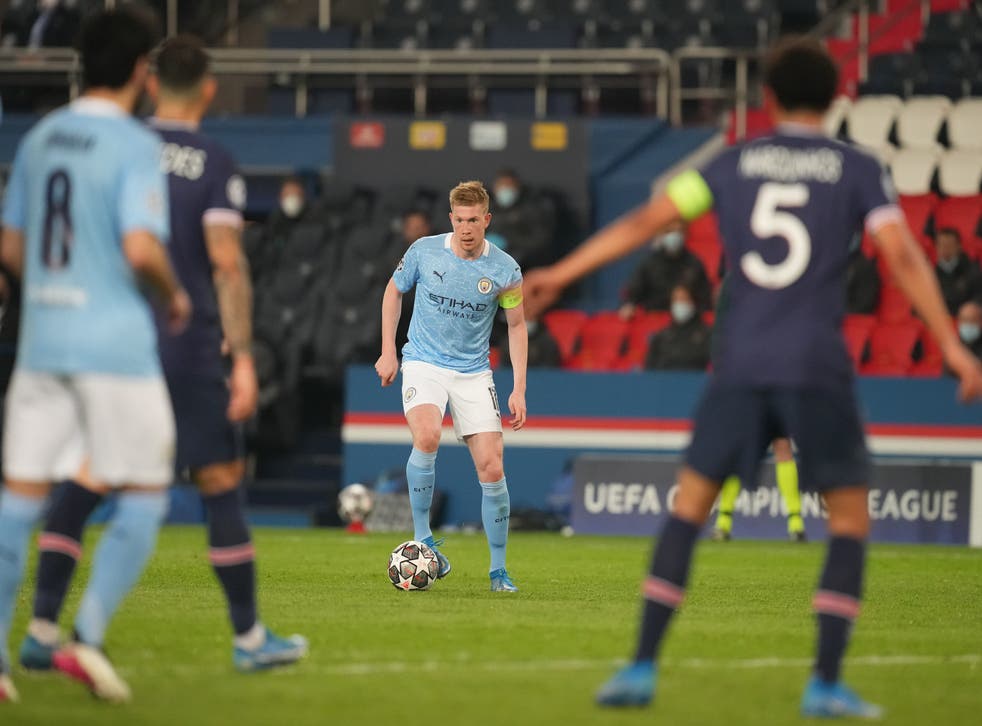 There was an obvious question to ask after the final whistle sounded on Manchester City's most significant Champions League victory yet: why was there such a contrast between their first and second half performances? What had Pep Guardiola said to his players at half-time to inspire their comeback against Paris Saint-Germain at the Parc des Princes?
"Just play a little bit more with the ball," Kevin De Bruyne, scorer of the equaliser which inspired the turnaround, revealed. "In the first half we were a little bit too rushed and we wanted to go forward too quickly and that is not the way that we are set up as a team. In the second half we did really well and we tried to find the spaces more patiently and we did that."
In fact, De Bruyne suggested the shift had come earlier still. "After 25 minutes we changed the way we pressed them and it became better," he added. "We had a couple of good opportunities, especially the one with Phil [Foden, at the end of the first half], but the second half was much better. We put them under pressure."
It made sense. More patient play in possession and more aggressive pressing without the ball were the two key changes which Guardiola has said he made midway through the Premier League season, after City's worst start to a domestic campaign under his management, and it has led them to the brink of their third league title in four years.
But surprisingly, when the same question was put to Guardiola in his post-match press conference, he did not put the difference purely down to tactics. "We adjusted some little stupid things, not important," he said of his half-time instructions, "because it depends on the personality of the players."
Guardiola's teams – City included – have struggled to respond to adversity in the past and he did not like what he saw immediately after Marquinhos opened the scoring at the Parc des Princes. "In general we were shy," he said. It was put to him that shyness is not something generally associated with his City. He disagreed. "No, it is like [us]. The first 15-20 minutes in Dortmund, the first half against Dortmund at home, we were the same.
"It is the second time in our history at this stage," Guardiola pointed out. "So many players, it is the first time they have played in the semi-finals of the Champions League. It is not like other teams that have played many times. It is a process." City, he thinks, still need to believe that they belong at this level. If they don't believe that now, perhaps they never will.
Even if there was a touch of fortune about both De Bruyne's goal and Riyad Mahrez's winner, and otherwise few clear-cut chances, City stopped a previously rampant PSG in their tracks after the break and subtly took hold of the tie, limiting last year's finalists to one shot from thereon. The maturity, composure and – above all else – control of their display was exactly what Guardiola demanded from them at the break, what he wanted more than the adjustment of any minor tactical tweak or intricate positional switch.
"At half-time I said I'm not complaining," he revealed. Instead, he asked them a question. "What is our identity with our ball and without the ball? Go out there and try to do it. And they were fantastic," he beamed. "I admire them from being not good [and] how they changed to do well. That means a lot to me about these players."
It was yet more evidence of a new, steelier streak running through this City side. This was the third time in a fortnight that they have won after going behind. It was the second straight Champions League trip which they have returned home victorious from after trailing at half-time. Compare that to the Premier League, where City have only won one of their last 105 away games in which they have been behind at the break, a record stretching back to 1995.
There is still work to do. Only two sides have ever lost the first leg of a semi-final at home and recovered to reach the final during the Champions League era but one of them was managed by Mauricio Pochettino. The two away goals carry a significant weight into next week's return at the Etihad but City's advantage is nevertheless slender. Another early PSG goal could cause things to spiral.
Fortunately for Guardiola, he can tell that his players know that their job is only half done. "I was happy that in the locker room afterwards the players were so calm," he said. "No cheering, just calm, because we know anything can happen in the second leg." Far from a shy team intimidated by the task in front of them, that insight from the Parc des Princes' away dressing room sounded like a group of players taking everything in their stride. A display of similar maturity should secure a place in their first final.
Join our new commenting forum
Join thought-provoking conversations, follow other Independent readers and see their replies