The defiant message behind Newcastle's complicated Champions League return
Newcastle have a romantic history with the Champions League and although the morality of their ownership can be questioned, a return for the first time in 20 years represents a club who are back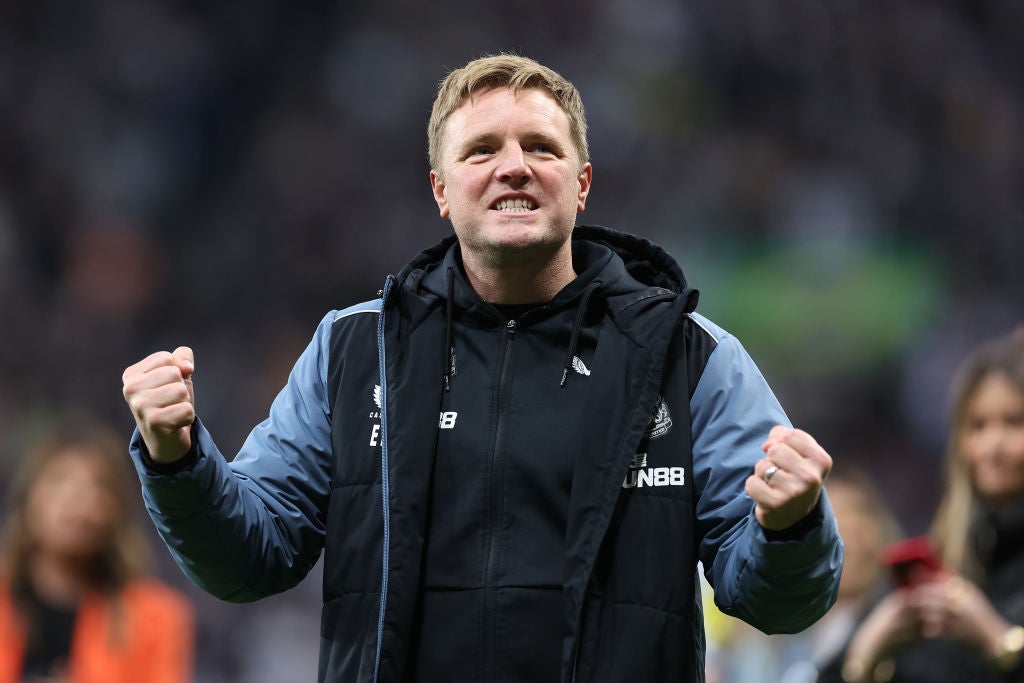 As the final whistle blew, cementing a season of overachievement, Newcastle United's fans were singing a version of a favourite chant, with the lyrics customised as their horizons broadened. "Tell me ma" often contains the assertion that "we're going to Wembley," even if the Carabao Cup final was actually Newcastle's first trip to the national stadium in the 21st century. But as Nick Pope's late save secured a draw against Leicester to clinch a top-four finish, the destination was changed. "We're going to Italy," they chorused; sooner than they thought, perhaps.
Newcastle's first Champions League game in two decades is at San Siro, against the seven-time champions of the continent, AC Milan. It does not necessarily render them underdogs: not when Newcastle had the financial muscle to sign Sandro Tonali, the Rossoneri fan who was seen as future club captain, this summer. The picture can be clouded both on and off the pitch: Stefano Pioli's team were Champions League semi-finalists last season but lost the Milan derby 5-1 to Inter on Saturday.
With Newcastle, the footballing feats came after the takeover by Saudi Arabia's Public Investment Fund. The morality of the ownership can be questioned. The money has helped, with around £400m committed in transfer fees. It meant they ended up funding Milan's summer rebuilding – selling Tonali in effect paid for the purchases of Christian Pulisic, Ruben Loftus-Cheek and Yunus Musah – but if Newcastle have still had to be bargain hunters, that is the Rossoneri's role now. With the days of Silvio Berlusconi's largesse consigned to the past, Milan mirrored Newcastle in one respect last season: they confounded expectations to get into the top four, but of the Champions League.
But for a fanbase deprived of any continental trips since Alan Pardew's Newcastle reached the quarter-finals of the Europa League in 2013, a 20-year wait to return to the major competition is tantalising. Newcastle supporters are renowned for travelling in their numbers, but it was notable that Milan hotel prices skyrocketed for Tuesday: anyone booking late would have had to pay at least £400 a night.
The iconic San Siro has a symbolic significance that stretches beyond its architecture. Newcastle's last Champions League away game – excluding a play-off against Partizan Belgrade that they lost on penalties at home – was in Milan, a 2-2 draw against Inter in 2003. Alan Shearer scored twice; Newcastle's record goalscorer is now 53 and narrating Amazon documentaries about the modern side.
When, about three-quarters of an hour after the final whistle blew in the 0-0 draw against Leicester, Eddie Howe was asked about his memories of Newcastle's Champions League past, he was a little hazy. A focus on the present meant he had not spent much time studying the history. He recalled Tino Asprilla's hat-trick against Barcelona in 1997 but not Craig Bellamy's injury-time winner against Feyenoord in 2002 when, after Newcastle had lost their first three group games, they won the last three to progress.
There was often a romance to Newcastle in the Champions League. There has been to Howe's rise, too. He took charge of a Bournemouth team 91st in the Football League and suffering from a 17-point deduction. He had more reason to watch non-league than Champions League games then. His 625th match as a manager will be his first in Europe.
There is no soft baptism. Newcastle's continental exile meant they were in pot four for the draw; to compound their difficulties, they were pitted against arguably the finest team, and definitely the most storied club, in pot three, in AC Milan. Factor in Paris Saint-Germain and Borussia Dortmund and looks the toughest and perhaps most intriguing group, a four-team rebuttal to the theory the first stage is just a procession. Even as Newcastle look to become regulars on this stage, they could be cast aside before Christmas this season.
Newcastle have the Premier League's fiscal might and the ambition. They lack the experience and Champions League nous. Kieran Trippier played in the final for Tottenham and Bruno Guimaraes bullishly declared last season: "I was born to play Champions League". But the Brazilian is one of a number of players – including Alexander Isak, Sven Botman, Joelinton and Harvey Barnes – with a handful of appearances in the competition. Many another – Nick Pope, Sean Longstaff, Joe Willock, Miguel Almiron, Callum Wilson and Anthony Gordon – has never featured in it. Dan Burn's Champions League pedigree consists of being in the crowd as a season ticket-holder when Andy Griffin scored a winner for Bobby Robson's side against Juventus.
There are personal success stories at a club who have taken on a different hue. Newcastle stand for different things to different people. For the thousands in San Siro, however, they are a club who are back.
Join our commenting forum
Join thought-provoking conversations, follow other Independent readers and see their replies