Exclusive
From 'unpromotable' to the Champions League: Union Berlin fairytale is perfect antidote to modern football
Union Berlin will cap their remarkable rise with a Champions League debut, writes Richard Jolly, but the small stadium, low ticket prices and lack of commercial deals will remain for the East German underdogs
Monday 18 September 2023 11:00 BST
Comments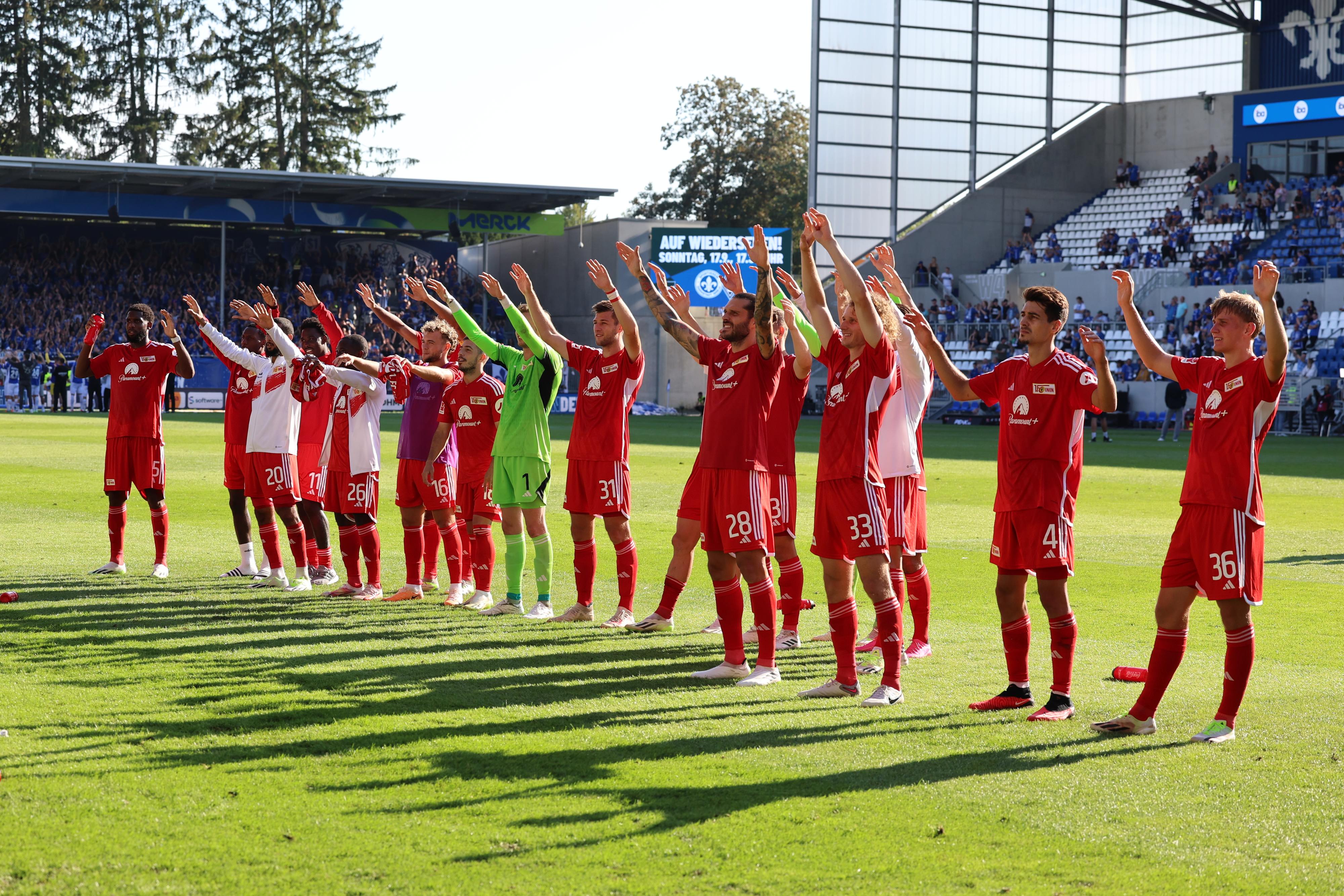 "Ja so eisern wie Granit, so wie einst Real Madrid und so zogen wir in die Bundesliga ein und wir werden auch mal deutscher Meister sein (Irgendwann)."
"Yeah, so iron, like granite, just like Real Madrid, so we'll move into the Bundesliga, and we'll also become German champions."
They could sing that at Union Berlin, safe in the knowledge they would never actually play Real Madrid. It was a fanciful chant, from a different footballing universe. In 2005-06, when Sergio Ramos was making his Real debut, Union were playing in the Oberliga-Nord, a regional league of clubs in the old East Germany. Less than two decades later, Union's players and staff and their families gathered to watch the Champions League draw. Eventually, there were two possible pools for them: B and C. They were placed in the latter.
And then it became clear: they would meet Real as peers. "Surreal and overwhelming," said Christian Arbeit, the matchday announcer at Union's Alte Forsterei ground and a lifelong fan. "For the very first time we are playing the biggest competition in club football and meet the biggest club in the world and it is the very first game." For Union, life as a Champions League club starts at the Bernabeu.
It caps the rise of Union, the underdog club from East Berlin. They haven't become German champions yet, though they led the table after two games of this campaign and finished fourth last season. They have gatecrashed the European elite with an old-fashioned formula, an almost defiant anti-commercialism that has given them an authenticity that, paradoxically, some corporations find attractive and with a ground that was rebuilt by the fans. Arbeit is one of them, a supporter for almost four decades who took a few days' leave from his job at a cinema company. "I knew I could never come back if I wouldn't have helped," he recalled.
Without Arbeit, without the 2,333 supporters who provided 140,000 hours of voluntary work in 2008 and 2009, it is safe to say Union would not have reached the Bundesliga, let alone the Champions League. There was nothing inevitable about this, about the organic, improbable surge of the people's club from the DDR.
The people saved Union when the city of Berlin and the district of Kopenick, each having done nothing to maintain the Alte Forsterei, handed it over to the club, but at a point when the German Football Federation denied it a licence to host matches; unless it was refurbished, anyway.
"A very heartwarming 13 months of a building site," Arbeit remembered. "There was around about 100 people each day – you couldn't employ more – and 80 of them had never built something before. They were like me – cinema people, teachers, sales people – and you had 20 guys, proper building people, and they had to guide us through this building site. It is kind of a miracle. We have told this story a million times but still when I do talk about it, it gives me goosebumps because it is such a crazy story."
The miracle had its roots in a different country and a different time. Union were not the dominant club in the East German capital; that mantle resided with Dynamo, who were in a run of 10 consecutive titles when a 12-year-old Arbeit first went to a game in 1986 with his father, an engineer who tended to spend his spare time playing the trombone in a Dixieland jazz band.
"Until that day I was not interested in football and we came to the stadium and it was a strange world I had never experienced before," Arbeit said. "There were grown-up men singing and chanting and shouting and swearing and using words I was not allowed to use at home so it was a huge impression of a strange way of freedom."
That freedom brought a contrast with Dynamo Berlin, the club of the notorious Stasi chief Erich Mielke and who benefitted from his patronage. "You don't go to the secret police unless you have to," Arbeit rationalised. And so Union attracted a different crowd. "It was more what we nowadays would call alternative culture: the young guys with longer hair, with parka jackets. The club was not an opposition club or a rebel movement because that would not have been possible. But I remember when my classmates noticed I go to Union. It was: 'They are so-called rowdies and hooligans.' They were considered a wild bunch, the Union fans. But I experienced them mostly like they are today, very engaged in supporting the team. In funny ways, of course."
Relegation was an occupational hazard for Union back then. German reunification brought other problems. "We played in the third division and it was very regional, it was more or less a Berlin-based league," Arbeit said. "You had to play on Sunday at 11 in the morning in the drizzling rain and it was about 700 people turning up; it was really depressing. The people had so many more existential problems: How can I find a job? How can I feed my children?"
And Union disappeared off the radar of many people, re-emerging with a first indication of their 21st-century propensity to upset more fancied teams. They had spent the 1990s acquiring the nickname of Unpromotables as, stuck in the third division, they found a range of ways not to go up. They were "Unaufstiegbar". Twice even winning their league was not enough; financial issues meant they were not granted the licence needed to play in a higher division.
And then, in 2001, they got promoted and reached the German Cup final, knocking out Borussia Monchengladbach and Bochum on their way. "It was like, wow, how did we do that?" Arbeit recalled. "After many years of being ignored, everyone noticed us."
The route to the Bernabeu nonetheless involved going backwards. Union were relegated twice in four years after the German Cup final. Short of funds, they needed the unpaid labour of their supporters to ensure they could keeping playing at the Alte Forsterei. But it helped they had a loyal fanbase: their status as outsiders may have benefited them whereas Dynamo, the former secret-police club, are now found in the Regionalliga-Nordost.
Along the way, Union have acquired different rivals within the same city. They went up to the Bundesliga in 2019, a year after the appointment of the catalytic manager Urs Fischer. And then Hertha BSC got in touch.
"I remember when we first got promoted to the Bundesliga, even in the congratulations was included, 'congratulations, Union, we are happy and we are looking forward to six points,'" said Arbeit. Last season, as Hertha propped up the Bundesliga, Union took six points at their neighbours' expense.
There was long the sense that Berlin, one of Europe's great capitals, ought to have a Champions League club. Hertha thought it should be them. No one thought it would be Union. The investor Lars Windhorst put €374m into Hertha and got just €15m back. Hertha spent more than €100m on signings in 2019-20, a season of four managers and a bottom-half finish. The most expensive of those buys, Lucas Tousart, joined Union for a cut-price fee this summer. "They manoeuvred themselves into financial and organisational instability," Arbeit said. "We had not that much money but we had a very stable organisation."
Hertha's grandiose dreams extended to Union territory. Dirk Zingler, Union's president since 2004 and another lifelong fan, has described them as an East Berlin club; in a city that was divided for almost three decades, the distinction matters. "We would never go out with the approach to say we are the one club for Berlin," Arbeit said. "The funny thing is Hertha did that for a very long time. They tried a lot of public campaigns to say that: 'one city, one club, we are the club for the whole city'." Instead, Hertha's members are largely in the west, Union's generally in the east.
Now Champions League football will come to Hertha: or their ground, anyway. When Union first qualified for Europe, Uefa did not allow them to play their 2021-22 Conference League games at the Alte Forsterei. Now they had a choice: a ground with a capacity of 22,000, with fewer than 4,000 seats, but a home of symbolic importance, or a massive venue. Real Madrid, Napoli and Braga will go to West Berlin, to the Olympiastadion. So will thousands of fans, with cheap tickets. "The Champions League is for all Unioners," said Zingler at the time.
"It was one of the most difficult decisions we had to make," said Arbeit. "We always say it is the people we are doing it for. It is something extraordinary, it is possible it is the only time in our history we reach that competition and that is why we decided to show it to as many people as possible. Still we are a bit sad."
Even Union have to compromise sometimes. But not often. Their matchday is a different experience. "We want to keep the dignity of the football match itself," Arbeit said. "We don't want any advertising Zeppelins flying around at the half-time break and no kiss-cam and no T-shirt gun. We don't make any noise or any announcements in a commercial way and just a little bit, this is already something special in German football. We don't do a half-time show with sponsored games or quiz shows. You can't win some products. You have no entertainment before the game.
"The people come here and meet their friends and they can have their beer and sausage. Just 20 minutes before kick-off, I just come on the pitch and say hello and introduce the guest team and then our team." Union nevertheless have a corporate shirt sponsor, Paramount, and JD Sports on their sleeves, but on their own terms. "We develop in sponsorship terms from regional and local companies to international," Arbeit said.
If Union may be Germany's least commercial club, their opposites are the other East German representatives in the Champions League: RB Leipzig, propelled by the Red Bull group. "From the view of our fans, it was about establishing a monumental marketing piece in football for a product which is Red Bull," Arbeit said. "We are the last protesting audience: whenever we play against Leipzig our fans spend the first 15 minutes in silence."
If Leipzig – parachuted into a city with two established clubs, Chemie and Lokomotive – are the break from the past and Union a link with it, that still did not bring Ostalgie, the nostalgia for East Germany; DDR flags have been seen at other grounds behind the old Iron Curtain, but not Union's.
But they were born in the DDR. About three-quarters of off-field staff are supporters, some converts after they start working for the club. For most, it is not a stepping stone. A community club nevertheless display their ambition. As a newly-promoted club, they signed the former double Bundesliga winners Neven Subotic and Christian Gentner. A year later, Max Kruse, once the enfant terrible of German football, joined: he ended his first season with an injury-time goal on the final day to take Union into Europe. "Since then, everyone in our surroundings believes we can sign whoever we want. We are not afraid of calling someone up and asking," Arbeit said.
That policy reaped a reward this summer. Enter Robin Gosens, whose final contribution in an Internazionale shirt was to almost equalise in last year's Champions League final, and, most remarkably, Leonardo Bonucci. The Euro 2020 winner and Italy captain left Juventus to play Champions League football with Union, a sentence that would long have sounded ludicrous.
"He was perfectly prepared," Arbeit explained. "When we had talks with him, he knew almost everything about our club; that was for us kind of a surprise because we didn't expect this guy to know we have three sides of standing terraces. That meant to us that this person might perfectly fit because he could have gone to America or Saudi Arabia to take the next 20 million or anything but it looked like that he wanted for himself something special as well. When I was a boy, I always thought, why don't players in the late years of their career, when they made their money already, why don't they do something nice? And now I experienced that."
Union's unique sales pitch is to offer less money. After all, they have no billionaire backer, a small stadium, low ticket prices and eschew some commercial deals. They have got players to buy into them, into the dream. Their wage bill last season, before bonuses for Champions League qualification, was in the bottom half of the Bundesliga's, perhaps the bottom third. The chances are that striker Kevin Behrens can afford a car but, after he scored an opening-day hat-trick against Mainz this season, he was spotted cycling home. Only at Union, perhaps.
But then the Unpromotables have done it their way as they have kept on going up and up. Union are the antidote to the worst excesses of 21st-century football. And for the fans who gravitated towards them 40 or 50 years ago, the long-haired and the parka-jacketed who sought some freedom and some wildness in communist East Germany, they don't need to sing about playing Real Madrid anymore. It's really happening.
Join our commenting forum
Join thought-provoking conversations, follow other Independent readers and see their replies