2015 heroes and villains: 'Fifa Slayer' Lynch stands out as Sebastian Coe's reputation continues to diminish
Who comes out of the year with their head held high?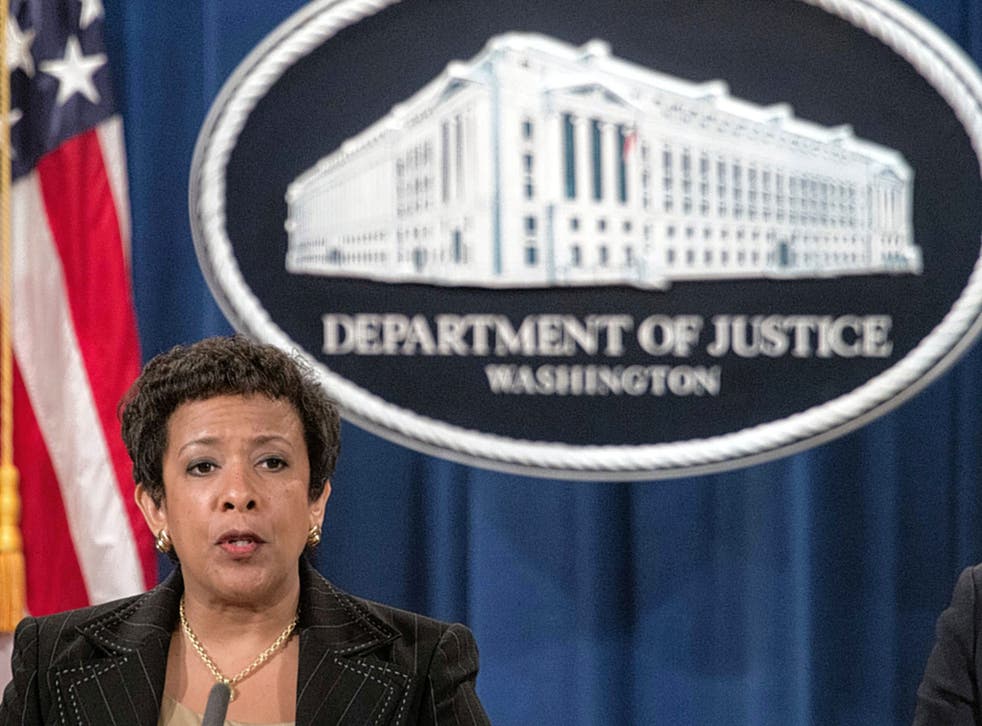 The year ends with sport suffering an existential crisis. Who and what can realistically be believed? Where and how can trust be replenished? Here, in a series of thumbnail sketches, are the heroes and zeroes of 2015.
Heroes
Loretta Lynch
Move over Captain America. Your job is done, Spiderman. There's a new superhero in town, ready to assist the Guardians of the Galaxy. Fifa Slayer carries a football in one hand, and wields the sword of truth with the other.
Marvel Comics have based her character on that of Loretta Lynch, the US Attorney General who has overseen the investigation and arrest of 30 leading officials from football's discredited governing body. If there is any justice her work will lead to Fifa's collapse and disbandment.
Her unconcealed contempt for those accused of "corruption that is rampant, systemic, and deep-rooted" is refreshing. Lynch mocks the pretensions of the quasi-statesmen by viewing them as common criminals who "abused their positions of trust to acquire millions of dollars in bribes and kickbacks".
Ernie Crouch
Football died a little with Ernie Crouch, when he was blown into the path of a bus on the way to watch Arsenal play Sunderland on 5 December. He was 90, and had followed the club home and away for 80 years.
I had come into contact with him earlier in the year, when writing a column about the game's hidden heroes, fans whose loyalty is rarely reciprocated in an age where they are identified as "consumers" to be "monetised".
A miniature bottle of whiskey, Ernie's trademark flat cap, and a wide, lovingly knitted red-and-white scarf were placed on his usual seat on the Supporters Club coach to the following away match, at Aston Villa. As tributes go it was poignant, perfect.
Karne Hesketh
Recognise the name? Thought not. He was the unheralded replacement who entered folklore by scoring the try, four minutes into added time, which confirmed the greatest shock in rugby history, Japan's 34-32 win over South Africa.
Let's gloss over the fact the naturalised New Zealander was against the decision to refuse the simple penalty which would have secured a draw for the 1,000-1 World Cup outsiders. The irony is irrelevant given the broader impact of Japan's persistence and ambition.
There was something innately heroic in kicking to set up the line-out from which they swept right to left before Hesketh drove over the tryline. No fewer than 25 million Japanese watched the Cherry Blossoms' next match on TV, testament to rugby's expansion into Asia, Africa and the Americas.
Andy Murray
The world's second-best tennis player didn't need a bauble from the BBC to confirm his status as a national sporting treasure. Andy Murray, once lampooned as a dour, sour Scot, is that rarity, a champion with a common touch.
He won the Davis Cup single-handedly yet insisted on sharing the credit. He refused to rest on his laurels, striking a long overdue blow for British tennis in the immediate aftermath of victory by ridiculing the LTA's fitness to govern.
Murray is independent of thought, free of spirit, and a key component in what is a golden age for a sport which requires athleticism, skill and durability. Appreciate him while you can.
Zeroes
Michel Platini
We had prepared ourselves, mentally, for Sepp Blatter's delusion and confusion when he was belatedly shunned by football, the game over which he supposed he reigned. Michel Platini's ignorance and arrogance was equally unsurprising, and no less sad.
Platini's regression from star to seedy politician is a one-act morality play. His relish of self-imposed martyrdom following his eight year suspension from football, underlines the character flaws once hidden by his status as the greatest midfield player of his generation.
He smears those who have judged him as being "bereft of all credibility or legitimacy." That he is still supported by the French FA, and his nation's sports minister, is an equally depressing commentary on our times. He has a right to appeal, but no right to expect sympathy.
Tyson Fury
Boxing long ago turned pantomime politics into a highly profitable black art. Its exponents know how to exploit notoriety, and why there is always money to be made from one-dimensional portraits of theoretical villains.
Fury's seizure of the world heavyweight title should have been the stuff of legend; instead he has betrayed his status by using it as a platform for primeval views and puerile behaviour. People may pay to watch him lose in 2016, when Anthony Joshua will be hyped as normality's avenging angel, but when the bottom line involves scraping the bottom of the barrel, no one wins.
Tiger Woods
The greatest golfer of his generation turns 40 on 30 December. He has come to realise the relative irrelevance of his sport and the importance of the young family he admits to taking for granted for far too long. A career-threatening injury is the ultimate leveller. It demands humility, even from those who consider themselves prisoners of their celebrity. Tiger Woods is a zero at present, because that is the number fate has assigned him.
He wants to keep playing "with all my heart". He won 14 majors by the age of 32. If he is remembered solely by that statistic in years to come, without any recognition as his transformation as a man, he will have failed. Only the churlish will not wish him well.
Sebastian Coe
According to Sebastian Coe, the IAAF's scandal "isn't bigger" than Fifa's. Some of us would like to reserve judgement on that perverse piece of competitive logic until this time next year, thanks all the same.
Coe's conduct since becoming IAAF president has been a study in the inability of an insider to instigate anything other than superficial change. He has made bold statements without answering detailed questions, and is increasingly vulnerable to the weaknesses of those around him.
Suspicions persist that 2016 will develop into athletics' annus horribilis. Coe's reputation will continue to be simultaneously diminished if he does not rein in his instinct to insult the intelligence of any inquisitor.
Join our new commenting forum
Join thought-provoking conversations, follow other Independent readers and see their replies