Aston Villa vs Birmingham City and the story of a football rivalry characterised by its glorious, gleeful pettiness
The Second City derby has a rich and rocky history: it is English football's equivalent of a clan dispute, passed on from generation to generation like the family silver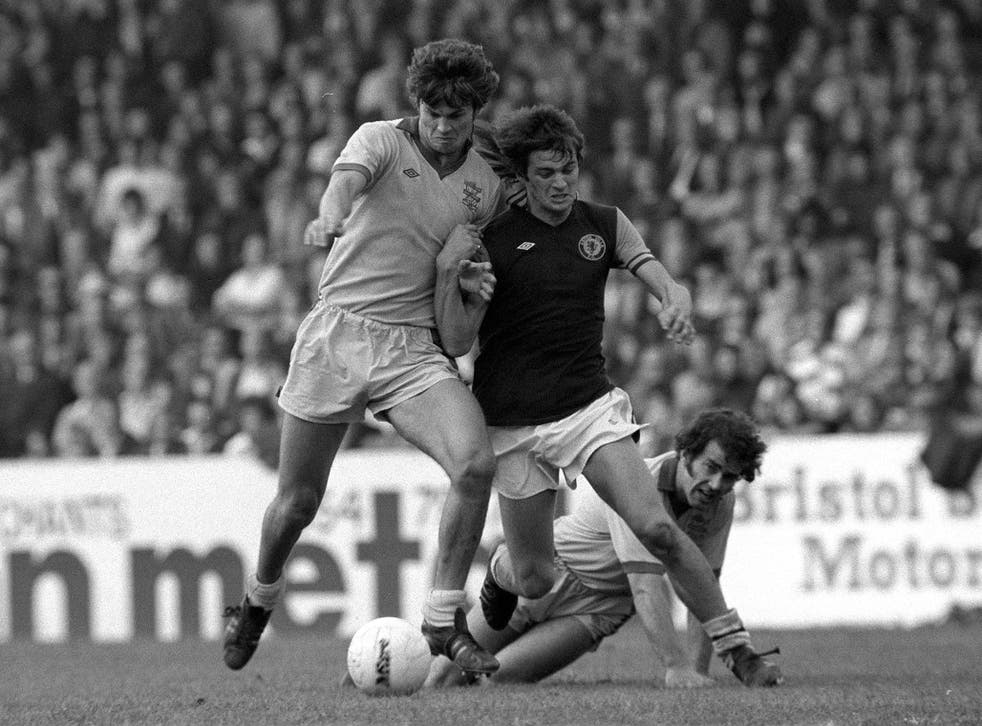 Not many football fans outside Birmingham will have heard of Paul Tait, who enjoyed a long and yet largely undistinguished career in some of the more inglorious reaches of the Football League.
And indeed, if you have heard of him at all, it is for one of his two notable claims to fame. In the 103rd minute of the Auto Windscreens Shield final in April 1995, Tait scored a glancing header to win the game for Birmingham against Carlisle: the first ever golden goal scored at Wembley Stadium.
But for most, and certainly within the B postcode, Tait is better known for what happened just a few seconds later. As he ran towards the jubilant Birmingham fans, the victorious Tait removed his jersey, to reveal a T-shirt bearing the words "Shit on the Villa".
The fallout was swift and tumultuous. Comically, the FA pushed for a six-month ban. More comic still was Tait's subsequent defence, in which he claimed that not only was the stunt unplanned, but that it was "a private joke", albeit one made in front of 76,000 fans and a live television audience.
No matter. After the usual huff and froth, Tait was eventually relieved of two weeks' wages, a small price to pay for lifetime membership of the Birmingham City hall of legends. And as Aston Villa and Birmingham prepare to square up for the 126th time at Villa Park on Sunday, it is a reminder that for all its rich and rocky history, its occasional flashpoints and flarings of violence, the Second City derby is one perhaps best characterised by a glorious, gleeful pettiness.
Though you will still see a heavy police presence at Villa Park this weekend, the vast majority of confrontation is basically harmless: grounded as much in a performative, gladiatorial ribaldry as in genuine personal hatred. Birmingham fans have delighted in Villa's recent turmoil, its conveyor belt of managers, a seeming inability to fill its stadium except when they visit. Villa fans, meanwhile, jibe that they have lost the FA Cup more times than Birmingham have won it.
Like most local derbies, it is one where you really have to be part of it to appreciate it fully. "It means nothing when you're not here," says Colin Calderwood, who has seen both sides of the divide as Chris Hughton's assistant at Birmingham and now Steve Bruce's assistant at Villa. "But when you're here, and you either support one of the clubs or you're involved, it's the big one. It is games like this that you really remember. You want to live off that emotion."
An emotion nourished, in part, by memories: Ron Saunders and Dennis Mortimer, Tait and Peter Enckelman, Alex McLeish and Robbie Savage, a shared hatred of whom is perhaps the one thing both sets of fans could agree on. But this is a rivalry very much anchored in the present, too: and the respective missions of the two sides. Villa, in third place and on a run of six straight wins, are desperate to get out of the Championship. Birmingham, four points clear of the drop zone, are desperate to stay in it.
"They are the best games to play," said Birmingham midfielder Maikel Kieftenbeld this week. "Not always in terms of the quality of the game, but in terms of the atmosphere. I played five years for FC Groningen in the north of Holland, and our derby game was against Heerenveen, but you can't compare it. The Blues-Villa game is a different level."
Yet like most local derbies, it is one that lives most vividly not on the pitch, or even in the stadium, but in Birmingham's surrogate battlegrounds: its shops and offices, its school playgrounds and building sites. Washwood Heath Road, the old boundary between Birmingham and Aston, is generally regarded as the unofficial divide. To the north: Erdington, Kingstanding, Perry Barr and Sutton Coldfield are all regarded as Villa territory. To the south, Small Heath, King's Heath, Bordesley Green, Solihull: blue and white turf.
To a large extent, this is not a rivalry based on religion, or politics, or class, even if Birmingham fans like to deride Villa as the club of Prince William and David Cameron and the establishment. Rather, it is a clan dispute, passed on from generation to generation like the family silver, and one for which Birmingham, with its rapid, uneven pace of industrial development, its yawning inequalities and post-war search for identity, seems to have a particular penchant.
As Philip Gooderson explains in his book The Gangs of Birmingham, many of the turf loyalties between criminal gangs such as the Peaky Blinders and the Whitehouse Street Gang in late 19th-century Birmingham ended up becoming absorbed, over the first half of the 20th century, into the city's football culture.
Villa's trials over the last few years partially obscure the fact that for most of their history, these two clubs have been in different leagues, and in more senses than one. "The princes against the paupers," is Savage's characterisation of the rivalry, and in a sense the perceived condescension of Villa towards Birmingham is a major aggravating factor, one which arguably goes all the way back to 1879 and the first ever meeting between Aston Villa and Small Heath, on a pitch the Villa players sniffily claimed was "only fit for potholing".
And so while Villa have always been the more decorated club, Birmingham have always taken a certain delight in giving them a bloody nose every so often, as in December 1982, when they destroyed the reigning European champions 3-0 at St Andrew's.
Birmingham's promotion to the Premier League in 2002, meanwhile, ushered in a new golden era for the Second City derby. The March 2003 encounter at Villa Park was one of the all-time great Premier League fixtures, featuring another Enckelman howler, two red cards, a 21-man brawl, rucking in the stands, Savage being headbutted by Dion Dublin and then being substituted for his own safety, and striker Geoff Horsfield ending the game in goal.
These days, with lunchtime kick-offs, shrewder policing, a drop of a division and the seeming determination of both sides not to inflame tensions, some of the sting seems to have been drawn. Bruce, a man who knows more about the passions of this fixture than most, has been missing from Villa training this week while mourning the death of his father. That, too, may play a part in dampening the fervour just a little.
And yet the stakes still seem higher than ever. There is enough of a Midlands core in both squads - Craig Gardner and David Davis for Birmingham, the rejuvenated Jack Grealish and the out-of-favour Gabby Agbonlahor for Villa - to give the fixture a certain local flavour. And Villa are under the pressure of knowing that another scrappy, low-scoring game - no team has scored twice in this fixture for almost a decade - does no favours to their promotion chances. Birmingham, you feel, would be delighted with another goalless draw.
In a way, it has the makings of a classic Birmingham derby, with the traditional dynamic - Villa in pursuit of a larger goal, Birmingham desperate to drag them from their perch, both teams fuelled by an irrational, blood-borne antipathy - basically unchanged. And though neither club is quite what it was at its peak, Sunday is a prime opportunity to see one of English football's rowdier, bawdier, brasher, louder, scrappier, and more downright enjoyable rivalries played out in the flesh.
Join our new commenting forum
Join thought-provoking conversations, follow other Independent readers and see their replies