Can Chelsea's three musketeers Juan Mata, Eden Hazard and Oscar resist calls for a new Didier Drogba?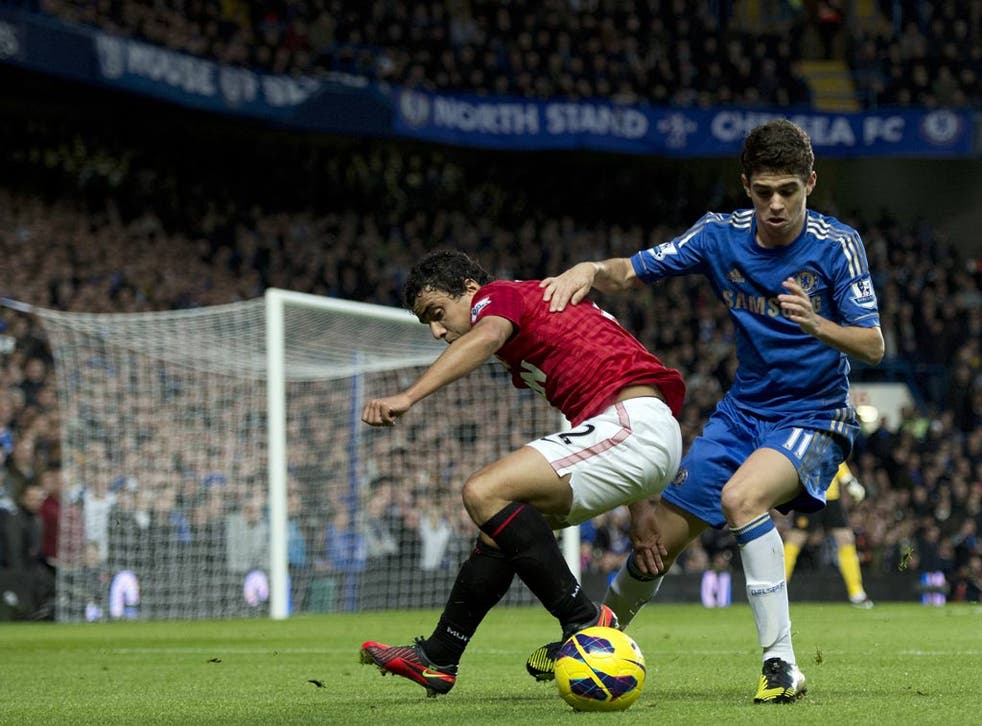 All for one, one for all. But if Chelsea's famous three musketeers are all deployed in the self-same role, then there are bound to be times when it will feel like 11 versus nine. That was certainly the case against Shakhtar Donetsk last week, and two red cards yesterday gave the disparity a literal quality. A far more telling void, however, was the fact that Fernando Torres was on the point of being substituted when receiving his second yellow card, for simulation. However harsh that specific charge, many would have found him guilty of a more generic impersonation for the previous 69 minutes. And the direct consequence was that all three – Juan Mata, Eden Hazard and Oscar – ended up being taken off instead.
Since parting with Didier Drogba, Chelsea have resembled a brawny cowhand, down from the mountains to assemble Swiss watches. But these three nimble craftsmen still need men to build them a workshop, a worktop. You might well argue that the most important players yesterday were not Mata, Hazard and Oscar, but Ramires, Jon Obi Mikel and Torres.
The first two were initially asphyxiated by a red-and-white configuration essentially modelled on a "no entry" sign, with Wayne Rooney scavenging in front of his centre-backs. An equaliser for Ramires would seal his status as a buttress equal to the delicate spars thrown among the three men in front. Torres, however, seemed petrified by an instant, ruthless contrast in the big-money striker at the other end.
Though Chelsea already have three men sharing the role of trequartista, Torres persists in behaving like another. You would think his national manager might have made him repent of that delusion, having resolved that he would sooner play without any "striker" than one who tries to mix and match with his "false nines" – with the critical difference that Torres keeps making the wrong decisions, keeps losing the ball.
He is making a powerful case for Roberto Di Matteo to take his employer's admiration for the Barcelona model to its logical conclusion. There is a theory that Torres, in complementing the darts and feints of the three artists behind him, creates the space that has permitted Mata to score seven times in seven games. But it is not just in his clinical finishing that Robin van Persie casts a chilling shadow over Torres, but in his exquisite technique. In fact, the role Torres appears to crave would be more competently embraced by a man who ultimately failed to persuade Sir Alex Ferguson that he could do exactly what Van Persie has now been hired to do: Dimitar Berbatov.
Maddeningly for Di Matteo, the three diminutive playmakers had shouldered an exorbitant weight in hauling Chelsea level from two goals down – like ants unfeasibly transporting a giant fig leaf, to spare Torres an undignified exposure. Hazard mesmerised with his feet; Mata, with his passing; Oscar with his movement. The latter, in fact, would seem a far more feasible agency than Torres for Mata's fertility.
But Ferguson reverted to width – and was duly rewarded, in the opening minutes, when Ashley Cole twice surpassed the presumed terms of his truce with Rio Ferdinand to permit Antonio Valencia, Ashley Young and Rafael free rein. Ferguson had banked on the fact that Chelsea, now they are so swift to draw the rapier, tend to fumble in reaching for the shield.
Lest we forget, last Wednesday was not Chelsea's first humiliation by European opposition. Atletico Madrid gave them a thrashing in the Super Cup. This second consecutive defeat did seem to raise questions about the team's broader ornamentation.
Under the maligned stewardship of Andre Villas-Boas, things only started to go wrong on the equivalent matchday last season – when Chelsea likewise ended up with nine men at QPR. These two teams meet again on Wednesday, in the League Cup, which may also represents the holders' best chance of maintaining their early advantage at home. Otherwise Di Matteo may have to summon Marin and Moses, and perhaps discard Torres. News that Lukaku had scored for West Bromwich Albion may have prompted some Chelsea fans to yearn not just for the old Drogba, but for a new one.
Join our new commenting forum
Join thought-provoking conversations, follow other Independent readers and see their replies