Christian Benteke: Street football took brilliant Belgians to top
The Aston Villa striker is part of a golden generation of lowlanders but, as he prepares to face Manchester United tomorrow, the Congo-born star tells Sam Wallace that their skills were learnt the hard way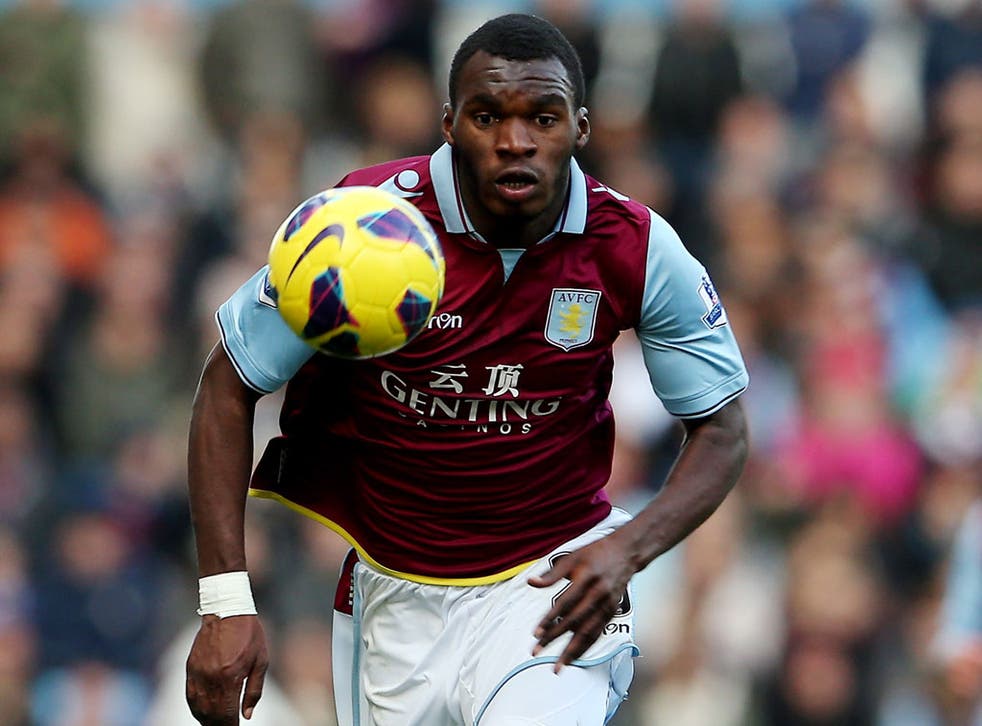 When Christian Benteke listens to the list of famous footballers of Congolese descent who have gone on to play for some of the biggest names in the world, he raises an eyebrow. "They would make a good team, eh?" he says.
Vincent Kompany, Claude Makélélé, Jose Bosingwa to name but a few. The Congolese diaspora has spread across Europe's best clubs and its latest name is the man who sits opposite me at Aston Villa's training ground. Tall and lean but powerful, with four goals already for Villa this season, Benteke faces Manchester United at Villa Park for the first time tomorrow.
The 21-year-old was a £7m signing in the summer, the most Villa's new manager Paul Lambert has ever spent on a player. He scored on his debut against Swansea City having already scored three for Genk at the start of the Belgian domestic season before his move.
Benteke is part of the glittering new generation of Belgian footballers who sit top of World Cup 2014 qualifying Group A and, by the time that tournament comes around, may well even be one of the favourites among Europe's representatives to win it. But he was born in Kinshasa in 1990, the son of a military man, Jean-Pierre, who decided that the Mobutu regime was too dangerous for his wife and son.
The family moved to join an uncle in Liège, in Belgium, the DR Congo's former colonial power, and Benteke himself has never been back to the country of his birth. "It wasn't especially because there was a war on where we were living, but because my father was in the military and he anticipated that the fighting would reach us," he says. "He didn't want to take risks with his family."
He laughs when I suggest that the family decided to leave Congo quickly, or that they were in fear of imminent danger. "No, we got on a plane with a boarding pass, just like everyone else," he says. "It's a bit difficult to talk about. A lot of my friends have gone to Congo and they say it's not what they expected it to be. On TV they only show the bad stuff. There are beautiful places there but they just don't show them on the TV.
"It used to be a very rich country but because of all the wars, some people have taken that wealth. We moved to Liège. We were welcomed. It's now 19 years that my family have been there, so clearly it's been good to us.
"I feel like I am both Belgian and Congolese. At home, my mother [Marie-Claire] would never speak to me in French. My dad would speak to us three kids in French, but the other adults in my family would speak in Lingala. So I feel a bit of both."
His siblings, Jonathan, 17, and Sara, 10, were born after the family moved to Liège where Christian quickly developed as a footballer at the Jeunesse Sportive Pierreuse club. He is young but he has had an unusual career, moving from Standard Liège to Genk, back to Liège and then back again to Genk, who finally did the deal with Villa in the summer.
In the meantime he has had loan spells with Kortrijk and Mechelen, and everywhere he has gone he has scored goals. "I was a young player and I felt no one ever fully put enough faith in me. Each time I played a full season, and I thought I played well, I was loaned out again by Liège. At Genk [the second time], I found some stability. But that chapter is the past for me now. Thanks to Genk, I am here now."
He has eight caps for Belgium and has three senior international goals including one against the Netherlands in his country's 4-2 win over the 2010 World Cup finalists in August. Belgian football is now producing some of the best young players in Europe with a significant number occupying key roles at Premier League club sides, including Eden Hazard, Marouane Fellaini, Mousa Dembélé, Jan Vertonghen, Kompany, Romelu Lukaku and Kevin Mirallas. For a country that has not qualified for the last five major tournaments, how has it happened?
"I think it is because there are a lot more street footballers coming through with a lot of skill learnt on the street," Benteke says. "But it's not skill that has been taught to them. They already have innate quality. I think now they have the chance to come through. Everybody is progressing at the same speed in this generation.
"I started in the street, playing with my mates in the evenings. It was more fun that way. Also in Liège they have pitches set up all over the city, some are shale and some are synthetic but there were a lot of places for us to play whenever we wanted.
"I started playing with Axel Witsel, who is also from Liège [now at Zenit St Petersburg]. He played in the street. Kompany, Dembélé, Mirallas all started playing in the streets. In England, there are more "English" English. But Belgium welcomes a lot of foreigners and that is what makes the side so strong.
"The fact that it is a bi-lingual country, that unites everybody. Everyone has to make an effort and that keeps everyone together."
Indeed, Belgium's current squad has echoes of the great France team of 1998 in its diversity. Witsel's father is of Martinique heritage; Mirallas has Spanish heritage and Dembélé's father is from Mali. Benteke's best friend is Yassine El Ghanassy, signed on loan by West Bromwich Albion this summer, who is of Moroccan descent.
"We have very good players of a very high standard but winning the World Cup is hard because there are countries that are more used to winning like Argentina, Brazil, Italy, France, Germany," Benteke says. "For us, it's a long time since we qualified for an important tournament. We had forgotten how to qualify. So, just to make the finals is the most important thing."
His father's illness means his parents are yet to come over to watch him play. "My father is a very hard man," Benteke says. "He tells me that the career of a footballer isn't long so I must take full advantage of it. My mother is much softer. She speaks with her heart. My dad tells me the reality. If I am rubbish in a game, he lets me know. He doesn't mince his words. But he has brought us up well."
He grew up supporting Arsenal, mainly because of Thierry Henry, but gestures at the pictures from the 1982 European Cup final on the wall of the training ground as he talks about being at Villa. "It is a dream to have come all this way," he says, "but in my head I was always going to be a footballer and I was ready to sacrifice a lot to get here."
Dazzling diaspora: Premier League's Congo contacts
Vincent Kompany
Represents Belgium but undertakes charity work in his native country. Moved to Man City in 2008, helping them to the title last year.
Claude Makélélé
Born in Kinshasa and moved to France at the age of four. Spent five years at Chelsea, now coaching at PSG.
Jose Bosingwa
Born to a Congolese mother in Mbandaka before moving to Portugal as a child. Currently features for QPR after move from Chelsea.
Charles N'Zogbia
Born in France but with Congolese parentage, the winger began his Premier League career at Newcastle before a successful spell with Wigan. Now at Aston Villa.
Youssouf Mulumbu
Kinshasa-born midfielder joined West Bromwich in 2009. Retired from national side before relenting.
Join our new commenting forum
Join thought-provoking conversations, follow other Independent readers and see their replies