Comment: David Moyes paying the price of Manchester United's virtual abstinence from top-level transfers since 2006. Can he refire their ambition?
Van Persie stands alone as a crown jewel acquisition from Ferguson's final years
Sam Wallace
Monday 09 December 2013 01:34 Comments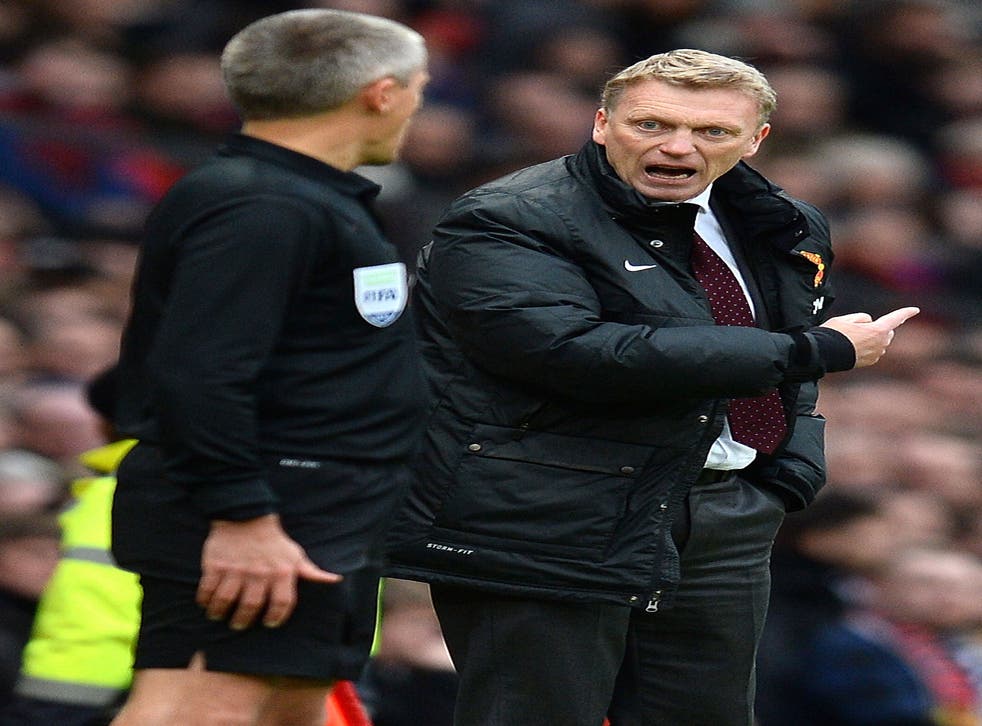 There has never been an era thrust quicker between the covers of a history book than the 20-year dominance of English football by Manchester United – and that has nothing to do with their start to the season under the new manager, David Moyes.
Rather it is the haste with which the two major accounts of the era have been launched, starting with Sir Alex Ferguson's book, squaring off the grudges and alliances of his 26 years in charge. Then came the The Class of '92 documentary, drawing together the life and times of his most famous cadre of players.
The latter is revelatory in the way the characters of those six players emerge, freed by Ferguson's retirement to say what they like. And with its memories of United footballers proudly driving Honda Preludes or performing homoerotic first-team initiation tests, the film truly speaks of a bygone era.
As history claims that time, the occasional performance of Ryan Giggs aside, the message is clear: those days are over. Not necessarily the success – United will doubtless win trophies again at some point. But the chapter is closed.
And so it turns to the old assumption about success going in cycles, about all dynasties coming to an end, as if United are about to disappear from the top table. With their £400m-plus turnover and their 75,800-capacity stadium, their wealth and prestige run much too deep for that. All the same, any modern empire in business or politics will always have to fight to maintain the innovation that marked its best years.
And doesn't Moyes know that, sitting ninth in the Premier League on 22 points, beaten for the fifth time this season on Saturday – at home by Newcastle United. As he reads the pages of Ferguson's book, or watches the golden era of his new club through the eyes of those six apprentices who went on to win it all, the question that he is entitled to ask is simple. Why did that ruthless process of renewal grind to a halt?
Moyes inherited the champions, but the champions of a league in which the nearest challengers were in disarray. Manchester City were at war with a manager who would be sacked. Chelsea struggled with the burden of another mid-season managerial change, their most unpopular yet. Arsenal had sold their best player to United. Tottenham failed to make the top four despite the presence of Gareth Bale.
Ferguson's last great act was to buy Robin van Persie to carry a team over the line as, around United, everyone else sabotaged their own race. When discussing the challenges of the season finale, Jose Mourinho favours the Portuguese saying "dying on the beach" – the story of the swimmer who puts everything into reaching safety only to perish from the effort. United got to the beach intact in May 2013, but they are seizing up now.
For a relatively short period in Ferguson's reign he made a virtue in the transfer market of United being arguably Europe's pre-eminent club. He had always bought the premium players, such as Gary Pallister, Paul Ince, Roy Keane and Andy Cole, but for a short period at the start of the new millennium he went into overdrive with Juan Sebastian Veron and Ruud van Nistelrooy.
He also bought the established leading English players on the rare occasions they came on to the market – Rio Ferdinand, Wayne Rooney and, to a lesser extent, Michael Carrick and Owen Hargreaves.
From Europe between 2003 and 2006 there was Cristiano Ronaldo, his greatest signing, as well as Nemanja Vidic and Patrice Evra, proving he was still making sophisticated picks halfway through the last decade. And then, as the newly enriched clubs in the Premier League and Europe started spending more effectively, United simply abstained.
The transfer record since Carrick's arrival at Old Trafford in 2006 is striking. There were young players such as Phil Jones and Ashley Young from lesser Premier League clubs. There were big deals from high-end but habitual selling clubs – Nani, Anderson, Dimitar Berbatov, Antonio Valencia, David de Gea, Shinji Kagawa. The loan signing of Carlos Tevez filled a gap for two seasons, but it was a strange kind of compromise that ended badly.
Van Persie's signing stands alone as a crown jewel acquisition; a one-off player thrust on to the market for whose signature Ferguson had to use his standing and United's history to defeat wealthier rivals.
But otherwise the unrelenting process of renewal, of upward pressure on first-team places stopped. Evra looks over his shoulder and sees only Alexander Buttner. At last Ferguson signed a central midfielder, Nick Powell, last year. Now he is on loan at Wigan. This is Moyes's problem now but it has been festering at United for years.
Was it the Glazer effect? That, in itself, is a whole new column. Or was it a strange impulse on Ferguson's part that, like Arsène Wenger, he would simply not pay the prices – even with someone else's money? Moyes will have to accept that he made a slow start to beginning the cycle of change this summer, as he tried to absorb the scale of the task. But change cannot come quickly enough. He must eliminate the comfort zone. He has to harry, bully and cajole the club forward as a young Ferguson once did.
Ferguson walked into a club of underachievers in 1986. Moyes has far too many overachievers. Even the mediocre players at Old Trafford have medals on the shelf at home. Ferguson, facing the 1980s and early 1990s establishment clubs, chiefly Liverpool, and then Arsenal, sought players who wanted to change the status quo. Now, United are the great establishment club and too comfortable with it.
United have always spent money in the modern era, even in the erratic 1980s, when they were often profligate. But it goes without saying that the competition is much more intense these days in that regard. Spending big is an option, but in the modern era there are too few truly great players for every rich club which wants one.
All the things that United once did better than anyone else – high-end, big-money signings; astute scouting and development of young players – others have now poured resources into. Football clubs are better run now than in the days when, as Eric Harrison recalls in The Class of '92, a decision as simple as Ferguson doubling the number of scouts could make a significant difference.
At the end of Ferguson's first season, 1986-87, in which he took over in November, the team finished 11th. Only four of the clubs who finished above them have stayed exclusively in the top-flight since. Two are currently in League One and another, Luton Town, are in the Conference. It was a much more fluid competition with smaller clubs better able to compete. If United were to finish 11th this season, the route back up will be harder, against much more robust clubs than three decades ago.
Moyes' job is not to rebuild United as Ferguson once did. United is built. What Moyes faces is the task of reinvigorating the club with the old ruthlessness and dominance it once trademarked. A characteristic which has been talked about rather too much of late as a feature of history at Old Trafford rather than as part of an ongoing tradition.
Related articles...
United will not be forced into panic buys, says Moyes
Sam Wallace: Moyes paying price for transfer abstinence
Moyes needs immediate lift to take the crisis out of change
United players 'don't want the ball', claims Wilkins
Ferguson still trying to exert 'control and power' at United, claims Keane
United face personnel problem in Champions League
Register for free to continue reading
Registration is a free and easy way to support our truly independent journalism
By registering, you will also enjoy limited access to Premium articles, exclusive newsletters, commenting, and virtual events with our leading journalists
Already have an account? sign in
Join our new commenting forum
Join thought-provoking conversations, follow other Independent readers and see their replies