Danny Higginbotham autobiography extracts: Roy Keane gave the most bizarre team talk I have ever heard
From Roy Keane's no-holds-barred approach at Sunderland to Jim Smith basing his tactics on a formation of ducks, Danny Higginbotham has heard it all from his managers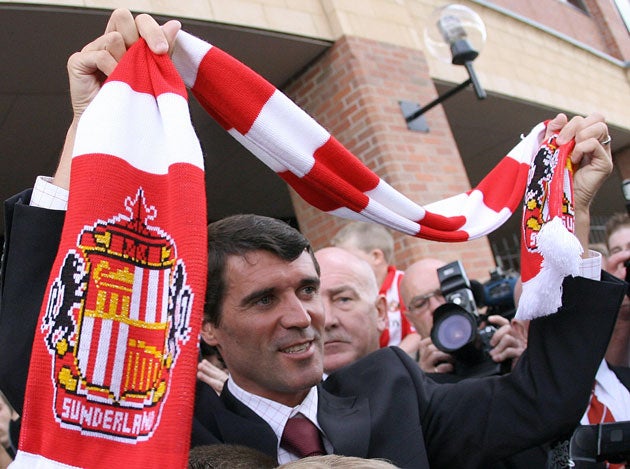 Danny Higginbotham's football career was a journey; not a procession to stardom. He was a Manchester United player in his teens, released by Sir Alex Ferguson at the age of 21 and had been relegated from the top flight at two different clubs within five years. In these extracts from his new autobiography Rise of the Underdog he discusses working under Roy Keane – and other unconventional managers...
ROY KEANE
Sunderland
Sunderland, under Roy Keane, were spending quite a lot of money on their return to the Premier League [in 2007.] As strong as my relationship was with Tony Pulis [at Stoke] I was also attracted to the prospect of playing under Roy, who had been such an incredible player and, of course, someone I'd spent time with at United.
There was a time at the start of the '08/09 season, after we'd just signed Pascal Chimbonda, that we were doing heading practice in training. He had just had his hair done in braids and refused to head the ball. I was a bit annoyed by that and I don't think I was the only one. At the end of the session, Roy pulled us all together. He had noticed the tension.
"Lads, listen, if any of you have a problem with each other, don't hold back, just get it out. I won't fine youse or nothing, if someone has something to say, that's just how it is. Say it." No holds barred – just as he was as a player. I'll be the first to admit that I did find that environment a little difficult as I'm not that kind of person, but then Roy is a very unique character in his own way and not many are like him, are they? That honest attitude summed up the winner he was.
The Newcastle result [a 2-1 win] had been decent, but it was in a run of results that were far from it – six defeats in nine games before we played Aston Villa was enough to tell us that. That game was the scene of one of the most bizarre team talks I've ever experienced, and that's saying something from someone who had a childhood acquaintance give one. It was bizarre at the time, but turned out to be a stroke of genius.
"Listen lads," he said. "Basically, you're shit. Try and enjoy the game. You're probably going to get beat. But just enjoy being shit."
Then he just walked out. Those words have got to be insulting to any professional, no matter who they come from, and I'll admit it served as the perfect motivation to get out there and prove him wrong. I scored after 10 minutes and we were leading at half-time. We ended up drawing.
It was a decent result, Villa were doing okay and Roy's reverse psychology had worked – on me, at least. He's a far cleverer person than people realise or would like to acknowledge. He knew what he was doing when he said that, he knew the reaction he would get from some of us, and that was a trick right out of the Brian Clough handbook.
[After watching the reserves lose 1-0 to Manchester City] he went round us individually, addressing the kids first. "You've got to start applying yourselves in games. You've got to give everything. If you carry on like last night, you'll find yourselves working at f*****g Sainsbury's this time next year. You'll be on the dole," he's growling.
Gets to me. "Danny," he says, "All I'm f*****g hearing from you when I'm watching that game yesterday is f*****g encouragement. That's all I'm hearing." I thought, well, that's not so bad. "I don't f******g want that. I want you to tell some of them they're being c**ts. Tell them."
It wasn't in my nature – I wasn't going to do that but, equally, I wasn't going to bite back at Roy. I was close to making my return and didn't want to put it in any risk. To me, even through the hard words he had said, I could see there was a genuine compassion from Roy for these kids. Even though they didn't have a future at Sunderland, he wanted them not to waste the talent they did have.
In our penultimate game of the ['07/08] season, we lost at Bolton 2-0. Roy came in after the game and the mood around the dressing room was essentially, "Okay, we've lost, we could have done better, but we've just secured our safety".
Roy went ballistic – scary at the time, but looking back, another indicator of his standards and expectations for the club.
"You're the reason I'm driving up and down the f*****g country to find another player, you're not f*****g good enough," he yells at one player. "Your attitude is shit. You're not good enough," he bawls at others. "Next week we've got our last home game, against Arsenal. You know at the end of the season when you walk around the pitch, thank the fans for their support? I'm ringing Umbro and getting you some hooded jumpers, because you're a f*****g embarrassment, it's a joke and this is not going to stay this way," he finishes.
I was taken aback. That was the time when I really began to believe that his expectations for us were simply much too high. It's not just something with Roy. It's something I've noticed with other great players who have gone into management. Maybe if I'd been younger it would have been a perfect situation for me, but particularly coming off the back of such a wonderful [first spell] at Stoke, it never quite felt right. That's not down to Roy. It's me.
SIR CLIVE WOODWARD
Southampton
Following [Southampton's] relegation [from the Premier League in 2005, chairman] Rupert [Lowe] had made the controversial decision to appoint rugby coaching legend Sir Clive Woodward as a "performance director".
I've all the respect in the world for Sir Clive and what he did in rugby but problems became instantly apparent when he seemed clueless of the actual rules of the game. One day, he asked one of the masseurs what 'offside' was.
Behind the training ground we had an indoor Astroturf pitch; a ridiculous amount of money was spent on technology in this centre for pointless things like eye tests on computer systems. This was money that was far better being invested into the team.
Although [manager] Harry [Redknapp] continued to put on a public front that everything was okay, you could clearly understand and share his frustration.
JIM RYAN
Manchester United reserve-team coach
Jim Ryan used to give me so much shit. He was always on my back, on at me every single day, even when I'd not done anything wrong. When someone else had done something wrong, I got the shit for it.
Shortly after my debut against Leicester, after training, Jim said, "Come on, Danny, get in the car with me" to go over from the Cliff to Littleton Road. He asked me what I made of my full debut and I confessed I loved it, absolutely loved it.
Feeling bold, I said, "Can I ask you something?"
"Of course you can, Danny," he said.
"Why are you always on at me?" I said. "Every day since I've been an apprentice. It's just stick, even when I haven't done anything wrong, as you always bring it back to me. Honestly, it does feel like you bully me a bit."
"Listen, Danny, here's a bit of advice for you," he came back. "If people have a go and they're on at you like that, it's because they like you. You probably won't find it in any walk of life other than football, but it's true. The time to really be worried is when it stops, because then no-one wants to know you, they've given up on you."
It's a piece of advice I took with me and passed on to young lads as well.
JIM SMITH
Derby County
[In May 2001] we were going to be taking on Manchester United at Old Trafford. Out of the two games left, we'd put ourselves in a position where one win would guarantee our [Premier League] safety.
We travelled over to Mottram Hall [in Cheshire] early on the Friday before the game, trained there and stayed overnight. All of the signs had pointed to me playing, so I was happy. Jim had settled on a 3-5-2 formation – what we'd been playing most of the season – so I was well prepared.
Saturday morning, there's a bit of a commotion as we're having breakfast. Jim and the physio, Neil Sillett (son of John, who managed Coventry), are having this debate because Jim has apparently seen a formation of DUCKS through the window and believes it's a sign. It was a bizarre 3-4-3 formation and, remembering the potency of that United team at the time, setting up in such a way at Old Trafford was surely asking for trouble. It was carnage but we pulled off a [1-0] win.
Rise of the Underdog – My Life Inside Football by Danny Higginbotham is published on April 10 (Trinity Mirror Sport Media. RRP £16.99)
Join our commenting forum
Join thought-provoking conversations, follow other Independent readers and see their replies