Dulwich Hamlet ground owners trademark club name and warn against further use
'Dulwich Hamlet Football Club', 'The Hamlet' and 'DHFC' have been registered as trademarks and the club has been warned that they can 'no longer be used'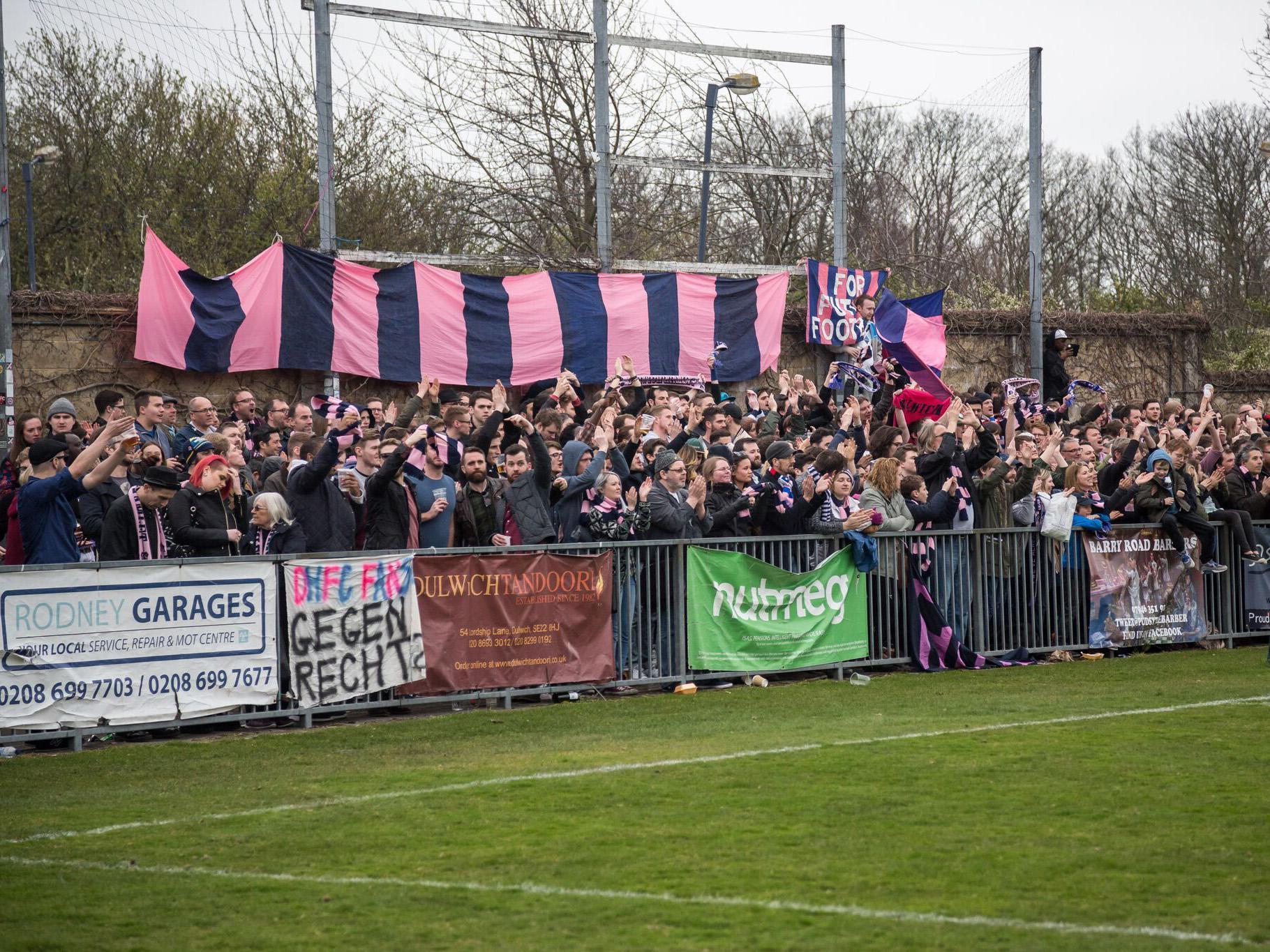 Dulwich Hamlet have been told to stop using their own name and initials by the owners of their ground, who last night kicked the 125-year-old non-league out of their historic home.
Meadow, the property investment fund who own Champion Hill, told Dulwich Hamlet on Monday evening that their licence to play at the ground had been revoked. Then on Tuesday afternoon the club received an unprecedented legal threat from lawyers representing 'Greendales IP LLC', a new subsidiary of Meadow.
That letter, from solicitors Blake Morgan, told the club that 'Dulwich Hamlet Football Club', 'The Hamlet' and 'DHFC' had been registered as trademarks on 17 October 2017 and demanded that those trademarks "no longer be used on any printed literature and any online activity including websites and Twitter". Dulwich, who play Billericay Town in a crucial Bostik Premier Division away game tonight, will continue to use their own name regardless.
A Meadow spokesman told The Independent that sending this letter followed public criticism of Meadow from Dulwich's board and social media accounts. "Meadow's issue is with the club's owner and board attacking Meadow in public, not with the fans or the wider community," a Meadow spokesman said.
This marks a new low for relations between Dulwich and Meadow, who bought Champion Hill for £5.7m four years ago but have been unable to develop it after losing a legal battle with Southwark Council last October, which was when they registered the trademark on the club's name. Meadow have since been threatening to evict Dulwich for the last few months and on Monday evening, after issuing the club with a £121,000 bill for back rent, they finally kicked the football team out of their home.
"This follows repeated breaches of the licence by the Club," explained a Meadow spokesman, "together with unwarranted personal attacks on the company, which has funded the Club for a number of years and without which the Club would not have survived as long as it has." Dulwich are now seeking a new home to play their remaining six home games this season as they pursue promotion up to the National League South for next year. They are exploring ground-share options with other non-league clubs in south London.
Former England and Manchester United captain Rio Ferdinand is watching the situation with interest, after his affordable housing group Legacy Foundation bid £10m to save the club just before Christmas. Ferdinand, a close friend of Dulwich manager Gavin Rose since childhood, wants Legacy to build affordable housing in compliance with Southwark's requirements, as well as providing a new ground and funding for the football club. Ferdinand and Legacy are still interested in buying Champion Hill from Meadow, but their attempts to speak with Meadow recently have been met with silence.
"Legacy remain extremely keen to acquire both Champion Hill and Dulwich Hamlet FC," a Legacy spokesperson told The Independent. "We are a dedicated sports and affordable housing specialist, and see ourselves as the perfect fit. If Meadow will respond to our offers and relinquish their ownership to us, we can get on with dealing with what is rapidly becoming a grave situation for the club, the fans and the council. We have contacted Andrew McDaniel of Meadow several times across 2017 and the first part of 2018, but have heard nothing back in response. There is little more we can do until Meadow come to the table."

Join our commenting forum
Join thought-provoking conversations, follow other Independent readers and see their replies