England captain Casey Stoney reveals she was concerned by social media reaction but has been 'overwhelmed' by positive response after speaking openly about being gay
The Arsenal ladies defender says she was inspired by Tom Daley
Emily Dugan
Monday 10 February 2014 18:10 Comments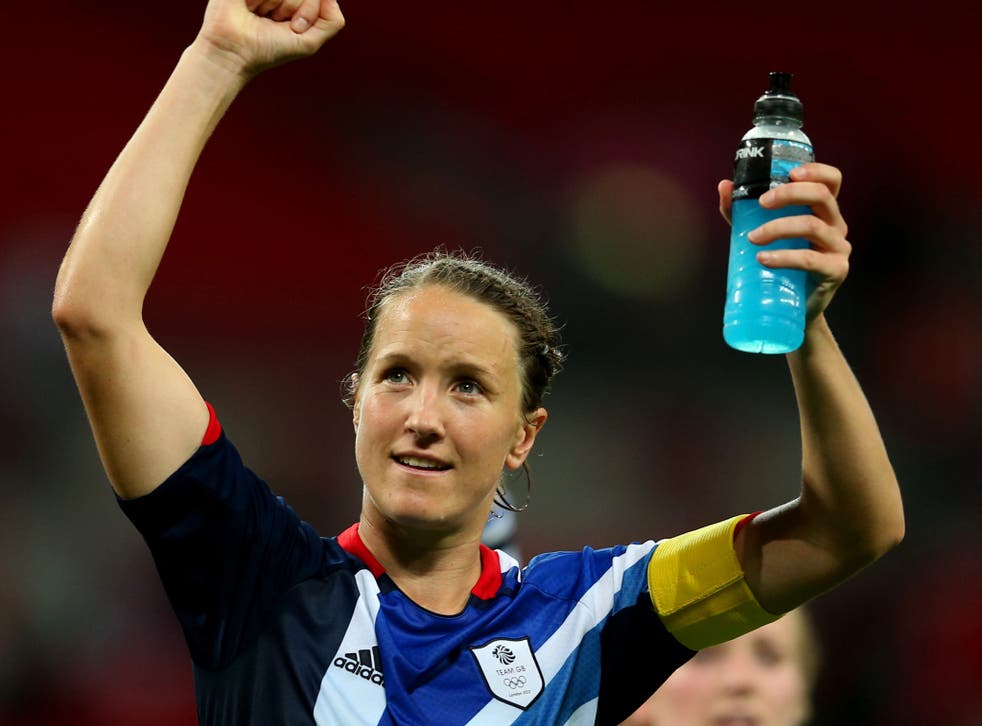 England football captain Casey Stoney says she has been overwhelmed by support after speaking for the first time about her "loving relationship" with another woman.
The decision to go public makes the Arsenal defender the most high-profile active footballer in the country who is openly gay. Stoney, 31, said that she was inspired by the positive response to Olympic diver Tom Daley telling the world about his happy relationship with a man.
The footballer first went public about her sexuality in the Independent on Sunday Pink List in 2012, after captaining Great Britain's women's team in the Olympics. Whilst she was happy to be included on a list of Britain's most inspirational LGBT people, she chose not to speak to the media about it until now.
"I was living a lie", she told BBC Sport in an interview broadcast on Monday. "I've never hidden it within football circles because it is accepted, but to the outside world, I've never spoken about my sexuality.
"I feel it's really important for me to speak out as a gay player because there are so many people struggling who are gay, and you hear about people taking their own lives because they are homosexual. That should never happen."
She said it was "incredible" that countries with homophobic laws such as Qatar and Russia were allowed to host international sporting events. "I won't be going to Russia or Qatar to watch a World Cup because I wouldn't be accepted there," she said.
"I think it's incredible that these countries get World Cups and Olympics when they don't accept everybody to go there and be part of it. There will be [Olympic] athletes competing out [in Russia] who are gay. I can't imagine how frightened they must feel going out there and competing."
Speaking to The Independent after the interview was broadcast, she said: "The response has made me quite emotional. I didn't know what to expect but it's been so overwhelmingly positive. I'd say I've had about a thousand tweets today and maybe one wasn't positive."
Gary Lineker and Stan Collymore are amongst the former professional players who have congratulated her since the news broke.
Stoney met her partner through football and she says they have been together for almost three years. She was one of the people encouraged Stoney to go public: "I sat down with my partner a long time ago and she said 'I don't understand why you won't go public because all the people that love you and matter in your life already know'. But I had to feel comfortable in my own skin."
Fears of abuse on social media held her back from being open in the past, she says. "I was worried about people judging and the abuse you can get over social media. I think social media can be used in a positive way but by going on it you open yourself up to people being able to say what they want. Some people say disgusting things to people on Twitter and I was afraid of that. There are still bigots in this country."
Another factor which made her worried about speaking publicly about her sexuality was that she was concerned it would confirm stereotypes about female players. "The thing that frustrates me about women's football is that because it's deemed a male, masculine sport there's an assumption that all the players are lesbians, but that's not the case", she said. "I'm not gay because I play football.
"I hate these stereotypes and that's something that concerned me in the past [when thinking about coming out]. That people would say she plays football so she must be gay anyway. I've got so many friends in football who could not be any more heterosexual."
Stoney believes the higher profile of the men's game and its macho culture makes it harder to for male players come out. "We're not as high profile so we don't have 50,000 people who could abuse you every Saturday. Women's football is a bit more of a family culture."
Growing up in London, the defender got her first break playing for Chelsea Ladies when she was just 12. Now she has 116 caps for England and Great Britain.
She came 50th in the 2012 Pink list, moving up to 37th place last year after winning FA Player of the Year for a second time and writing columns advocating tolerance and diversity within sport.
In an interview with The Independent on Sunday the week before the Olympics she hinted at her sexuality. She said her partner would be attending her debut game at London 2012, adding: "I'm one person on the outside but a different person on the inside and very few people get to know what's going on on the inside. That's about trusting people enough to let them see that."
Register for free to continue reading
Registration is a free and easy way to support our truly independent journalism
By registering, you will also enjoy limited access to Premium articles, exclusive newsletters, commenting, and virtual events with our leading journalists
Already have an account? sign in
Join our new commenting forum
Join thought-provoking conversations, follow other Independent readers and see their replies