Eusebio obituary: Footballer acknowledged as one of the greatest ever who was the first globally famous player to emerge from Africa
He was blessed with the precious ability to score a goal and win a match when no obvious opportunity presented itself, a knack which earned him the tag of 'the European Pele'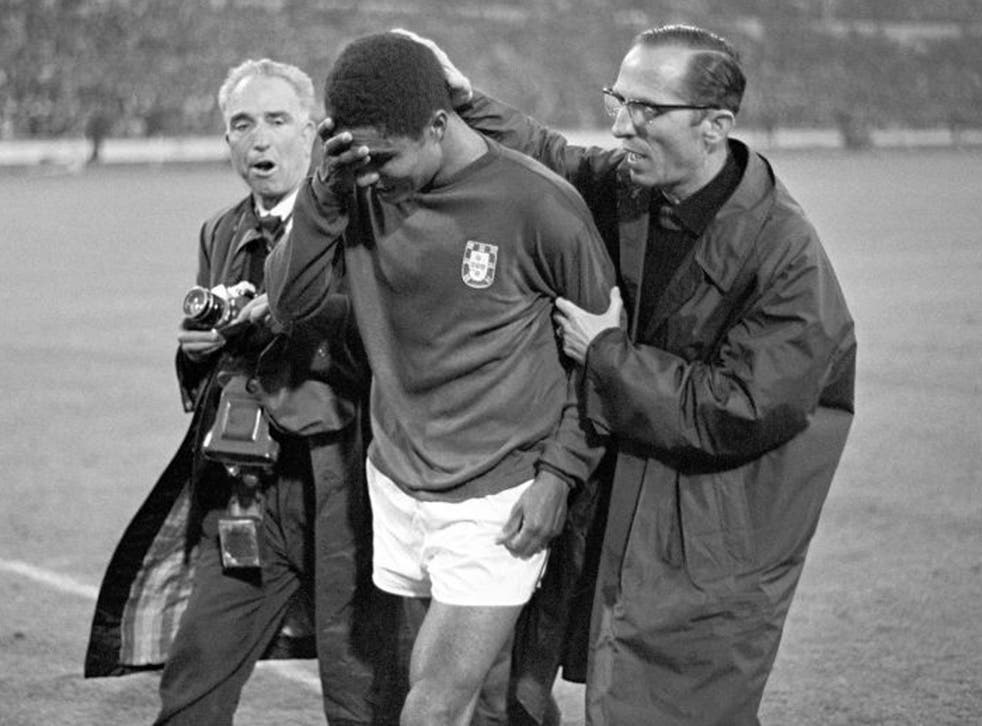 Eusebio, the explosively powerful and prolific "Black Panther" of Benfica and Portugal throughout the 1960s and into the '70s, was a truly great footballer, fit to take his place in any company, in any era. The first globally famous player to emerge from Africa, the lithe Mozambican averaged better than a goal a game in more than 600 appearances in all competitions for Benfica, and was the European Footballer of the Year for 1965. He appeared in four European Cup finals, though he finished on the winning side only once, and helped to lift 11 domestic titles while gracing the international stage as Portugal's key man for more than a decade.
But remarkable though his statistics will always remain, the true glory of Eusebio could be appreciated only by witnessing his breathtaking fusion of muscle and magic on the pitch. He was a devastating runner past would-be markers, his electrifying pace was laced with delicate skills, and the shot he carried in his right foot was awesome in its sudden and fearsome velocity.
He was blessed with the precious ability to score a goal and win a match when no obvious opportunity presented itself, a knack which earned him the tag of "the European Pele". To anyone familiar with the near-celestial work of Eusebio's revered contemporary, that was the most telling tribute of all, although in truth he was never quite the equal of the Brazilian. He was not as subtle, did not possess such panoramic range and variety in his play, and was not, perhaps, as tactically shrewd, but none of that should be construed as criticism. It was, after all, only in the context of comparison to arguably the finest footballer who ever lived, and therefore should be taken as a compliment in itself.
Read more:
Eusebio was born the son of a railroad worker, one of eight children raised in a tiny house in Lourenco Marques, now known as Maputo, in south-east Africa. His father died when he was eight and life was unyieldingly hard in a piteously poor community, his main pleasure derived from playing football in the streets with a ball improvised from rolled up socks or newspapers.
Eusebio in pictures: The life of a footballing great

Show all 10
The boy was a natural sportsman, excelling at basketball and as a runner, but it was at football that he shone the brightest and he was only 10 years old when he joined much older players in the town's youth team. In 1957, still only 15, he stepped into the adult game with Sporting de Lourenco Marques, with whom he continued his prodigious progress, scoring a hat-trick on his debut and proving a huge factor in the club winning the Mozambique League title in 1960.
By then it was clear that he was destined for an illustrious future, but the question of his next employer was a vexed one. He was coveted by both Sporting Lisbon, for which his home-town team was a feeder club, and Benfica, whom he favoured. There were months of legal wrangling between the two, for part of which Eusebio was hidden away to train in a fishing village on the Algarve by Benfica, who believed they had struck a deal but feared a late snatch by their bitter local rivals.
Eventually, in the spring of 1961, he enlisted at the Estadio da Luz for a reported fee of £7,500 – the player always maintained it was considerably lower – and thereafter Eusebio and Benfica both moved from strength to strength. At the tail-end of that season he helped secure the Portuguese title, a feat he would repeat 10 times in the next 14 years, although with irresistible central contributions rather than this merely marginal one. But it was in Paris later in the year that his surge towards stardom gathered unstoppable momentum.
In the final of a prestigious tournament in the French capital, Benfica faced Santos, Pele's club. With half an hour to go, and the Brazilians 4-0 up, Eusebio was called from the substitutes' bench to be tested for the first time at the highest club level. Almost immediately Santos stretched their lead to 5-0, but then the Mozambican prodigy seized centre-stage, plundering a spectacular quickfire hat-trick. Benfica lost 6-3 but it was Eusebio who featured on the next cover of the French sports paper L'Equipe and he became the talk of the footballing world.
His new stature was underlined in the most emphatic fashion imaginable in 1962 when Benfica, the holders, contested the European Cup final with the lionised Real Madrid, who had won the competition five out of the six years since it was launched. A Ferenc Puskas hat-trick saw the Spaniards 3-2 up at the interval, then Mario Coluna equalised, which was the signal for Eusebio to run amok, laying waste to Real's rearguard with his ungovernable movement, exquisite ball control and ferocious shooting. He added two more goals, including a penalty, as Benfica won 5-3 to retain the trophy. A year later, this time at Wembley, he gave another fabulous final performance, putting the Eagles in front against Milan with a remarkable run capped by a fulminating shot, though the Italians fought back to win 2-1.
Over the next few years Eusebio was in his stellar prime for Benfica and Portugal, for whom he had made an auspicious entrance as a 19-year-old in autumn 1961 after only a handful of club games. On his debut against Luxembourg he twisted sinuously past several tacklers before smashing the ball into the net for what would become a trademark Eusebio strike. Then, in his second international against England at Wembley, he made a stunning impact, hitting the crossbar twice in a 2-0 defeat while riveting global attention by his overall display.
In October 1963 he played alongside the likes of Puskas, Alfredo di Stefano and Denis Law for the Rest of the World against England in the Football Association's centenary match at Wembley, then in 1965 he pocketed his third consecutive domestic title gong as well as shining in his third European Cup final, this one a 1-0 defeat by Internazionale in Milan. For his pains Eusebio was voted European Footballer of the Year, a poll in which he had finished as runner-up in 1962 and would again in 1966, following his majestic input to Portugal's passage to a World Cup semi-final in England.
Best remembered is his remarkable four-goal salvo to revive his country after they had gone three down to underdogs North Korea in a rapturously entertaining quarter-final at Goodison Park, but even more sensational was the incendiary volley from an implausibly narrow angle to confirm Portugal's mastery over Brazil earlier in the competition.
Against England in the last four at Wembley, it was Eusebio's misfortune to be policed by Nobby Stiles, the indefatigable enforcer who denied him the opportunity to achieve anything beyond the late penalty which put a slight gloss on his team's 2-1 defeat. He left the field in tears, upstaged by two-goal Bobby Charlton and accused in some quarters of lacking physical heart, an unreasonable jibe at a man whose nine goals had made him the tournament's leading scorer.
With that Portugal team ageing and in decline he would never reach the World Cup finals again, but England's famous old stadium had not seen the last of Eusebio, as he reappeared there with Benfica for the 1968 European Cup final against Manchester United. Once again he was harried relentlessly by Stiles, whom eventually he escaped in the dying minutes to bear down on United 'keeper Alex Stepney with the score at 1-1.
It seemed a formality for the Mozambican to score and thus win the match, but instead of slotting the ball sensibly into an empty corner of the net he elected for a spectacular blast. The ball lodged improbably in the arms of the grateful Stepney, and Eusebio was left to congratulate the Londoner on his save, a sporting act for which he was widely praised. He might not have felt quite so expansive after United had prevailed 4-1 in extra time, leaving the Benfica man to contemplate his third and last European Cup final reverse.
Still, he remained among the world's elite, chased by some of the continent's leading clubs, including Juventus, whose then-astronomical offer of £200,000 was turned down by Benfica. Such a bid had been prompted by his 42 League goals in 1967-68, which saw him top the Portuguese domestic chart for the fifth successive season and also secure the European Golden Boot, which he claimed again in 1973. That year, too, he made the last of his 64 international appearances, which had yielded 41 goals, both figures setting new records which were passed by Nene in 1984 (appearances) and Pauleta in 2005.
Though plagued increasingly by knee problems, Eusebio played on for Benfica until 1975, leaving the Estadio da Luz only after helping win his 11th League championship.
In the twilight of his career there were lucrative moves to the Boston Minutemen in the US (1975), Monterrey of Mexico (also '75), Toronto Metros in Croatia ('75-'76), Portugal's Beira-Mar ('76), Las Vegas Quicksilvers ('76-'77), Uniao de Tomar of Portugal ('77-'78), and New Jersey Americans ('78-'79). In later years he became a global ambassador for Benfica; a statue of the Mozambican now stands at the entrance to the club's stadium, and invariably his name crops up whenever lists are compiled of the best players of all time – all just deserts for the pure and instinctive footballing genius that was Eusebio.
Eusebio da Silva Ferreira, footballer; born Lourenco Marques (now Maputo), Mozambique 25 January 1942; played for Lourenco Marques Sporting Club 1957-60, Benfica 1960-75; capped 64 times by Portugal 1961-73; married (children); died 5 January 2014.
Join our new commenting forum
Join thought-provoking conversations, follow other Independent readers and see their replies