Football players and managers from overseas set for 'cultural lessons'
Proposal in light of recent racism cases
Martyn Ziegler
Tuesday 11 December 2012 11:25 Comments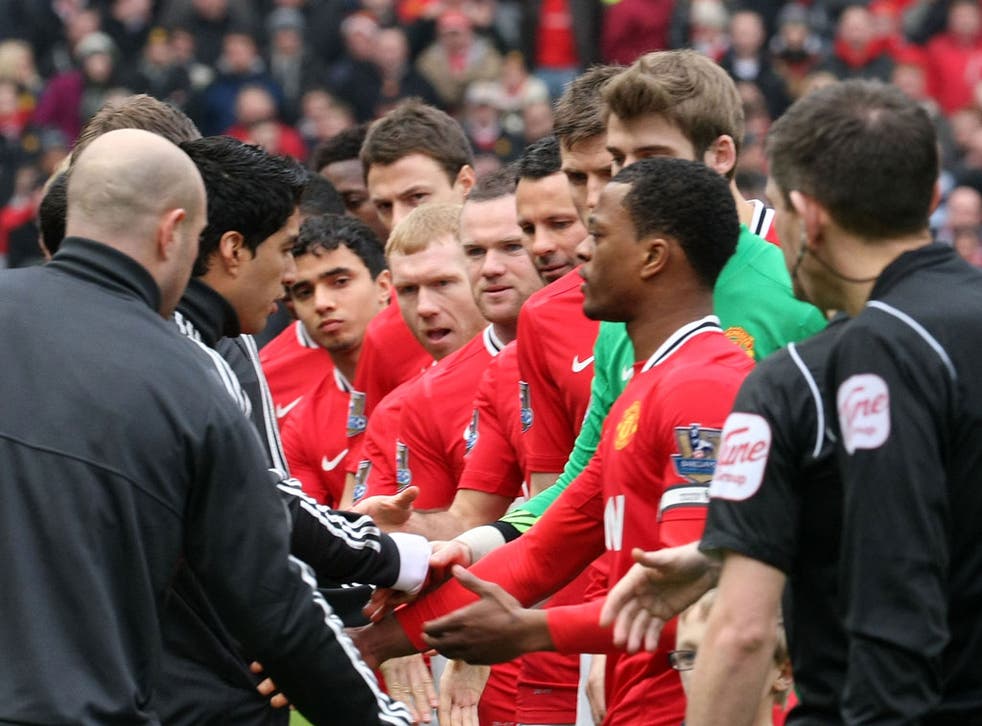 Players and managers coming to England from overseas will have "cultural lessons" to make them aware of rules on discrimination under proposals to tackle racism.
The move is part of a response by football's authorities to the Government's call for tougher action to tackle discrimination.
Professional Footballers' Association chief executive Gordon Taylor said that the proposals included all players and managers having lessons on cultural awareness, including those newly arrived from abroad.
It follows two high-profile incidents of racist abuse last season.
Luis Suarez was banned for eight matches for racially abusing Patrice Evra. The Liverpool striker admitted calling the Manchester United defender 'negrito' but claimed that was acceptable in his native Uruguay.
Chelsea's John Terry was banned for four matches for racially abusing QPR's Anton Ferdinand.
Taylor told Press Association Sport: "Up until now we have had cultural awareness courses for our apprentices and the plan now is to extend these to senior players and coaches, including those coming from overseas.
"We want to make sure there there is no misunderstanding with regards to the rules and regulations on discrimination."
Taylor said the PFA were also in favour of contracts for players and managers having clauses warning that discriminatory language and behaviour was considered "serious gross misconduct".
The document containing the proposals is part of a joint response to the Government from the FA, the PFA, the Premier League and Football League, but still needs to be signed off by the FA board.
It comes on the day that Kick It Out chairman Lord Herman Ouseley accused the football authorities, Chelsea and Liverpool of a failure of "morality and leadership" over their handling of the incidents involving Terry and Suarez.
Lord Ouseley said Chelsea and Liverpool protected their players because they were "assets", even when they were alleged, and then proven, to have racially abused opponents.
"There is very little morality in football among the top clubs," Ouseley told The Guardian.
"Leadership is so important; you have to send a powerful message that racism is completely unacceptable. But there is a moral vacuum.
"The big clubs look after their players as assets. There was no bold attitude from them, to say that they would not put up with it."
Ouseley believes football's authorities should have made strong statements of disapproval after Suarez and Terry were found guilty, but added: "The condemnations have been mealy-mouthed.
"We want all players and fans to feel confident about reporting abuse. But the FA did not say anything about the lies and distortions which came out in John Terry's and Ashley Cole's evidence. Instead the players are protected.
"The Premier League could have set the tone; they and the FA do a good job in community work. But on this, I have not heard anything from the Premier League."
Ouseley also criticised Liverpool manager Kenny Dalglish and then Chelsea boss Andre Villas-Boas for supporting their players while their cases were being played out.
"We were observing the process but the managers were speaking out and sticking up for Luis Suarez and John Terry," Ouseley added.
"The FA should have asserted themselves, said they would not up with people disrespecting the process, but the FA were very slack and weak."
PA
Register for free to continue reading
Registration is a free and easy way to support our truly independent journalism
By registering, you will also enjoy limited access to Premium articles, exclusive newsletters, commenting, and virtual events with our leading journalists
Already have an account? sign in
Join our new commenting forum
Join thought-provoking conversations, follow other Independent readers and see their replies