Football's new frontier: FA fights to end shortage of Asian players
SPECIAL REPORT: Shocking figures show only nine professionals in top four divisions have a subcontinental background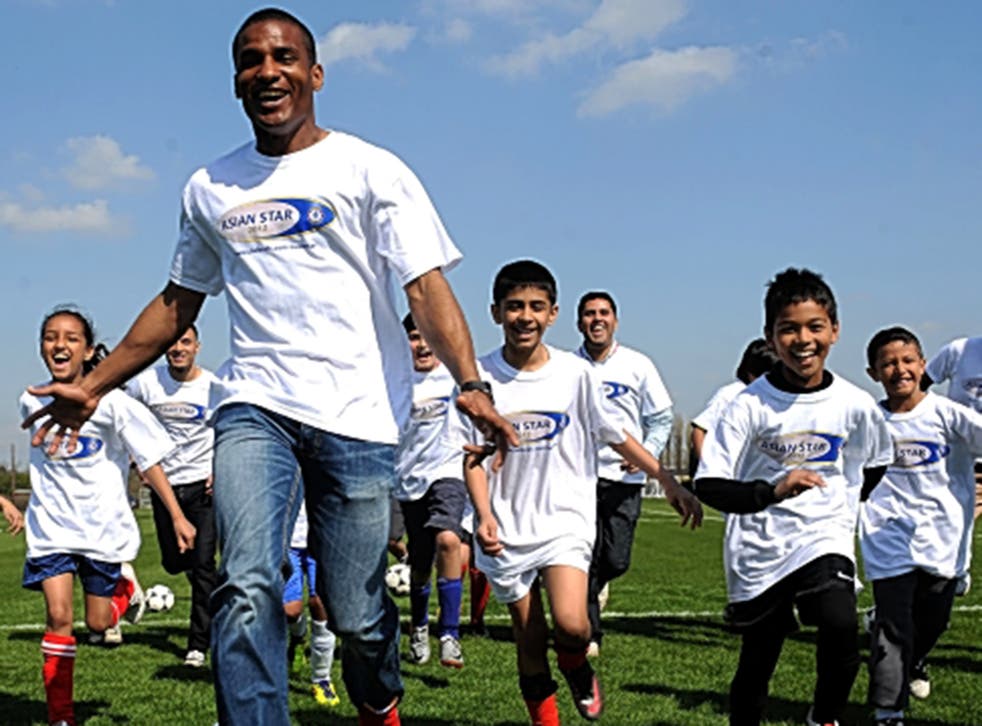 The chronic shortage of Asian players in the English game has forced the Football Association to launch a major drive to increase participation with a radical plan that could lead to thousands more playing or becoming involved as coaches and officials within the next four years.
English football's governing body is embarrassed by figures showing that only nine out of 3,000 professional footballers in the top four divisions are of south Asian – countries such as Pakistan, India and Bangladesh – origin.
Today's unveiling of the FA's ground-breaking initiative follows the failure of previous efforts and widespread criticism of its inability to tackle the problem and set specific targets.
Some campaigners have even gone as far as to describe the game as "institutionally discriminatory", failing both ethnic minorities and women, but there is some acknowledgment that part of the problem involves some Asian clubs acting in isolation outside of the FA's national structures.
Despite the issue of Asian under-representation within the national game being a widely discussed topic, the situation has changed little over the years.
This is the first time that the FA has outlined firm proposals on how it will aim to increase their numbers by working in partnership with clubs, county FAs and organisations already involved in this area.
The plan, which is due to get under way at the start of the 2015-16 season is based on a four-year cycle and will provide 50,000 new training spaces for young Asian male and female players or those who want to become coaches and referees, while ensuring that another 2,000 go on to be trained at a higher level.
It also sets a target for the creation of 100 'role models', who will act as British Asian ambassadors at all levels of the game and the introduction of 200 Asian talent identification coaches.
Football participation centres, including some for women and girls only, will also be set up in areas where there are large Asian communities and the FA will work alongside clubs to organise talent identification days for Asian players. Three have already been scheduled for this summer.
The focus of the plan is on the grassroots of the game with the FA insisting that this is where it will have most impact, leading to an increase in British Asian players coming through the system to play professionally.
An FA spokesman said: "Professional clubs are a key partner and will be encouraged to get involved with all of the activities and already have been in terms of talent identification days and community development centres. The focus of this work is grassroots football but we will engage the professional clubs in any way we can."
Premier League football clubs will be encouraged to follow the example of Chelsea, who have launched the Asian Star initiative which aims to uncover British Asian footballers.
The FA plan was formulated after the governing body staged consultation forums last year in eight of the most densely populated Asian areas of the country. Officials found a huge appetite for football and large numbers of youngsters playing the game but a lack of involvement with clubs and programmes under its jurisdiction.
The FA concedes: "Today, many Asian communities have adopted football as their sport of choice. However, the FA must help ensure divisions are not created or reinforced, and football played by Asians is part of the mainstream game.
"This is a coordinated plan aiming to bring all those who work in this area together. It supports Asians already playing in the game and reflects feedback directly from Asian communities."
The FA's plan will also focus on making Asian parents aware of football opportunities that are available for their children.
Their reluctance to support youngsters to play football and concentrate on education is widely seen by many British Asians within the game as a key reason why players stop playing or do not pursue football as a meaningful career.
The FA says it will also work closely with existing Asian football clubs, who tend to play in leagues and competitions that are Asian only and provide training for coaches and players with a view to incorporating them within its own county FA structures.
Lord Herman Ouseley, chairman of Kick it Out, the country's leading anti-racism football organisation welcomed the plan but called on clubs who do not implement its proposals to be fined.
Lord Ouseley said: "We have been talking about this issue for so many years and the FA must be commended for going into Asian communities and asking them what they want. It's not that they don't want to play football but they have not been properly engaged.
"The FA has come out and set targets, which is fantastic but if these are not met then we must question why? If clubs have not been getting involved and have not put mechanisms in place to increase the number of Asians within football then they should be punished with fines."
He added: "Football remains institutionally discriminatory, it's embedded within the game. Power is locked within a cohort of older, white males and that impacts negatively not just on Asians but also women and black managers and coaches."
Join our new commenting forum
Join thought-provoking conversations, follow other Independent readers and see their replies