From the bottom to the top, Norwich City striker Grant Holt steps down again to move to Wigan Athletic
The story of the English striker is one of the more remarkable in modern times
Jack Pitt-Brooke
Tuesday 09 July 2013 11:24 Comments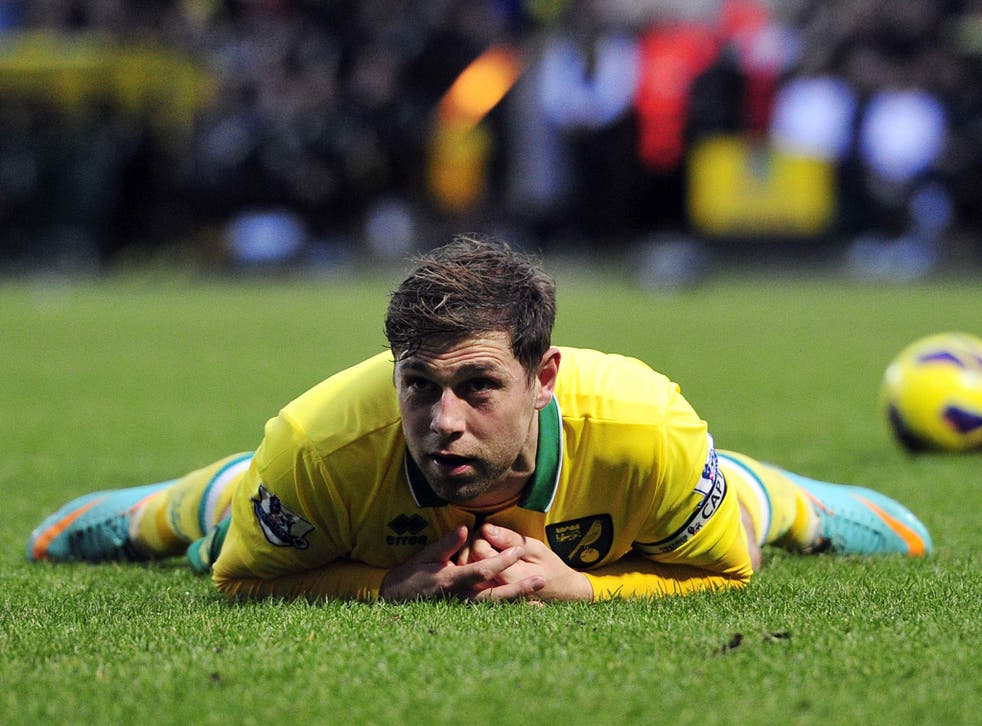 This may not be football's week in the sun, but one of the best stories of the modern English game has drawn to a quiet close.
Grant Holt is no longer a Premier League player. The Norwich City striker is signing for Owen Coyle's Wigan Athletic, stepping down into the Championship after two seasons in the top flight.
It might seem rather unremarkable – Holt was probably not going to play much next season, given his age, given Chris Hughton's approach, given the arrival of Ricky van Wolfswinkel and, possibly, Ola Toivonen. Some less charitable observers might even say he is finding his level.
Maybe this is the start of the fall, but the rise of Grant Holt remains a crucial part of Norwich City's history, the type of story to inspire players everywhere, the type of story that wasn't meant to happen anymore.
Holt arrived at Norwich City in League One in 2009, a man whose best spell to date had been five years before, in League Two, with Rochdale. Even there he had been no instant success - he was so poor on his 2004 debut, after his £10,000 move from Sheffield Wednesday, that one team-mate asked manager Steve Parkin if he still had the receipt. But he eventually found form, scoring goals, moving on to Nottingham Forest and then back to League Two with Shrewsbury.
But Norwich knew what they needed in 2009 - commitment, spirit and a ferocious determination to drag an ailing club back up to the top. Holt and Norwich were a perfect fit - the big number nine scored 24 in 2009-10 in League One and 21 in 2010-11 in the Championship as Norwich stormed to consecutive promotions, fuelled by Holt's sheer weight of goals.
In the Premier League, Holt was successful too, scoring 15 in 2011-12, the most prolific Englishman behind Wayne Rooney. He scored against Chelsea, Liverpool, Manchester United and Arsenal, and gave Ledley King a chasing at White Hart Lane in a famous 2-1 win.
It was the best example for years of how English football is still a pyramid, and the Premier League its reachable pinnacle. Even now, in the era of the £5.5billion TV deal, the scientific academies, the foreign owners, the foreign coaches and the rest, there is still a way for players with enough talent and enough grit to fight their way from the bottom to the top.
Holt was playing non-league football for Barrow at 22 and even League Two for Shrewsbury at 28. But he made it into the elite, to a league where the best strikers - Robin van Persie, Sergio Aguero and Wayne Rooney - are identified and nurtured before their 10th birthday.
He leaves Carrow Road as an unambiguous legend and one of the most important players in the club's history. He leaves the Premier League as a remarkable example of how players can shatter expectations. And, with a touch of luck, he may even be back with Wigan next year.
Register for free to continue reading
Registration is a free and easy way to support our truly independent journalism
By registering, you will also enjoy limited access to Premium articles, exclusive newsletters, commenting, and virtual events with our leading journalists
Already have an account? sign in
Join our new commenting forum
Join thought-provoking conversations, follow other Independent readers and see their replies