From Utah to Vanuatu: Champions League goes global
Uefa's flagship tournament has inspired copycat versions from Salt Lake to the South Seas. Glenn Moore charts the expansion
Saturday 30 April 2011 00:00 BST
Comments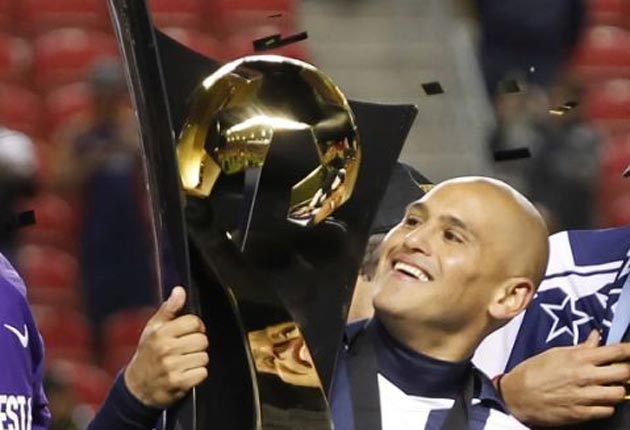 Real's Champions League dream turned sour this week, beaten at home by the opposition's star South American, but at least their obsessive coach took defeat with dignity.
No, not him, this was the other Real, the one in Utah, Real Salt Lake of North America's MLS. And just as there is more than one Real, there is more than one Champions League. RSL were playing in the Concacaf (North and Central America and Caribbean) version. The success of Uefa's competition has resulted in copycat versions, all with a mix of group stages and knock-out ties, appearing all over the globe. There's an AFC Champions League, an OFC Champions League, a Caf Champions League, everything except a KFC Champions League.
Click HERE to upload graphic (362.28kb)
As a result, Real's Rio Tinto Stadium, in a city better known for its Mormon heritage, is not the most unlikely place to stage a Champions League final this month. The Melanesian archipelago Vanuatu hosted the first leg of the Oceania Football Confederation version.
In the States, Real Salt Lake lost the second leg of the ConcaChampions League final to Mexico's Monterey. A 2-2 first-leg draw had raised hopes that they would become the first MLS team to win the competition, but a first-half injury-time goal from Chile striker Humberto Suazo proved decisive. Real's coach, Jason Kreis, said the night was "a disappointment" but he was "proud" of his team's performances. Though this was the sixth successive Mexican triumph he did not suggest his team were victims of a conspiracy.
Such allegations are more common in Africa with Zimbabwe's Dynamos recently railing at perceived North African collusion after an Egyptian referee oversaw their 3-0 defeat in Algeria. After an injury-time goal sent MC Algiers through, Dynamos coach Lloyd Mutasa, presumably unaware of the bitter rivalry between Algeria and Egypt, said: "Such acts of robbery make you question whether it's worth being part of the Caf Champions League. Personally, I think it's a waste of time as some unfortunate teams, without the financial muscle, get trampled on."
Dynamos' anger is in part because they will have lost money during their campaign. The Uefa Champions League may be a cash-cow but the African version is more like the Europa League, a drain on resources until the latter stages. Only clubs reaching the eight-team group stage receive any prize money. This year, Botswana's Township Rollers withdrew for financial reasons. South African teams, in theory being among the continent's strongest, have won the competition only once. They focus on more lucrative domestic prizes.
However, the US$200,000 on offer for making the group stages is twice as much as was at stake in Utah, while in Oceania there is no prize money at all. That is hardly surprising given the region's lack of wealth and footballing heritage since Australia switched to the Asian confederation. However, the 8,000 who sat on the grassy banks of Port Vila's Korman Stadium in Vanuatu will have been aware that the prize was as great for local club Amical FC and Auckland City as that at Wembley next month.
That is because of the other driving force in the proliferation of Champions Leagues: Fifa's Club World Cup. This may be lightly regarded in England, but it has huge significance elsewhere, not least for financial reasons. Merely qualifying is worth $500,000, a fortune to many clubs, while making the final, as Congo's TP Mazembe did this year, is worth $4m, plus the attendant sponsor-attracting publicity.
The one continent that does not have a Champions League is South America. It is not just out of regional pride they have resisted copying Uefa; the Copa Libertadores is not only hugely successful in its own right, it is, in many ways, the precursor of the European competition. The European Cup itself was prompted by the South American Championship of Champions in 1948, a one-off tournament staged in Chile, and though the Copa Libertadores did not begin until 1960 it adopted a group format as early as 1962 and invited non-champions (initially runners-up) four years later. Though many of the best South Americans play in Europe it remains a high-profile, high-quality competition.
Join our commenting forum
Join thought-provoking conversations, follow other Independent readers and see their replies