My daughter, the kick-arse centre half - girls, football and the rise of the women's game
A few years ago, she could hardly catch a ball. Now Berry Coleman is the linchpin of an all-conquering XI. Here, her father Nick explains the pleasures of girls' football: from bone-crunching grudge matches to running out for his beloved Arsenal in pursuit of FA Cup glory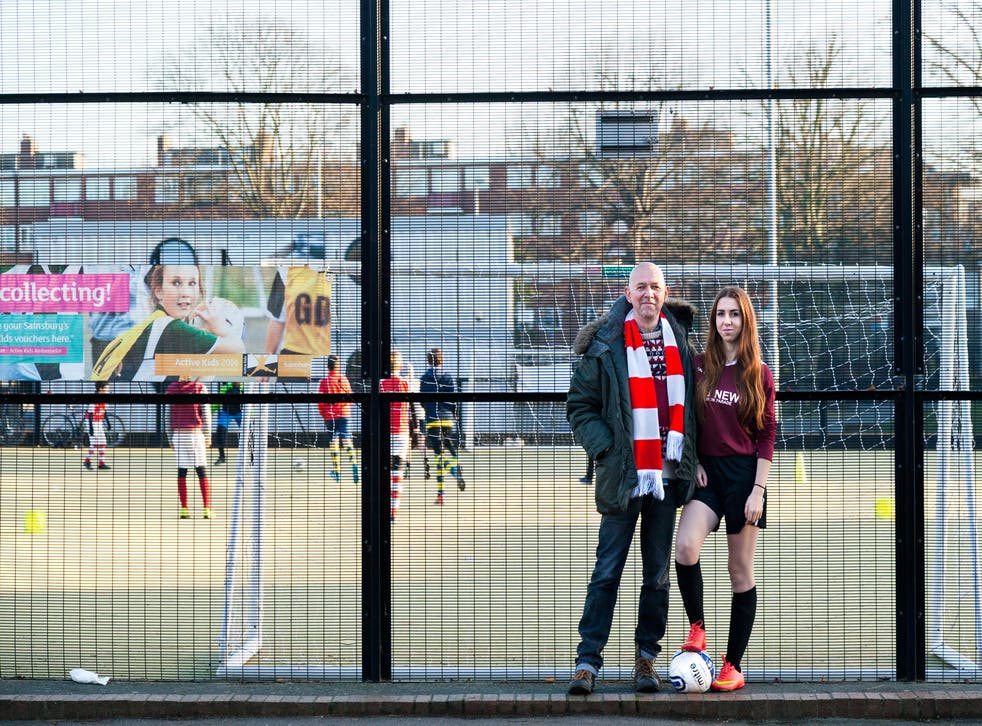 There is a picture that means more to me than Rogier van der Weyden's The Descent from the Cross. More even than Bruegel's Hunters in the Snow, which adorned the wall of the dentist's waiting room when I was a kid and has haunted me ever since.
This picture is a somewhat grainy snapshot of a football team standing in the tunnel at a football stadium, waiting to march out on to the field prior to kick-off. It is taken from the mouth of the tunnel, looking down the line of players in their red Arsenal kit, capturing the faces of four of them in full and the half-faces of two more. The rest of the team is obscured. The atmosphere is tense, brooding, anxious. You could slice it with a length of two-by-four.
I look at this picture a lot, especially when I am feeling dull-witted or a little down. I stare and stare at it and it never fails to galvanise me at some level. Sometimes I want to laugh out loud and sometimes a tear prickles my eye. Usually, though, it just cheers me up. I can't explain why.
The picture shows my daughter's football team on the day of arguably their greatest triumph, representing Arsenal FC at a national tournament staged by the Premier League for under-13 girls at Manchester City's Etihad Stadium last summer, at the climax of a season of torrid success. They didn't win the tournament but they did remain unbeaten at the end of it, and they did travel from north London's Stoke Newington School to Manchester in the Arsenal first-team coach, which was every bit as exciting as the tournament itself. Possibly more so. At the conclusion of a very long day, and half the night, they descended from the coach in north London as they had boarded it: a full-blown football phenomenon, excited, shiny-faced, sharp-tongued and still wearing full kit, including boots and shinpads. I can still hear the clickety-clack of their studs on the pavement.
Here is the record of Stoke Newington School Under-13 Girls' football team for the season 2013/14 (which happened to coincide with the tenth anniversary of Arsenal's famous 2003/4 "Invincibles" season, in which the Gunners went an entire league programme unbeaten, but actually contrived to lose more cup games than the SNS girls did).
The girls played 40, won 36, drew three, lost one – the one, gallingly, being a narrow defeat to a private school in south London (the post-match muttering lasted for days afterwards: "They weren't just posher than us, they were bigger, too"). As football teams go, SNS Under-13 Girls (now Under-14s) are amazing. They really are a side worth following.
But this, it would appear, is not a parochial enthusiasm. Girls' football everywhere at the grass-roots level is on the up and up, as it is at the newly professionalised level. It's booming. Booming like Stephanie Roche's magnificent volley into the top corner for Peamount United, which got her on to the shortlist for the FIFA World Goal of the Year award alongside Robin Van Persie and James Rodriguez. Decent crowds show up to watch the grown-ups compete in the Women's Super League, and 45,000 attended (a for-once affordable) Wembley for England's match against Germany in November last year. Women's football is watchable and admirable, and the pattern is repeated all the way down the system – insomuch as it is a system – to north London comprehensive schools.
Trouble is, I'm not allowed to follow my girl's team. Well, hardly at all. But today is special, because today I am going to watch them play in the London Cup against a local rival, one of Hackney's several Academies, on the Astroturf at Haggerston Park a mile or two down the road. It's a derby. I can't wait.
I have for once been given permission to attend by my daughter, Berry, largely because there would be no piece in the magazine without my presence on the touchline. Yet normally she won't hear of it – says she doesn't play as well when I'm there. She absolutely forbade me to go to the Etihad in the summer, which fair near broke my heart.
"Look, Beez, do you want the team to be in the paper or not?" I said, meaningfully, three days ago. She shrugged, as if meaning is for idiots: "OK, well, if you really have to. But this is an exception…"
It is cold, the first really cold afternoon of the winter. But the girls appear not to notice. The goalie's got half her leg in a complicated dressing and looks like Long John Silver, and one of the midfielders has a dodgy hamstring. But they are up for it and as gobby as ever. They go through their professional-looking warm-up routine in organised lines and groups while the opposition huddle unenthusiastically in their goalmouth, looking pissed off. Then the news breaks. The Academy can field only eight fit players tonight, for one reason and another: can we make it eight-a-side on a reduced pitch? To which there can be only one answer.
SNS field a rotating eight from their 11 and, with customary élan, and much hard running and passing and intelligent use of space, brush the Academy aside, 12-0.
They look like a proper team. The defence pushes up and retreats as a unit. The midfield presses hard and devours space. The attack makes full use of the width of the pitch and is utterly ruthless in front of goal. There are two or three players of startling talent in the side, but it is actually the way they all cohere and play for each other that is so enjoyable to watch. This is proper football, not a schoolgirl kickabout. And I find that my inclination to focus nervously on SNS's towering ginger centre-back – a prettier reincarnation of Arsenal's Willie Young, with a soupçon of added pace – is quickly subsumed by the pleasure of watching the whole team function as a team. They are wonderful. They play with what Arsène Wenger calls "togetherness and personality".
The team is coached with rare enthusiasm by Ian Bruce, a young drama and PE teacher at the school with an array of FA coaching badges to his name. He attended the school himself, back in the day, and now runs five sides drawn from the school's constituency of 800 girls. He is, like me and several of his team, an Arsenal season-ticket holder. He talks about the girls' football as intensely as he talks about Arsenal.
"The thing is," he says, in response to a question about why this particular micro-generation of players might be so unusual, "they're just so passionate about football, both the playing and the watching. They know more about what's going on at the Emirates [Arsenal's home ground] than I do a lot of the time. They always know the latest on [midfielder Abou] Diaby's knee. And when I took a week off after a bereavement, they stayed behind after school and trained themselves…
"I could see that this lot were good from early on. Yes, some of them have more flair than others, but the thing about this group is that they complement each other so well."
He waggles his seat in his office, suddenly stirred by an apposite memory.
"For instance, in the London FA Cup final last spring, Celia, who's right-footed but plays at left-back – well, she's not an obvious stand-out performer in the team, but she is very smart. And she anticipated when Izzy [one of the obvious stand-out performers] went off on a mazy run and she just went and occupied Izzy's space in the middle. Just like that. I didn't tell her to. She just did it. So intelligent." He spreads his palms. "And that goes for all of them to one degree or another. We don't get put under severe pressure often, I have to say…"
The "we" is telling. It's clear that Mr Bruce (and his assistant, Mr Clarke) must take a lot of credit for all this tournament-storming success. And it's obvious that the team "plays for him", as the parlance has it. But there is also a sort of subcultural fanaticism to the way the girls go about being members of a team. They project a collective forcefield you imagine might be the envy of some professional sides. They take it as a given that they should exhibit "togetherness and personality".
They are, for want of a better word, a bit of a gang. Just for starters, they are heavily into the minutiae. They love not only the football, but the ancillaries – the fandom, the training, the travelling, the injuries, the dramas, the chat. They doubtless enjoy the enhanced social status that accrues from being an FA Cup-winning team. Above all, they seem to like the comedy – and perhaps it is appropriate to say here that they are fortunate that they can experience it all as a kind of comedy: the comedy of physical knockabout and the comedy of manners.
It is hard to locate the precise moment it all began, though. I used to take Berry to watch Arsenal when she was really quite small, six or seven-ish, and she used to love all of it, especially the swearing. But she was never a sportif kid. Couldn't catch a tennis ball in the garden to save her life. Couldn't throw it back. And ask her now where the football thing comes from and she just shrugs. It feels to her like nature, like destiny. "It started out in year five at primary school as a bit of a laugh. But it wasn't until we got to year seven that we started to take it seriously."
Once again the "we" seems significant. Berry may be as intimidating as Willie Young on the pitch but she is a keen observer of human life off it, and she always gives me a detailed post-mortem after every game I have not been permitted to attend. She tells me how awful she was. She tells me how brilliant everyone else was. She tells me the gossip, in so far as team honour will permit. And she always, always tells me what the opposing centre-forward had to say in response to her occasionally robust defending.
My favourite from last season was the utterance of a hustling, barging striker, who was unceremoniously upended by the Beezer a safe distance from SNS's penalty area and left spinning on her behind. The fallen Amazon looked up from the Astroturf and narrowed her eyes.
"Don't fink I won't draw for m' shank, biatch," she said.
It's a serious business, girls' football. And Berry thinks it's a brilliant laugh.
Register for free to continue reading
Registration is a free and easy way to support our truly independent journalism
By registering, you will also enjoy limited access to Premium articles, exclusive newsletters, commenting, and virtual events with our leading journalists
Already have an account? sign in
Register for free to continue reading
Registration is a free and easy way to support our truly independent journalism
By registering, you will also enjoy limited access to Premium articles, exclusive newsletters, commenting, and virtual events with our leading journalists
Already have an account? sign in
Join our new commenting forum
Join thought-provoking conversations, follow other Independent readers and see their replies