Glenn Moore: Shame that Fulham forward Clint Dempsey's on strike. Bigger shame the PFA says nothing
Sporting Matters: Fulham forward brings into disrepute the rights the PFA fought for over generations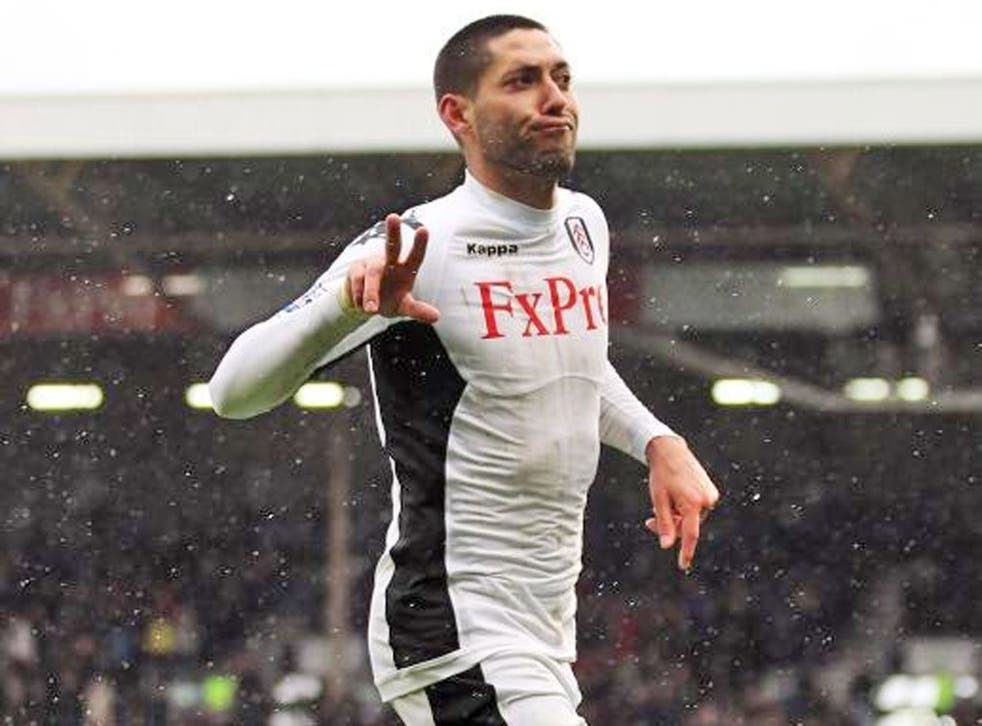 Clint Dempsey grew up in a trailer park in a small east Texas town where one in four families has a single parent and one in five is below the poverty line. Both Dempsey's parents were at home but to finance the three-times-a-week, six-hour round trips they made to Dallas to enable the teenaged Clint to attend training, the family went without holidays and sold possessions.
While a teenager, Dempsey lost his sister, a promising tennis junior, to a brain aneurysm. "Not everything has been cupcakes and ice cream and happy endings," he once said. "It's been a grind. It's been tough. But that's what made me who I am."
What he is at the moment is a footballer on strike. A man who has turned his back on the club which brought him to England, made him a global star and has handsomely paid him for six years.
In the new post-Olympic mood, this is another own-goal for football, but why should Dempsey care about that? In five years' time, possibly less, he is likely to be back in the United States playing out his career in Major League Soccer. In an ideal world, he would like to be able to return to Craven Cottage and be feted, but it will not be high on his priorities. He knows as well as any footballer how quickly his status can go from indispensable to expendable. His life experiences have taught him that he and his family come first, and to seize opportunities when they arise.
The opportunity currently on his horizon is the chance to play for Liverpool, a club whose history has for some years outstripped its performance but which remains a drawcard. Dempsey is now 29, the same age as Robin van Persie, and like Manchester United's latest recruit the American knows he has one big move left in him.
As with Van Persie at Arsenal, Dempsey has one year left on his contract, which means next year he can leave for nothing. But Dempsey does not want to wait, he wants to be in at the beginning of Brendan Rodgers' revolution because he knows in football a lot can happen in a year. Dempsey may be injured then, or out of form, Rodgers may have signed someone else, the Fenway Sports Group may refuse to sanction a long-term £50,000-a-week-plus deal for a 30-year-old.
Traditionally what happens in these circumstances is the clubs agree a fee and the player moves, but Liverpool are yet to bid and are unlikely to match Fulham's valuation of a player who is of similar age to Van Persie, more versatile and with a better injury record. In the meantime, Dempsey has broken with convention and is facing the bitter contempt of the fans who once hailed him, and the wider disgust of the football world.
Two years ago, Fulham's manager walked out to join Liverpool, yet Roy Hodgson is now an admired England manager and still popular at Craven Cottage. So why the opprobrium for Dempsey? Many of the fans who jeered him at the weekend would happily walk out of their current job if they received a better offer elsewhere.
One factor is that while most Fulham fans can understand Dempsey desiring to play in the Champions League, Liverpool show few signs of returning to a competition they last graced in 2010. From a wider perspective, the difference is that Dempsey, unlike Hodgson and most football fans, has an enviable security of contract. Even when a club goes bust the players still get paid. Clubs may make life uncomfortable for unwanted players, but they cannot sack them.
Dempsey has every right to want to move, but he should honour his contract until he gets his wish. The Professional Footballers' Association should be condemning Dempsey for refusing to play, for he is bringing into disrepute the rights they have fought for over generations. Their silence is deafening.
Yet Dempsey could be forgiven for feeling cynical about the fans' outrage. In December 2010, Carlos Tevez handed in a written transfer request. In June 2011, he said from Argentina he would not return to Manchester even on vacation. In September 2011, he refused to come on as a substitute in Munich and spent much of the winter playing golf in South America. Even when Tevez returned to score several goals in the title run-in, it seemed that this was merely a means of putting himself in the shop window for a transfer to Italy, Spain or Paris.
But no one wanted him, so he remains in Manchester – and when on Sunday he scored City's first goal of the season he was cheered to the rafters. If Dempsey ends up staying at Fulham will he, too, be welcomed back into the fold as soon as the goals go in, or will Fulham fans be more principled?
Patience, please...Rodgers has had one game
Liverpool's team bus had barely turned on to the M6 before the airwaves and message boards began humming with criticism of Brendan Rodgers after Saturday's defeat at the Hawthorns. Ninety minutes was all it took to pass judgement for some members of a support that can appear to believe it has a divine right to titles.
That is worrying for Rodgers who is trying to change the culture and style of a hotch-potch squad recruited by four different managers. In indicating results are unlikely to pick up quickly he was looking way beyond a run of fixtures featuring last season's top three plus Sunderland away.
When Robbie Savage is cast as the voice of reason it is a sure sign that others have lost touch with reality but he may be right in suggesting Rodgers's task could take three years. Bill Shankly's first match as Liverpool manager was a 4-0 drubbing at home to Cardiff City. His second was a 3-0 defeat at Charlton and he took more than two years to lift Liverpool out of the Second Division. Fortunately for him, and Liverpool, there were no phone-ins nor message boards back then and not just because few people had telephones and the web was not yet invented. It was a more patient, saner age.
Federer defies age and old adages with return to top
If there was more evidence at Lord's yesterday for the old adage that it is harder to stay at the top than to get there, England's cricketers can take heart from weekend events in Cincinnati. For it must be harder still to return to the summit after being deposed by younger rivals. Yet Roger Federer's despatch of Novak Djokovic in the Masters final not only confirmed that the 31-year-old Swiss will go into the US Open as favourite, it also cemented his status as world No 1, regained at Wimbledon after two years in which his crown was worn by Djokovic and Rafael Nadal.
Prior to Wimbledon, Federer went 18 months without a Grand Slam title, dropping out of the top three for the first time in nine years. His career seemed on the slide. He is back, and in some style. It is true Nadal's knee injury has eased the path, but staying fit is part of being a champion.
Join our new commenting forum
Join thought-provoking conversations, follow other Independent readers and see their replies