Grassroots football in crisis, part 2: Parklife struggles to survive in a changing country
In the second of a two-part investigation, Glenn Moore looks at the grim reality facing a children's league where players and organisers have to endure dreadful facilities, unplayable pitches and a shameful lack of financial support
Glenn Moore
Thursday 09 October 2014 11:17 Comments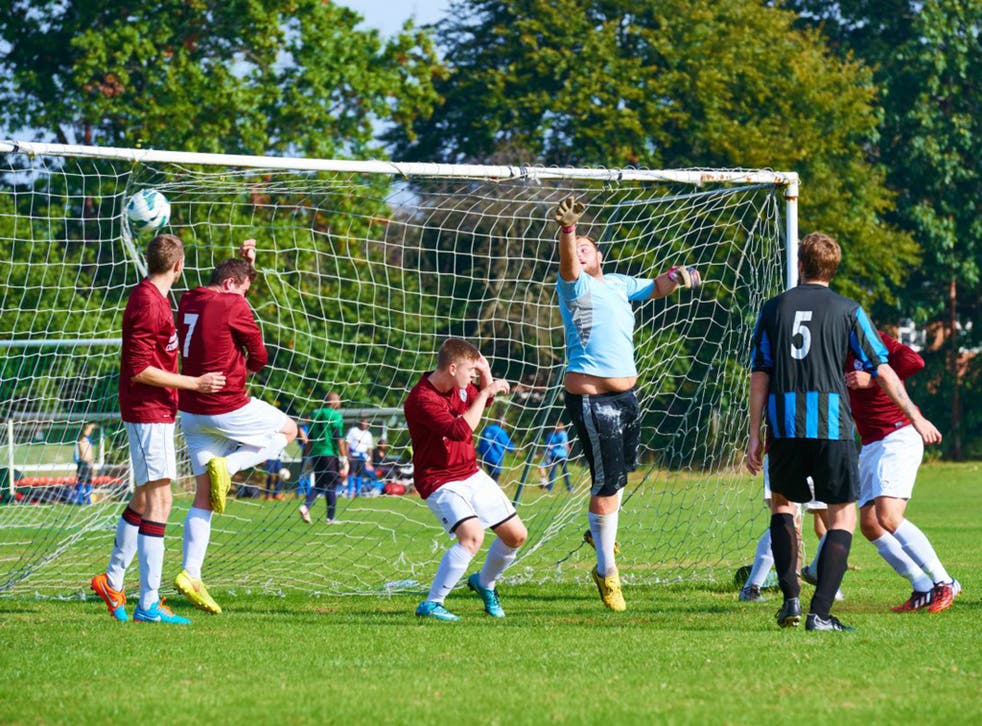 Half-time and Broomfield FC are re-grouping by the side of the pitch. There are no quartered oranges or isotonic drinks, but a couple of players are fortifying themselves for the second half with a fag.
The ref's name is being taken in vain, bruises are being nursed, David Preston, manager-coach-secretary-treasurer, is trying to lift his team. A two-goal lead is now a one-goal deficit and Preston is seeking to channel Alex Ferguson's hairdryer and Roberto Martinez's positivity into the same discourse. Some of the players are listening.
Preston hasn't got many options from the bench, not with three players having failed to turn up. One broke his hand the night before, in a fight suggest team-mates, another was out clubbing and hasn't returned, a third is ill, possibly alcohol-induced. But it could be worse, Preston, now in his 50s and past his athletic prime, had to pick himself a couple of weeks ago.
Scenes from Sunday League football

Show all 8
This is parks football in the raw. The Leatherhead and District Sunday League, Division Five. It is a scene replicated up and down the country, but not as much as it used to be.
Grassroots adult football is suffering. In less than a decade the number playing football has shrunk by nearly 200,000, according to Sport England's Active People survey, a reduction approaching 10 per cent. Sport England very publicly cut £1.6m in the funding they provide to the Football Association in response, instead awarding it to Nottingham to run a two-year 'City of Football' pilot programme. On Friday, when he delivers the second part of his England Commission report, FA chairman Greg Dyke is expected to outline the governing body's reply.
The decline is most severe in the parks. Around half-a-million adult men still play organized 11-a-side football, but 2,360 teams gave up the ghost between 2009 and 2014. That is an eight per cent drop.
Preston believes changing lifestyles are a main factor. "More people tend to be working on Sunday mornings now. Everyone is clubbing Saturday night, which can mean people crying off on Sunday morning, but the main problem is work. None of us worked Sundays when we played."
Greater weekend-working, which also affects Saturday afternoon football, is a factor behind the rise in five-a-side, mainly played in the evenings at private complexes. But another reason why players prefer this option are the facilities. Venues operated by the likes of Goals and Powerleague do not just have artificial pitches, they have smart dressing rooms with hot showers and, usually, a bar.
But such facilities, operated by profit-seeking companies, come at a cost not everyone can afford. Unfortunately running a Sunday morning football club is not cheap these days either.
Broomfield, based in Weston Green near Esher, Surrey, began in the 1970s. Preston played for and managed it in the 1980s but as core players grew older, had families, or moved away, the team folded. However, by 2010 some of those children had reached the age when they could no longer play youth football. Preston re-formed Broomfield with a mixture of ex-players and youngsters, including some father-and-son combinations. The costs of running the club were a shock.
"It was difficult to start with as the younger players didn't have very well paid jobs, and some were unemployed, so we had to rely on older and ex-players as benefactors to keep it running," he said. "One of them, who had done quite well for himself, bought the kit."
Five seasons on Broomfield are still using that kit with income being reserved for simply getting the team onto the pitch. "Every home game costs £110: £80 for the pitch and £30 for the ref," said Broomfield. "The pitch is actually quite cheap for round here – hiring one from Elmbridge council would cost us £110 - but it's cheap for a reason. It is on marshland, so it is often unplayable, and we rent off a private sports club who haven't got much cash themselves so facilities are a bit ramshackle. They have showers – it is a league requirement - but they are not brilliant." Indeed, the Broomfield players do not even use them, changing outdoors in between eating bacon baps.
"We pay £100 to the county FA, plus we have to have public liability and personal injury insurance," added Preston. "The various fees come to £360. We charge players £50 a year and £7 a game, which I'll reduce to £5 after Christmas if we can afford it."
On that basis, with a 25-30-match campaign depending on cup runs, Broomfield are among the 25 per cent of clubs charging players more than £200 a season, according to a survey on clubwebsite.com, but this is one of the country's more expensive areas.
"We also lose some of the better players because we cannot afford to train," said Preston. "We use a local park at the start of the season, but then it gets too dark. We used to use a nearby rugby pitch because it was next to an artificial pitch that had floodlights and enough of the light spilled over for us. But then they spotted us and told us it would be £100 a time, so we left.
"I've written to the Surrey FA asking them to recommend training facilities but never heard back. The focus seems to be on kids' football, which I can understand. We get very little practical help. Maybe it is a cynical view but I feel it is mainly cosmetic – we get lots of press releases and newsletters but not much is relevant. We get notices telling us players who wear tape on their socks must use the same colour as their socks. Stuff like that. Apparently it is a Fifa requirement. All suspensions are done on same basis as professional football, so if you want to appeal a suspension for a sending off you have to have video evidence - like we're going to be filming every game.
"I went to a league meeting which was addressed by a county bloke who gave us a very good, interesting slideshow on how they could help with floodlights, 3G pitches and so on, but you had to own your own ground. Not many teams in Sunday league division five own their own ground."
The £100 paid to Surrey FA brings administrative support, much of it online, and the county manage disciplinary issues effectively. "In the old days we used to play teams and recognize a player who'd been banned for three years, that doesn't happen often now," added Preston.
"At least the league is now a bit more understanding and does not fine us for minor things like sending in a team-sheet late or not including all the substitutes," said Preston. "We get a warning letter now rather than a fine first time"
Broomfield are one of the 4,600 clubs to achieve Charter Standard, an FA grading which requires clubs to meet various criteria designed to make them safer and more efficient. Preston says that has led to clubs being run better, but has limited benefits for a club of this size. "We get offered cheap tickets for England women's internationals - and this season any game at Wembley as they can't sell the tickets. They used to give us £200 Umbro vouchers but Nike haven't followed suit, though we did get a couple of footballs, and a plaque saying we are charter standard."
There is quite a bit of administrative work involved these days. Fortunately Broomfield are not quite a one-man band. Chairman Martin Lambert is here too - and running the line. There are also two spectators: one father, one girlfriend. To complete the cliché the opposition have brought a dog.
Our interview is constantly interrupted by Preston's increasingly heated exhortations to his team but, despite a lot of possession Broomfield are struggling to break down Willmall's defence. Given the modest level there is a surprising amount of good football attempted by both sides with plenty of passing through the thirds rather than just lumping it forward. Trevor Brooking, the FA recently retired director of football development, would be encouraged, maybe coaching improvements are filtering down.
However, a hard uneven pitch, and poor close control, means many of these moves come to naught. Add the referee's idiosyncratic decision-making ("the biggest gripe for players is referees," said Preston) and the morning ends in a frustrating 3-2 defeat.
The pub awaits. I played for Broomfield in the 80s, and occasionally played and coached when it reformed. What keeps football at this level going is the camaraderie, the sheer joy of playing, of getting a good result, of savouring the rare moments when something you attempt comes off. But then there are the mornings ploughing through mud, then attempting to wash it off under a weak, cold shower. And the games when the opposition are more interesting in fighting than playing, or the referee infuriating both sides with his incompetence.
I loved it at times, have great memories and made lasting friends, but when I stopped playing 11-a-side, and settled for a weekly five-a-side, I didn't miss it. In the last few years thousands of others have made the same decision and without significant investment it will be very hard for the FA to reverse that trend.
Register for free to continue reading
Registration is a free and easy way to support our truly independent journalism
By registering, you will also enjoy limited access to Premium articles, exclusive newsletters, commenting, and virtual events with our leading journalists
Already have an account? sign in
Join our new commenting forum
Join thought-provoking conversations, follow other Independent readers and see their replies