Who can really blame Greg Clarke for fleeing this post-Brexit hellscape and jumping back into bed with Qatar?
Three cheers for the venerable chairman of the Football Association, whose not at all morally dubious goodwill trip to Qatar appears to be progressing swimmingly
Jonathan Liew
Chief Sports Writer
Thursday 15 February 2018 19:52 Comments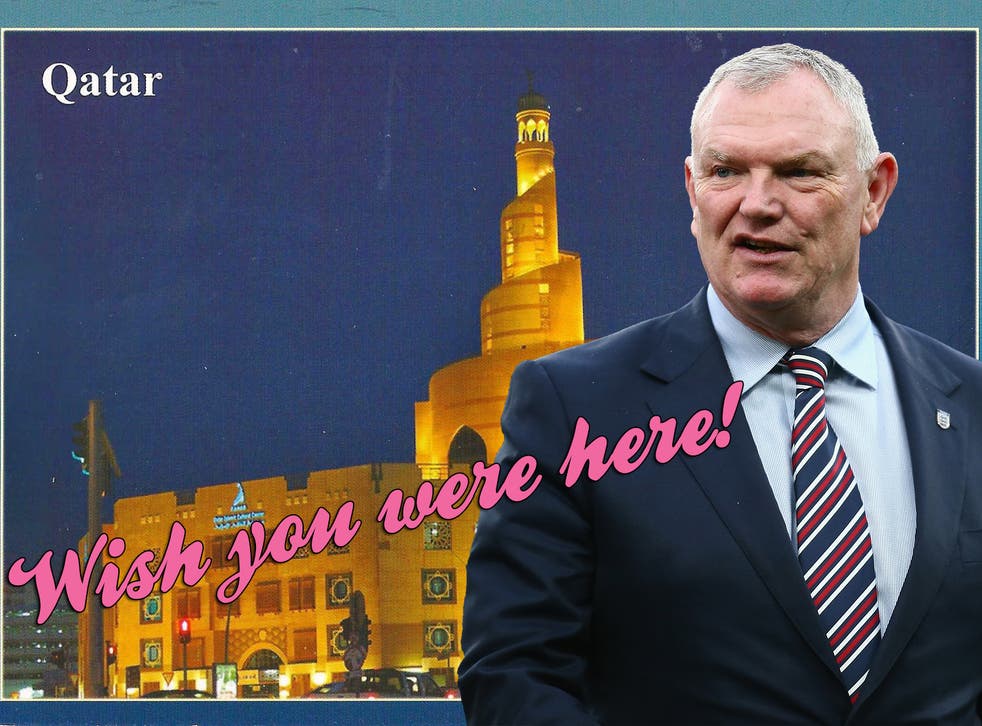 The FA ran into a sandstorm of criticism this week, after its chairman Greg Clarke made a goodwill visit to Qatar. An international pariah state, facing increasing isolation from its neighbours in the region, and criticism for its erosion of labour rights and poor treatment of minorities, this country is nonetheless keen to strengthen ties with its Middle Eastern counterpart.
So Clarke has despatched himself on the first flight to the Gulf, and by all accounts his attempt to build bridges in Qatar has gone a lot better for him than for most people who embark on construction projects in the country. Certainly, the broad beam of pride on Clarke's face in the official photographs is that of a man having the time of his life, the kind he will be gushing about eagerly to friends and family in the coming weeks as he shows off his holiday snaps.
"Look, that's me signing a Memorandum of Understanding with Hassan Al-Thawadi, secretary-general of the Qatari FA... Ah bless, that's the personalised England shirt we gave him with the name AL-THAWADI on the back... That's me touring the Khalifa International Stadium that will be used for the 2022 World Cup... what's that? Well, 'slave labour' is an awfully loaded term to use, darling…"
Of course, Clarke's visit was just one prong of a multi-tiered charm offensive. At around the same time Clarke was pressing the flesh in Doha, a committee of MPs was just across the city, meeting with the chairman of Qatar's National Human Rights Committee (NHRC) - a job title that raises tangential questions far too numerous to go into here. And in many ways, this country's rekindled flirtation with Qatar is simply the latest bit of scenery detail in our post-Brexit apocalyptic hellscape, the equivalent of the two friendless kids on the school bus who strike up an unlikely alliance.
Yet the FA has its own reasons for jumping back into bed with Qatar. As Clarke put it in a speech to the FA Council in October: "Our history is full of poor choices and missed opportunities we have later repented. We turned our back on FIFA and the World Cup. We turned our back on women's football. We turned our back on five-a-side and artificial pitches, thinking it was not for us. We even turned our back on the World Cup-winning team of 1966 and their manager. Let's not turn our back again."
You could argue, I suppose, that the first beneficiary of the FA's new "Just Say Yes" policy might have been more judiciously chosen. It was, of course, Clarke's predecessor Greg Dyke who led the opposition to Qatar in the wake of their successful World Cup bid, calling for them to be stripped of the tournament. As recently as 2015, Dyke was declaring it "the worst moment in FIFA's history", and predicting that the consequences would be felt for "at least another seven years".
Perhaps Clarke has decided to give Qatar time off for good behaviour. And they have been nothing if not the model client: forking out for international TV rights to the FA Cup, even holding (ultimately inconclusive) discussions about Qatar Airways sponsoring the competition. And while the precise terms of the "knowledge-sharing deal" between the two bodies remains unclear, if the Qatar Cup starts moving random ties to Monday nights for television coverage, we'll know where they got the idea from.
But then, as a former chairman of the Met Office, you would expect Clarke to have a fairly good idea of which way the weather is blowing. And though Qatar's World Cup bid is still under criminal investigation in the USA and Switzerland, though sodomy is still punishable in the country by one to three years in prison, though indentured workers are still roasting to death on construction sites, England want to bid for the 2030 World Cup. And as the saying almost goes, you can't win a mud wrestle without being prepared to get your kecks grubby.
The widespread perception, according to Clarke, is that the FA is arrogant. Quite how people have reached that conclusion remains a matter for conjecture, but is it ridiculous to suggest his haughty appearance in front of MPs at the Eni Aluko hearing may have played just the tiniest role? Or his criticism of gay footballers for refusing to meet him to discuss coming out? "To be perfectly frank," he said, with a vaguely slighted air last October, "they are reticent to engage with me."
Ah, well. You could sit for hours trying to rationalise why gay footballers might be reticent to engage with a man who appears to support a regime that wants them put in prison. You could try and piece together the value system that regards Aluko's conduct as "un-Lioness behaviour" and sacks Sam Allardyce for falling short of its standards, while offering the meaty hand of friendship to a country that bars migrant workers from its shopping centres. But of course, that's not how these things work. As Clarke will doubtless have told his Qatari audience, we can't choose who we fall in love with.
Register for free to continue reading
Registration is a free and easy way to support our truly independent journalism
By registering, you will also enjoy limited access to Premium articles, exclusive newsletters, commenting, and virtual events with our leading journalists
Already have an account? sign in
Join our new commenting forum
Join thought-provoking conversations, follow other Independent readers and see their replies