Hope Powell has transformed the women's game but now it is time to move on
FA need to consider if a male coach will promote women's game best
Glenn Moore
Wednesday 24 July 2013 15:13 Comments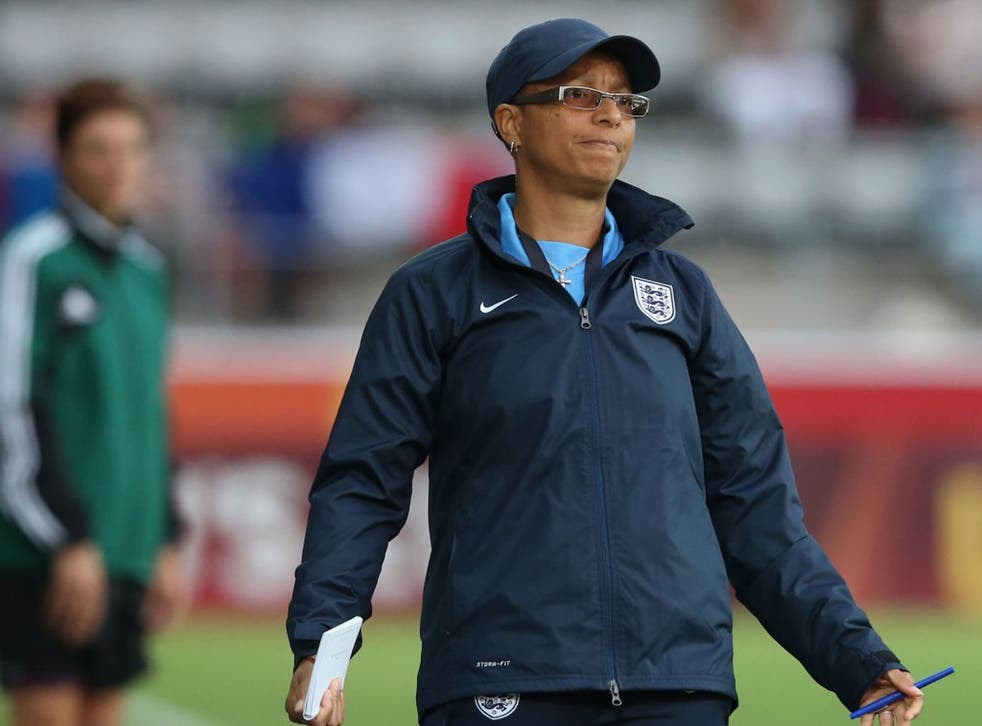 England may be baking but at the Football Association's Wembley headquarters there is a chill that has nothing to do with the air-conditioning. With no senior men's tournament this summer the FA hoped that a trio of representative teams would revel in the spotlight; instead the exposure has shone a harsh light on the English game's inadequacies.
The worst has been saved for last. Stuart Pearce's Under-21s were poor and Peter Taylor's Under-20s were disappointing, but Hope Powell's women, who crashed out of Euro 2013 this week, were dreadful. If the male age-group teams lacked technique and tactical maturity, there was at least the excuse of mass unavailability. Pearce, at the Euro U21s, and Taylor, at the World U20s, were left scouring reserve teams and academy sides to make up the numbers. Trying to establish a cohesive team was near-impossible. Powell had no such problems. The FA even suspended the Women's Super League to ensure she had a free hand.
Given a weak group, qualification was the bare minimum expectation for a team ranked fourth in Europe. Instead England exited with the worst record of any side in the tournament. Thursday's 3-0 defeat to a France team already qualified and resting six players followed England's first defeat to Spain in 17 years and a 1-1 draw with Russia – the first point won by their opponents at this level.
The initial reaction of Powell – proud, prickly and committed – was typical. She would absorb the lessons and fight on. But if she will not quit the FA must fire her, as it did with Pearce (Taylor's post was temporary).
Powell has arguably been the single most influential person in women's football in England. A highly respected player, she has, often by sheer force of personality, transformed the standing and professionalism of the women's team – and its junior sides. As a manager, however, she has gone on far too long. This is her 15th year in charge during which time England, from a possible eight tournaments, have reached two World Cup quarter-finals and one European Championship final, in 2009 (helped by a hugely fortuitous draw). This despite being able to draw upon one of the sport's genuine world-class players in Kelly Smith. It is an unsatisfactory return on the FA's ever-increasing investment, in staff, logistics, central contracts and the WSL.
Powell's spiky personality may be helpful when demanding resources from the FA, but it can be counter-productive in the dressing room. While she showed great sensitivity to Smith's struggle with alcohol, and has been known to help other players in distress, she has also alienated many.
Lianne Sanderson, currently starring in America, refuses to play for England while Powell is in charge while another ex-international, Everton's Jody Handley, tweeted "Only good thing to come from the tournament and media exposure is that finally people are speaking up!" This may have been a reference to Michael Gray's stinging criticism of Powell on BBC3, which drew supportive texts from within the squad.
The final straw for many players was Powell's accusation of cowardice, made to the media but not the players' faces, after few volunteered to take penalties in the 2011 World Cup quarter-final shoot-out against France. England lost.
Another bone of contention is Powell's failure to scout players. Matt Beard, manager of WSL league leaders Liverpool, said the only time she had seen his team this season was when they played Arsenal at the Emirates. Beard, who previously managed Chelsea for three years, said in all that time Powell had only ever called him once to speak about players.
Beard admitted managers could be biased about their own players, but many are mystified by Powell's failure to take Natasha Dowie, the domestic game's leading scorer, to Sweden, and by the presence of more players in the team from strugglers Lincoln than Liverpool.
Rather than scouting and recruiting fresh talent, Powell has relied so heavily on the old guard she took six players to the Euros who were either carrying or recuperating from injury. Against France, Karen Carney played her first match in four months while Steph Houghton was clearly not fit.
There are two problems for the FA to confront if it dispenses with Powell. What to do with her, and who to replace her with? A technical developmental role of the type Powell has indicated she wants is being created but, while she has done much work of that nature, not everyone at the FA – and beyond – is convinced she is a natural fit for it.
The heir apparent is Mo Marley, U19 coach and formerly a success at Everton. Many, however, believe her too closely associated with Powell. Other leading contenders are Laura Harvey, who coached Arsenal and is now working in Seattle, and current Chelsea coach Emma Hayes, but neither have played or coached in the international arena. The field is thin as for historical reasons there are as yet too few women of sufficient ability and experience -  as a result six of the eight WSL coaches, and nine of the 12 coaches at Euro 2013, are male.  
The FA would prefer to appoint a woman - just as, in the mens game, they ideally prefer to appoint an Englishman - but arguably the strongest native candidate is John Herdman, the Geordie who has done well with New Zealand and Canada (with whom he beat Powell's GB Olympic team) . Everton's ex-international Becky Easton tweeted: "I would like to see a coach from the men's game, the sex is irrelevant, go for quality". The FA has to decide whether the women's game is better promoted by retaining a female coach under whom progress has stalled, gamble on a woman who lacks international experience, or appoint a man with a proven track record. 
Register for free to continue reading
Registration is a free and easy way to support our truly independent journalism
By registering, you will also enjoy limited access to Premium articles, exclusive newsletters, commenting, and virtual events with our leading journalists
Already have an account? sign in
Join our new commenting forum
Join thought-provoking conversations, follow other Independent readers and see their replies