How do you solve a problem like Sepp Blatter and Fifa? The world is waiting for a manager or a player to speak up for the game's soul
COMMENT: Whilst Prince William has added his voice to those concerned, it's not enough, writes Ian Herbert
Ian Herbert
Monday 01 June 2015 06:03 Comments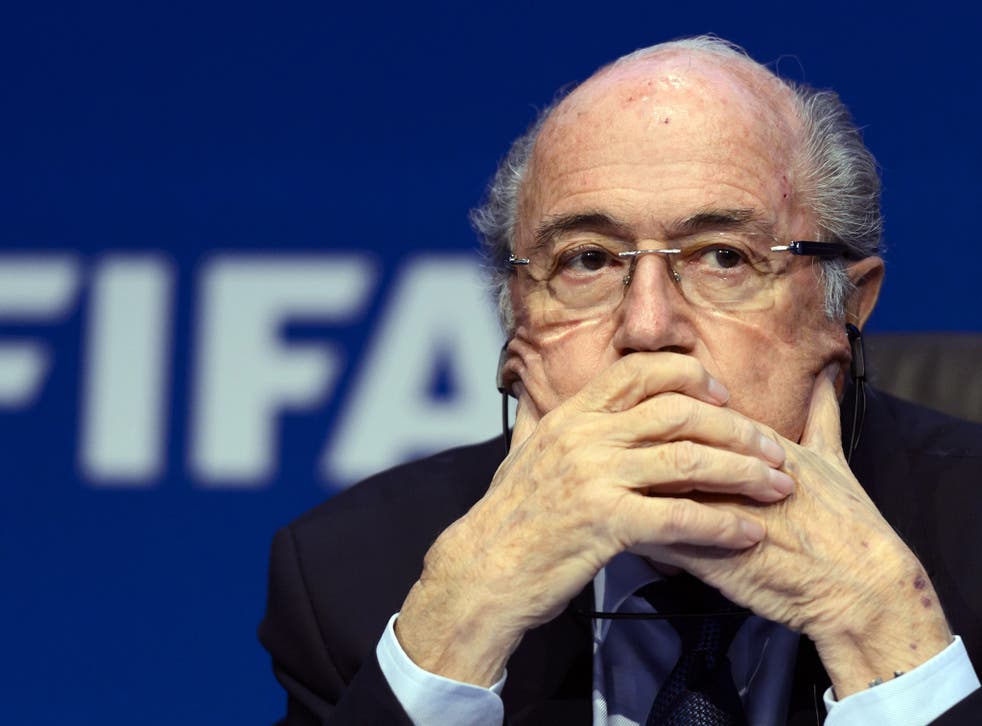 There's been no sign in the past few days that the descent of football into an ever-deepening slough is worrying those who have benefited most from its fabulous riches. While Sepp Blatter was celebrating being voted back in for four more years, Cristiano Ronaldo was reminding us on Twitter that summer is a great time to wear the latest in his own new shoe range and Wayne Rooney was looking forward to getting his hands on a new live score app he sponsors and putting in a good word for some of his boot supplier's latest products.
Patrick Vieira, the individual who has perhaps the greatest combination of influence and intellect in world football to challenge the stultifying African obeisance to Blatter, was certainly on a higher plane than those two. But his promotion of a charity initiative to convert passes in the Europa League to development aid for Jamaica certainly won't rescue football.
And herein lies the problem. The players' commercial interests and loyalties are so labyrinthine – often tied up in the nation states and sponsors who are drenched in the Blatter slime – that it's hard to extract them to fight for the soul of the game, even if they did have the mildest interest in this scandal. Those newspapers trying to find a current player to speak out this weekend drew a blank. Not a single voice. The only active professional I have seen expressing any outrage in the past three days about an individual who has presided over a cesspit of kickbacks and bribes being voted back into power was the Wycombe Wanderers midfielder Marcus Bean.
The dismal dearth of individuals to stand up and be counted was laid bare on Thursday when the best Newsnight and Channel 4 News could come up with to provide a representative voice from the profession was David Ginola; the self-styled Le Magnifique who pocketed £250,000 from the joke bookmaker Paddy Power to front up its stunt application for Fifa's presidency earlier this year. As my Independent colleague Andy McSmith observed last week, Jon Snow struggled manfully for four minutes trying to get Ginola to say anything intelligent and when the broadcaster said that he suspected Fifa had been beset by corruption for years, Ginola did a double take. "You do? Really?" he responded, evidently astonished.
But while we can't expect an avalanche of individual players ready to take a stand, the voices of a significant few, sounded individually or through player organisations such as FifPro can – taken with those who have already articulated the collective disgust, such as Gary Lineker, Gary Neville and the Duke of Cambridge – begin to have a corrosive effect on association with Fifa.
A coalition of noise is not an utterly idealistic notion. Though the FA chairman Greg Dyke's words took the headlines from Jacqui Oatley's interviews on the subject in an illuminating Sportsweek on the BBC on Sunday, it was his predecessor, David Bernstein, who spoke with greater wisdom. "We need to walk the walk now," he said. "We've heard so many words. I'd like to hear football managers speaking out. I'd like to hear footballers speaking out. I would like to see football clubs trying to influence their supporters."
Football needs enough of the type of voices who carry the weight to make Coca-Cola, MasterCard, the BBC, Fox Sports and NBC know that genuine reputational damage is attached to an association with Fifa. And to make lesser lights, shuffling up to the rostrum when the elite brands decide to sever the links, know that the fruits of such attachment gives them pariah status. A Fifa sponsor and a Fifa broadcaster need to feel as loathed as Barclays Bank was with its apartheid associations in the 1980s. You or I can argue and agree on that until kingdom come, but in these celebrity days it will take the voices heard and absorbed by millions to win the argument; and to shatter the indifference to all this felt by millions of football supporters, whose concern is the gratification the next game brings.
As yet, it remains to be seen whether David Beckham, who would be a powerful individual in a reform camp demanding Blatter's removal, would contribute as he did in England's 2018 bid. He was close to the Qataris after signing for PSG in 2013, though the country denied he had become an ambassador for their 2022 bid . But more significant than his own involvement is the need for an international coalition of stars – African, German, American and Argentinian, but African most of all – dispelling the lingering view across the world game that the whole Fifa corruption story is something promoted by the moralistic English. One of the most significant aspects of the press conference choreography of last week, as first the Fifa communications director, Walter de Gregorio, and then Blatter were subjected to questions, was that English journalists were putting the majority of them.
That is a perception of the fight which has to be eradicated if Blatter is to be stripped of enough of his corporate sponsors to be cut off at the knees, or else to be boycotted by so many football federations that the 2018 World Cup will become an emasculated event. There is more than a half-decent international tournament shaping up if those federations who voted against Blatter last week formed their own 2018: England, Germany, Argentina, most of South America, leaving a Blatter rump barely better than an African Cup of Nations. But the politics of a divided Uefa, with France, Spain and, seemingly, Italy all in the Blatter camp, seem so complex that wise heads like Bernstein find it hard to see how on earth the European federation will break away.
Which is why change has to come from below. It would be some strike if somewhere amid the battery of interviews for this week's Champions League final, a solitary manager or player would stand up, be counted and demonstrate that football is something more than a lost sport, in hock to whichever business is willing to ferry the necessary funds into an offshore bank account in return for the golden ticket. Since Spain and Italy seem to be in Blatter's septic tank, it might be too much to hope for. But the fight to save football from organised criminals starts today. If one of those on whose words the whole universe seems to hang is willing to put away the Twitter sales pitch and speak out, then let his words be published and cherished. The football world is waiting.
Register for free to continue reading
Registration is a free and easy way to support our truly independent journalism
By registering, you will also enjoy limited access to Premium articles, exclusive newsletters, commenting, and virtual events with our leading journalists
Already have an account? sign in
Join our new commenting forum
Join thought-provoking conversations, follow other Independent readers and see their replies