How it feels to have been vilified for the last 30 years
Legend Johnny Giles tells Steve Tongue about a fascinating life on the pitch and the small screen
Sunday 14 November 2010 01:00 GMT
Comments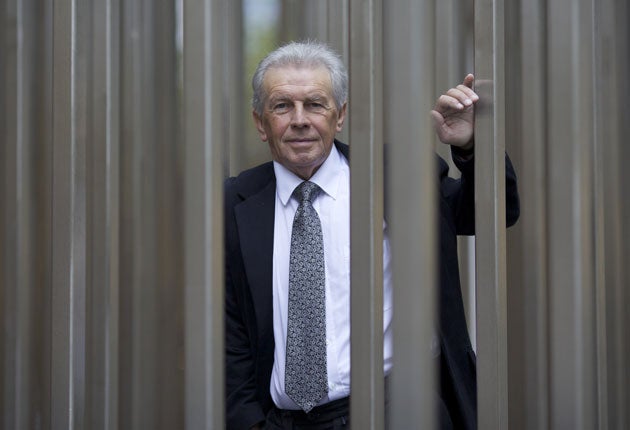 To spend time in the company of Johnny Giles, once the creative force in the midfield of Leeds United and Ireland, is to confirm that football's loss is television's gain; Irish television that is, where his appearances on RTE with countrymen such as Eamon Dunphy and Liam Brady, abetted occasionally by an outsider in Graeme Souness, can make Match of the Day look bland in the extreme. YouTube clips tell some of the tales: "England are brainless says John Giles"; "Dunphy rant"; "Eamon Dunphy, Graeme Souness fight about John Terry." Jolly joshing between Lineker and Shearer it is not.
Dunphy and Giles go back a long way; to Dublin in the very early 1950s, where they first met as boys and, apart from taking different sides in the civil war provoked by Roy Keane and Mick McCarthy (with whom Giles sympathised), their views are in many ways similar; above all about the dignity but insecurity of the professional footballer and the ignorance of those running the game. Dunphy, who played for Ireland 23 times but never in England's top division, expounded these themes in his groundbreaking book Only A Game?, published almost 35 years ago and dedicated to "the good pro". Giles' new autobiography, with the equally significant title of A Football Man, carries many echoes.
What has happened in the ensuing period, of course, is that salaries have shot up, lurid headlines have multiplied and attracting sympathy for the professional footballer, "good pro" or otherwise, has become a demanding task. A hard life? "It's a very harsh world," Giles insists, choosing the adjective carefully, "although freedom of contract has eased that. There was nobody of my generation finished the game financially secure, not Bobby Charlton, nobody. They all had to make a living after they finished playing. At Leeds we all naively thought, 'I've been at the club long enough, they'll look after me'. But that wasn't the case. I think the boot's on the other foot now and I'm OK with that."
For a time – two hours, to be precise – it looked as if Leeds' way of looking after one of their most accomplished players after 12 years' service and more than 400 games would be to make him manager. Don Revie, leaving for England in the summer of 1974, had recommended him as successor and at 7am one morning a phone call from the Leeds chairman Manny Cussins asked Giles if he would take the job. By the time he reported to Elland Road at 9am for a formal interview, the offer had been withdrawn. When it was later reinstated after a 3-2 vote by the board, Giles decided with a characteristic mix of pragmatism and principle that if 40 per cent of the directors did not want him, it was best to decline.
How different the club's future might have been. What happened next is history, as recorded in Giles' book rather than the one by David Peace, The Damned Utd, and the subsequent film which painted him, he says, as "a cartoon villain". The book and film made much of Leeds' reputation as the country's dirtiest and most cynical team, to which Giles' defence is that others were, well, very nearly as bad. "We've been vilified for the last 30-odd years and we were no angels but what annoys me a bit is that neither were a lot of other teams. Chelsea had Chopper Harris and Eddie McCreadie and Peter Osgood who could dish it out a bit and they had a few others too, as most other teams had."
Giles learnt to look after himself after a tackle at Birmingham when he was still a Manchester United player, following which a surgeon gave him a 50-50 chance of playing again; he was 20 years old. Yet throughout his career among the cloggers he shunned shin-pads "because they didn't actually prevent serious injuries, only cuts and bruises". Well, not when the tackles were coming in at knee or thigh-height. He may be permitted a wry smile, then, at the outrage caused by some of this season's least legitimate challenges. "The rules have changed a lot and there's definitely more protection for skilful players, although it's gone overboard a bit, because the referees seem to be under instruction that a tackle from behind is an automatic yellow card. Sometimes it's not. There's also too much diving and feigning injury and I don't think the fans like that. I often played against [Arsenal's] Peter Storey, who was a hard nut, but he never intentionally got me booked and I never did to him."
Honour among hard nuts, or something. But McCreadie was his real bête noire – or bleue – once inflicting knee ligament damage that put Giles out for a month. Revenge was duly extracted behind the referee's back on another day. Eight years later.
A Football Man – The Autobiography (Hodder & Stoughton, £19.99)
Join our commenting forum
Join thought-provoking conversations, follow other Independent readers and see their replies