Howard Gayle: 'If they'd thrown that banana at me at Goodison Park, I'd have thrown it straight back'
Unlike others at the time, Gayle refused to turn a blind eye to racism. The Liverpool winger remained defiant in the face of such visceral prejudice, writes Ian Herbert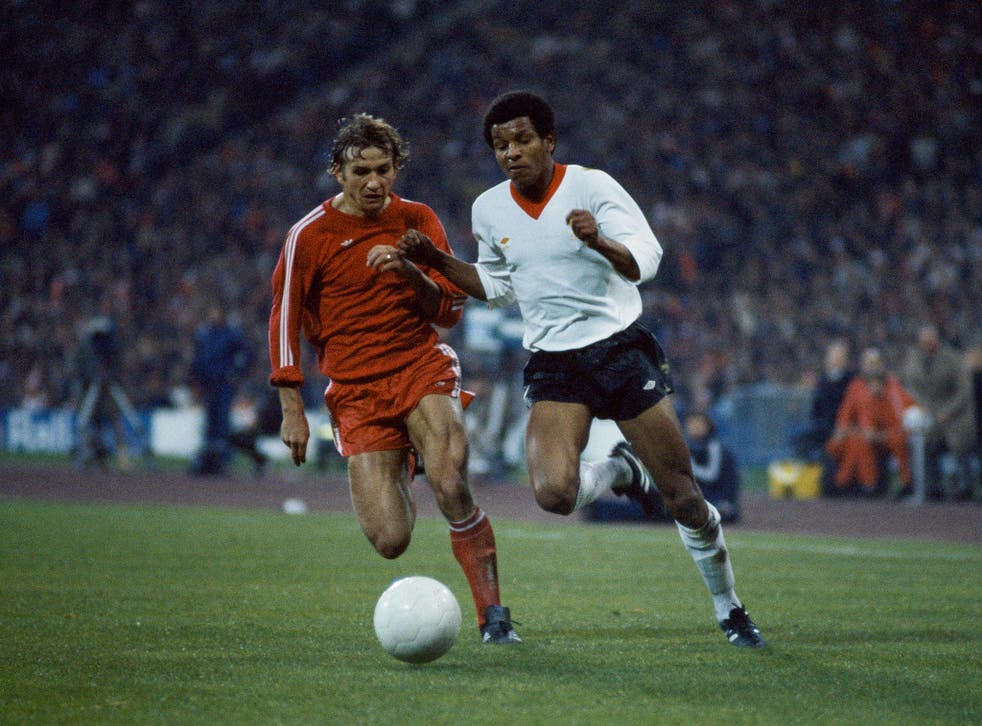 It's the image of a shaven-headed John Barnes back-heeling a banana off the Goodison Park pitch during a 1988 FA Cup tie which symbolises the city of Liverpool's chequered history where racism and football are concerned.
Howard Gayle was always a far more interesting case, though. Not only because he preceded Barnes as the Liverpool senior team's first black footballer but because he knew racism in its most visceral, street form and fought it, in a way that Barnes, a Jamaican regimental colonel's son, never did.
Gayle refused to be the appeaser who accepted casual taunts as a part of life, even though in the very white world Liverpool Football Club was in the early 1980s it was attitude which heaped more discrimination upon himself. For the 'crime' of saying 'don't call me that' Gayle was considered a trouble-maker. "Howard was a bit, you know, black power. He had a chip on his shoulder," one club source told the writer Dave Hill for his 1989 book on the subject – 'Out of his Skin – the John Barnes phenomenon.'
Gayle's new memoir takes us way beyond how it was to be on the inside in those days at Liverpool FC, where he was bestowed with such nicknames as 'the Black Prince' and the 'white n*****r" – the latter being defender Tommy Smith's term of choice. It is a journey to the chaotic, criminal, desperate life of a young, black boy growing up in a predominantly white district of a racially combustible city. Sports autobiographies will deliver up louder and more famous subjects than Gayle this autumn but few will offer such depth of insight as this.
When Alice and Purcell Gayle were dumped against their wishes on the upstairs floor of a maisonette on Staisfield Avenue, in the white Norris Green district, by a Liverpool housing corporation determined to undertake slum clearance in the multi-cultural Liverpool 8 district, their youngest boy literally fought the abuse. The memories are still spilling out when he and I meet at a coffee house on gentrified Jamaica Street – the irony of which isn't lost on him. There was the 10-year-old girl in the school playground, he recalls, repeating "n****r, ****r, pull the trigger, bang, bang, bang", possibly, he thinks looking back now, because she wanted his attention. "Play-time came on my way out - I picked up a compass and I waited for her on the yard and stabbed her in the back with it."
The book, 61 minutes in Munich, written in collaboration with the author and journalist Simon Hughes, describes Gayle attempting to pile into the houses with gangs of white friends, only to find their parents recoiling at the sight of him. The usual narrative of a footballer's formative years sees such an individual winning self-respect and self-expression because of what he could do with a ball at his feet. Gayle needed more.
"I was a gang member and that stopped people from challenging me because I had a bit of a reputation," he says. There were four gangs in Norris Green – Sparrow Hall, Breck Road, Crocky and – Gayle's company – The Strand. It was 30 years later that a child, 11-year-old Rhys Jones, was killed in the crossfire during a gun fight involving Gayle's former group and the Crocky outfit.
The consequences of Gayle's vulnerability when his mother was diagnosed with cancer and died, included one chilling encounter with a football teacher, now deceased, contributed to him giving up on education altogether. The episode, calmly related in the book, tells how those who seek to groom children seek to operate.
The brief heights which followed those depths for Gayle were extraordinary. The book takes its title from his appearance for Bob Paisley's Liverpool in the 1981 European Cup semi-final second leg against Bayern Munich. He was sent on after nine minutes for Kenny Dalglish, who was injured, and single-handedly destroyed the Germans for 61 minutes before Paisley removed him again, concerned that a yellow card he'd been issued with might graduate to red. He was devastated to see his number go up but the Germans had been kicking Gayle into submission and, needless to say, he had not submitted.
He was just as uncompromising when colour came to define his place within the squad. There is the story of the strip-a-gram, covered in talcum powder, whom the squad had paid to perform a dance in front of Gayle. "When she decided to bury my head between her breasts, my face was covered in white," he writes. "Roy Chubby Brown was the compere at the party. When he said, 'Try and walk through Toxteth now,' his comment was met with raucous laughter."
There was the day when decathlete Daley Thompson came in to help Liverpool with sprint training and, as Gayle was about to race him, Bruce Grobbelaar shouted: "Ready, steady, pick up your lips. Run." Thompson laughed. Gayle did not.
"Daley had been brought up in foster care with white parents and he'd most probably had to endure racism," he says. "He was on his own the way he had to deal with it. I couldn't respect him for that. I thought he was playing the white man.
"Bruce had been in the Rhodesian army and there was some banter among the lads when he came to the club about how the Rhodesians had been setting Alsatians on black people out there. When he first came to the club I hated him. I hated how he was; his arrogance, how he looked upon me. It wasn't until later on that I got to understand him and he got to understand me."
It was ignorance which gave rise to these comments. The autobiography details how difficult Gayle's relationship with Tommy Smith was – and Dave Hill's interview with the former Liverpool captain for his book illustrated the cultural chasm. The "coloured people" whom Smith considered his friends had started to "think like the white man," Smith said back then. The "white n****r" nickname Smith had for Gayle was "a compliment" - bestowed on him because Gayle had shown he would stand up to him. Perhaps it was no coincidence that those whom Gayle considers to have been in his corner were all men whom Liverpool chose as captains: Emlyn Hughes, Phil Thompson and Graeme Souness.
Of course, the racial chasms are not what they were, but they remain there, for sure, even though FIFA controversially abandoned its anti-racism working group last month. When the issue returned with a venom in 2012, one manager in these parts affectionately described a black player with red hair as a "Jaffa Cake" and several professionals talked of "coloureds." You cringed.
That was the time when Liverpool's Luis Suarez was found to have racially abused Patrice Evra at Anfield and Gayle studied the evidence of the case in some detail. "His first reaction was that he'd used the word 'negra'," he says. "I knew that from my time on trial at Cadiz and I accepted it. It was the fact he used it seven or eight times that transformed it. The multiple use of it – black, black, black – then becomes indefensible." Liverpool has changed, he says, but the process of racial enlightenment is not completed. "It always revolves around poverty. When people are struggling the default is: 'they're getting what we're not getting. We want our country back.'"
Gayle is loved, here – above all for what he brought to that Munich semi-final which was his defining night. Random strangers walk up to him during our interview. For them, he was a totem of that great Liverpool side of Paisley's, even though he played only five more games for the club, moving to Birmingham City before Sunderland, Stoke City and Blackburn Rovers.
He wonders whether the course of his career might have been different, had he taken the abuse and got on with it. "Maybe it would," he says. "I can just imagine the coaching staff on their get-togethers saying 'he's awkward squad' and 'he's difficult.' I think ultimately it led to them not entirely trusting me." There are no regrets about responding in the way he has, though. "It's the way I've felt was right. If they'd thrown that banana at me at Goodison Park, then I'd have thrown it straight back."
61 Minutes in Munich: The Story of Liverpool FC's First Black Footballer. Howard Gayle with Simon Hughes. De Coubertin Books £16.99
Join our new commenting forum
Join thought-provoking conversations, follow other Independent readers and see their replies