Ian Herbert: In defence of Graeme Souness, a far better man than toxic Jose Mourinho
COMMENT: Portuguese manager has continued the feud into this weekend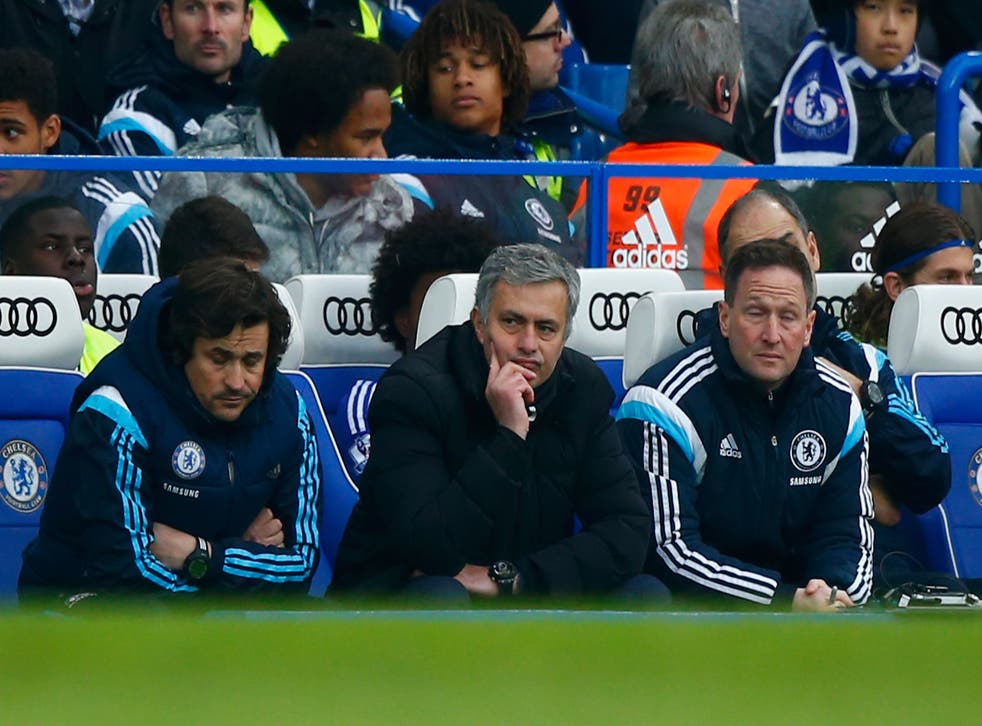 Jose Mourinho was still at it over the weekend, agitating and politicking against Graeme Souness, with evidence that he actually has time to exert influence over what Chelsea's official Instagram account puts out.
At the weekend, it published old pictures of Souness and Jamie Carragher, his Sky Sports studio partner, confronting officials in the past – Souness whilst manager of Benfica. "For those with short memories..." read the accompanying caption.
It's enough to make you think that there's been bad blood in the past between them, from the time at the turn of century when Mourinho arrived at Benfica the year after Souness left.
My Portuguese friends tell me there is nothing; that Jupp Heynckes' year and a half at the helm between the tenure of the two created a distance.
No, you need to look into the more recent past for Mourinho's reasons on Friday for making his deeply unpleasant and poisonous attack on Souness, describing himself in the third person, which is the first sign of madness, when he said: "Jose as a manager? Up here. Souness as a manager? Down there... [Souness] is clearly a frustrated man."
The Scot, peerless among football analysts, with a formidable Sunday Times column too, has always been able to see the weaknesses and call them out, you see.
"Listen…" Souness said, employing his opening word of choice after Mourinho's Internazionale had beaten Bayern Munich in the 2010 Champions League final, "Mourinho has just played one of the world's great strikers, Samuel Eto'o, at right-back."
Souness would not have spent the night before the game prepping to make that kind of comment, either. One of the points the studio professionals always make about him is that he does not arrive with a dossier of notes. He speaks and analyses on pure instinct and describes only what he sees.
The right of Souness to call Chelsea's players a "disgrace" for crowding around referee Bjorn Kuipers last Wednesday night is an inalienable one, of course, though our distaste for Mourinho's desire to knife critics from behind a microphone – Jamie Redknapp and Brendan Rodgers were other recent targets – obscures an important point about the Liverpool side in which the Scot played such a command role.
It didn't intimidate referees. Souness's football certainly crossed the line of legality plenty of times but as Liverpool captain it would typically be he, and he alone, who remonstrated. And after that official's decision, not before it.
But since Mourinho has his flick-knife out, let's analyse that withering assessment of Souness the manager, that "down here" Mourinho gave the journalists on Friday lunchtime.
There were certainly errors of judgement down the 20 years he managed eight clubs in five countries. This is a man who paid £10m for Jean-Alain Boumsong.
But his achievements have been skewed by the fact he presided over the beginning of the end of Liverpool's 25 years of hegemony and decided, catastrophically, to grant The Sun an interview on the third anniversary of the Hillsborough disaster.
This period of his career is brought into sharper focus by a new football book I believe we will look back upon as one of the most fascinating of 2015: Simon Hughes' 'Men in White Suits', which analyses through a sequence of interviews why Liverpool fell away so steeply in the 1990s.
The title is taken from the squad's legendary sartorial choice at the 1996 FA Cup final against Manchester United at Wembley.
It is the humility of Souness which strikes you most about his contribution, as he reflects on the personal gamble – akin to David Moyes arriving at Old Trafford – that taking over Liverpool at that time proved to be.
"The first manager is the bringer of bad news, where he's telling players – in some case legends – that their time is up," Souness tells Hughes.
"Nobody goes quietly. And you are asking supporters to be patient… at a time when the expectation levels are still enormous."
You don't want to be in that position, he reflects in hindsight, "because you'll be the one that gets all the flak for doing what would appear to be everything wrong."
Souness admits to mistakes: a lack of analysis and a belief that his brilliance as a player – it has perhaps not been wholly appreciated that he was one of Britain's greatest of all time – would translate seamlessly into success as a manger.
Of The Sun interview, which provoked such criticism that Anfield attendances actually dropped, he says simply: "I will regret the decision forever. I don't have a defence."
This humility may contribute to what has seemed already to have been a detectable softening on Merseyside about his five years at the Liverpool helm and an acceptance that his inheritance from Kenny Dalglish was perhaps not quite all that it might have been.
But in the context of Mourinho's vial of poison, some of his concluding comments about the reputational damage those five years did him are also worth consideration.
"I'm deemed a failure as a manager of Liverpool," he says. "But I won 11 trophies in three countries after moving on. There are far better managers than me who haven't won anything..."
There were some almighty dust-ups to follow for this managerial disciplinarian – with Dwight Yorke at Blackburn Rovers, for example – but some substantial achievements.
Souness revitalised Rovers and set them on course for a period of dominance. He won promotion to the Premier League and a League Cup at Blackburn, the club where he was happiest, and was the manager of Galatasaray who planted the flag of his club's colours in the centre of the pitch at Istanbul rivals Fenerbahce.
Mourinho has qualities like rigorous preparation and appreciation of marginal gains which are destined to make his managerial accomplishments far greater than those of Souness, whose playing achievements made him seem blasé as a manager at times.
But the Scot brought an old football philosophy about a man being a man. It was a good football philosophy. Give me Souness over Mourinho every time.
Men in White Suits, Liverpool FC in the 1990s: the players' stories by Simon Hughes will be published on 9 April by Bantam Press RRP £18.99
Join our new commenting forum
Join thought-provoking conversations, follow other Independent readers and see their replies