Ian Herbert: The injured cyclist, Stoke midfielder Steven Nzonzi and football's us-and-them attitude
Sport Matters: An expression of regret would have been good to hear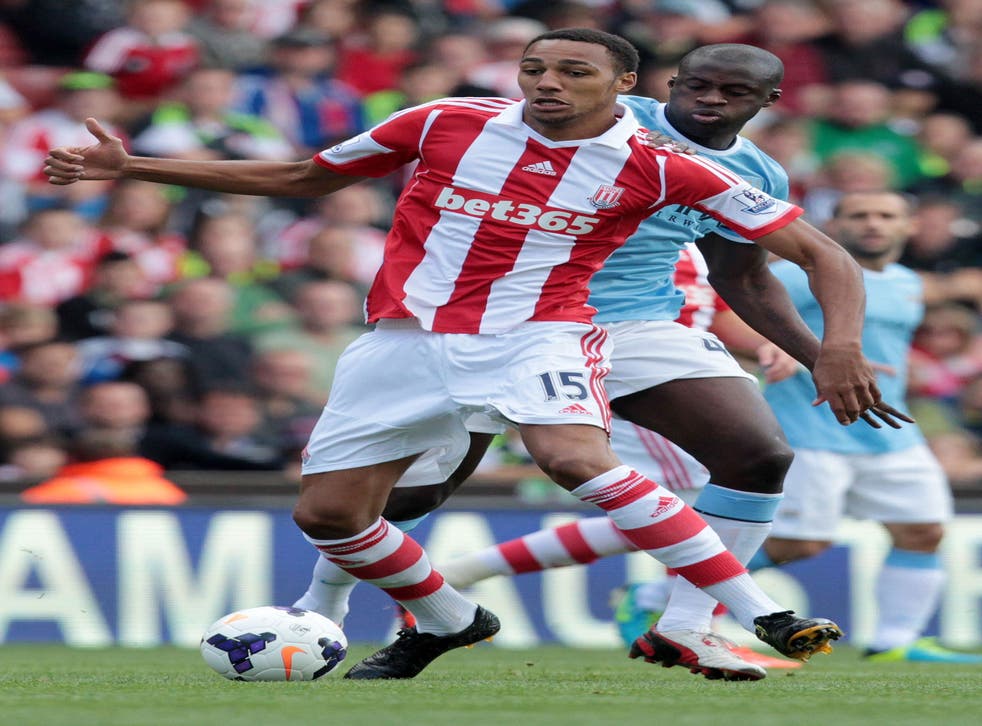 Rob Lockhart has gone to ground this week and it is certainly hard to blame him. He had the temerity to challenge the conduct of someone who turned out to be a Premier League footballer and he has reaped something of a whirlwind for that.
His story is certainly one for our times and certainly not one that covers the game of football in any kind of glory. It was as he cycled through the south Manchester village of Hale in the early evening 14 days ago that, by his own version of events, a matt-black Audi Q7 with French number plates braked suddenly in front of him to park on double yellow lines, causing him to slam into the back of the vehicle. He sustained concussion, bruising to his face and damage to his top-end bicycle (he is a member of the Manchester Wheelers club).
The 38-year-old graphic designer is neither a football enthusiast nor a prolific tweeter (70 or so followers when what we now know to be his brush with fame took place), so he had little conception of the blizzard he was walking into when – after the motorist allegedly laughed at his chances of finding him via his foreign plates and Greater Manchester Police officers told him that those plates made the motorist untraceable – he sent out a plaintive tweet. "This French reg Audi took me out in Hale, Manchester this evening. Anyone know this distinctive car? #Cycling," Lockhart typed, more in hope than expectation that he might claim on the motorist's insurance rather than his own. It was Sir Chris Hoy's re-tweet of this message which transformed things and within a couple of hours the name of Stoke City's Steven Nzonzi was coming back – demonstration that social media can reach parts that stretched police forces cannot, in these days of austerity. Twitter can be a wretched place at times but that was the night it revealed some hidden beauties.
The publishing output which followed when Nzonzi's identity was confirmed makes this a classic media studies course case study. The Independent's Simon Usborne broke the story and there were then follow-ups from The Daily Mail (characteristically indignant about foreigners getting away with it) and The Sun, leavened by Rod Liddle making some hay in The Sunday Times. (Digested read: I still don't like cyclists. I don't like the "smug rectitude" of this Twitter campaign. But what's a crap player like Nzonzi doing driving a £50k car?) Oh yes, and there was the customary tide of online abuse for Lockhart which comes to those who challenge celebrities these days, questioning his motive and his testimony. Little wonder he protected his Twitter status in quick order, allowing only those he chooses to communicate with him.
It was Lockhart's determination not to make this an "us versus them" story between cyclists and motorists which most struck Usborne from their conversation. If it's a war of the road there will be no progress between its two users, was his view. Many other cyclists share this conviction, though I have tended to feel a little more partisan than that about their equal right to the road. Not because I cycle with any regularity but because of the few days I spent with members of the Rhyl Cycling Club in 2006, not long after a car had hit black ice and careered into a group of its members, out early one morning on a gentle pre-season ride in north Wales. A 14-year-old, Thomas Harland, died that day. So did Maurice Broadbent, Dave Horrocks and Wayne Wilks. A few months had passed before I interviewed Paul Loftus, one of their team-mates. Sitting before him in his little front room, he wept.
Lockhart's concern about whipping things up with motorists, compounded when he found he had taken on a celebrity, was certainly not one that the world of football shared. Witness the speed with which Stoke City manager Mark Hughes dispensed with the issue when he was asked about it, at the next available press conference. "I asked Steven about it," Hughes said. "A situation developed but I don't think he has done anything wrong." The tone of his voice suggests that further questions on this subject were not welcome before he went on to discuss the more pressing matter of playing Manchester City.
Well, I respect Hughes a great deal but that certainly was a pretty thin response. Football collides with the outside world once more and the assumption must be that the player must be right and the man in the street with his smashed-up bike must be wrong.
Perhaps some of Stoke's fans welcomed that defence but to the world outside the gilded cage, a little contrition and a few discreet inquiries would have been welcome. Perhaps Nzonzi did feel he had done no wrong – fortified, perhaps, by the fact that his was the car in front. But an expression of regret, conveyed through Hughes, for injury caused, would have been good to hear. A telephone call, discreetly seeking to square things, would be good to know of. There has been none. Football moved on to the next game, as it so often does. Stoke drew with City, Nzonzi had one of those seven out of 10 days and the reputation of footballers was done a little bit more incremental damage.
I can reveal that Greater Manchester Police do not feel the case is quite so open and shut as Hughes did. Its officers interviewed Nzonzi this week and while no offence of dangerous driving will be pursued, the force has passed the file to the Crown Prosecution Service, who will consider whether offences of failing to stop at the scene of an accident and failing to notify the DVLA about a change of address should be considered. You suspect that a respectful conversation might have avoided all that. Too late now. The damage is done.
How Sir Alex played the game with referees
There is no length to which a manager will not go amid the courtship ritual in which he engages to secure those incremental advantages with referees. Sir Alex Ferguson characterised himself as bemused on Thursday night by Mark Halsey's talk of their text exchanges and rather unpleasantly described parts of the ex-referee's autobiography, Added Time as "a little bit Walter Mitty" – the implication being that Halsey is a fantasist. Ferguson knows the ruses, though.
Graham Poll writes in his own autobiography of how the then-United manager had described him as "the best referee in England over the last 10 years". That short phrase, Poll gushes, was "locked away in my memory banks because it meant such a lot to me".
This ruse is not new. I am indebted to the National Football Museum's excellent collections officer Alex Jackson for digging out for me the obsequious letter written by the charismatic Arsenal manager George Allison to young official Harry Nattrass, who was the surprise pick to referee the club's imminent FA Cup final against Sheffield United in 1936. "My dear Harry… purely on grounds of friendship... I want to send you my most cordial congratulations… this is the most unparalleled and gratifying action ever taken by the ruling body etc etc" reads the letter – one of a number donated by the Nattrass family to the museum.
Managers do this. They make eyes. They say pretty things. It is for referees to see through that and know that in these relationships there is just no such thing as friendship.
Join our new commenting forum
Join thought-provoking conversations, follow other Independent readers and see their replies