Is Rafael Benitez the right man to galvanise Fernado Torres ?
Robert Treasure
Wednesday 21 November 2012 16:09 Comments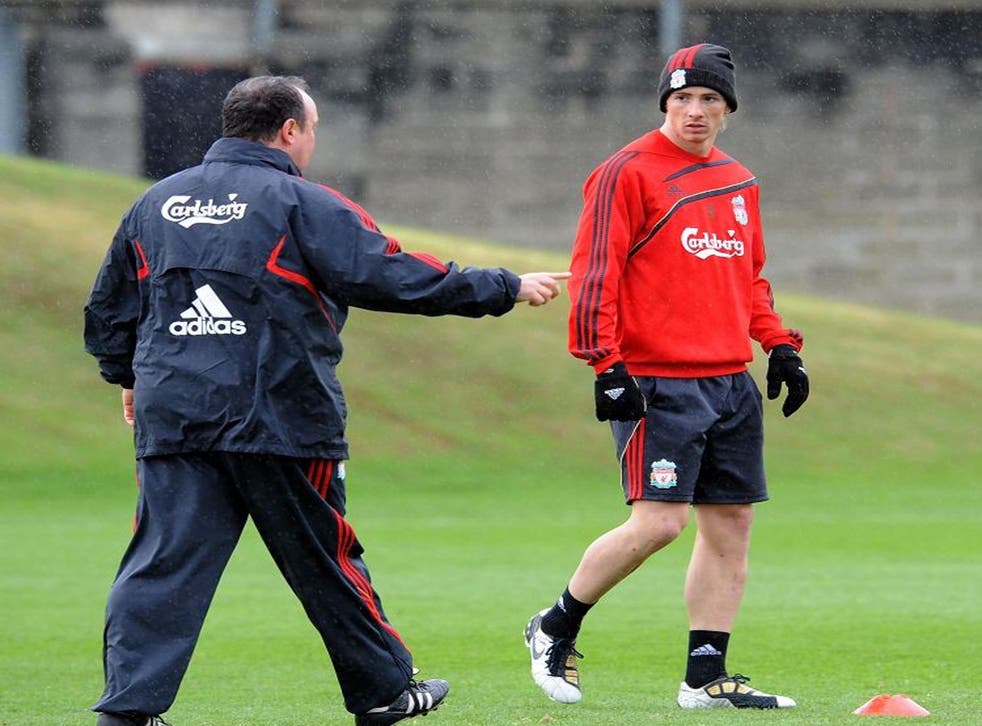 One of the reasons Rafael Benitez appeals to Roman Abramovich is that the former Liverpool manager knows the secret of how to make Fernado Torres play to his potential.
Benitez brought Torres to Liverpool from Atletico Madrid in the summer of 2007, coaxing 72 goals in 116 games out of the then-prolific striker during the three seasons their careers overlapped. His record since joining Chelsea pales in comparison – 19 goals in 86 appearances in all competitions.
Torres was often labelled the 'complete striker' whilst at Liverpool, capable of long-range goals, jinking runs, outpacing defenders and poachers' finishes, as well as proving himself a force in the air. Upon moving to Chelsea, the Spaniard struggled for form in Carlo Ancelotti's system and was often overshadowed by Didier Drogba. A series of missed chances and anonymous displays further dented his confidence and lead to his nickname as the '£50 million bench-warmer'.
Could a reuniting of the two Spaniards be the catalyst to turn around Torres' and Chelsea's fortunes?
Benitez has often spoken highly of the striker, claiming a £70m deal for Torres was mooted the previous year. Benitez also said that the striker: "has lost confidence at Chelsea but will return to his best."
The feeling between the two seems to be mutual, as Torres said of Benitez: "He's not just another manager. He created a team and put his faith in the players that owe him a lot," after claiming that he'd quit if Benitez was sacked.
Register for free to continue reading
Registration is a free and easy way to support our truly independent journalism
By registering, you will also enjoy limited access to Premium articles, exclusive newsletters, commenting, and virtual events with our leading journalists
Already have an account? sign in
Join our new commenting forum
Join thought-provoking conversations, follow other Independent readers and see their replies