James Lawton: FA's treatment of Harry Redknapp over England job is nothing short of appalling
Harry was deemed unworthy of a formal interview. It is shoddy and demeaning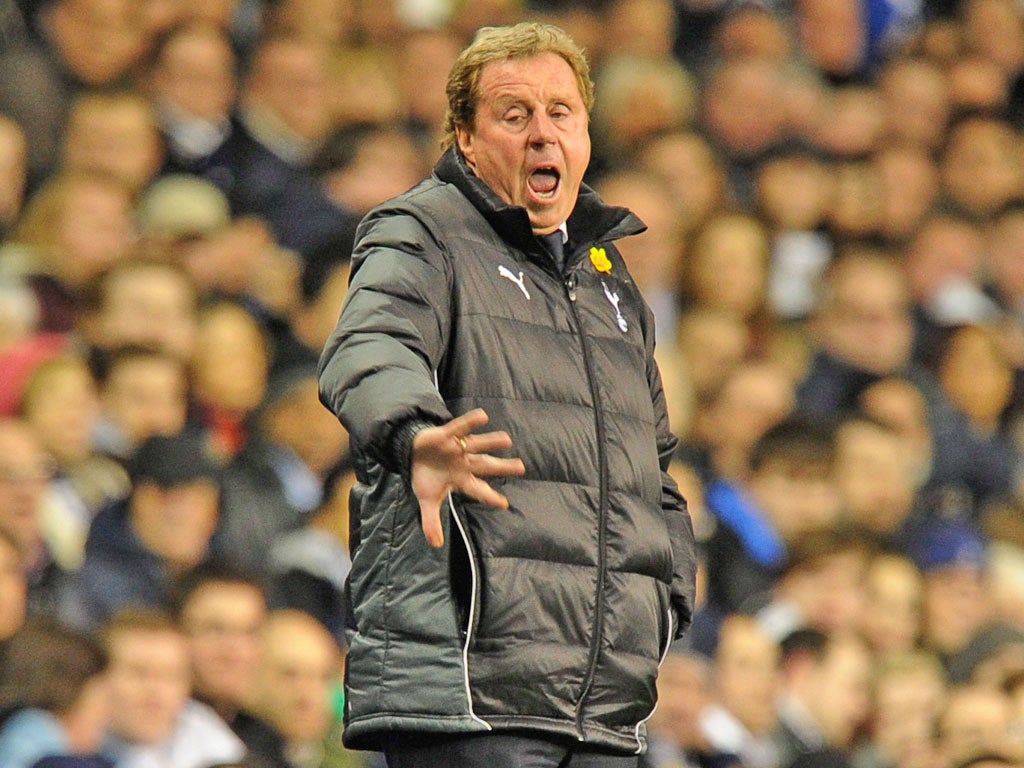 So there it is, Harry old boy, you didn't win enough of your last few games. You didn't keep your place at the top of the popularity parade. Another unhelpful factor, let's face it, was that after all that money spent on Il Capo, you were shaping up just a shade pricey.
Yes, we know you were a brilliant, even dream candidate when you walked down the steps of Southwark Crown Court a free man.
You were a figure of destiny, then, the perfect choice to test the theory that all these years after Sir Alf Ramsey only another Englishman, assuming he was smart enough, could get the best out of English players and a football culture which has been mocked for so long by the front-rank nations.
That, however, was only a compelling argument when Tottenham were lighting up the sky, at quite modest cost, with some of the most sparkling, intuitive football seen in the Premier League for years.
It simply turned to dross when all the momentum, all that impressive sense of a team who knew precisely what they were doing, and rejoiced in it, for one reason or another lost their edge – and no matter that some extremely good judges believed that a prime reason for the decline was that the Football Association had virtually anointed you as the natural-born successor to Fabio Capello.
However we rate the psychological disruption caused by such a development, however damaging it was to the morale of a dressing room which had felt so secure under a tightly knit leadership, it is impossible not to believe that it had some significant effect. One moment Spurs were potential (albeit long-shot) champions – and slugging it out with Mancester City in a compelling, finely drawn game at the Etihad Stadium, the next their manager and creator was deemed unworthy of the niceties of a formal interview.
This was shoddy, demeaning behaviour by the FA, another confirmation, if you like, of an innate capacity to turn a hopeful scenario into the arrival of the Four Horsemen of the Apocalypse.
Saying this, of course, is not to dismiss out of hand the credentials of Roy Hodgson, the man who now seems such a certainty to inherit the wind generated by the fiasco of Capello's departure. In some ways his claims are formidable. If he was the wrong man for Liverpool at the wrong time – and clearly scarred by the experience of being at the wrong end of such concentrated scorn from the Anfield terraces – he has quickly reminded football of his impressive, wide-flung background in the game.
It may be troubling that one consequence of his Liverpool ordeal is his apparent need to appeal for the support of England fans. He has even suggested that without such underpinning the job might prove impossible, a proposition which has to be odd for anyone who remembers the degree of critical and popular opposition Ramsey encountered while putting some career-long convictions into place, including the one that in certain circumstances the value of a workhorse like Roger Hunt might exceed that of the scoring genius Jimmy Greaves. No, Ramsey would have preferred to immerse himself in a vat of burning oil than sue for public acclaim.
However, the world turns somewhat differently these days – and creates plenty of new pressures, and there is no doubt Hodgson – given his excellent record in the game – has served his time as a Public Enemy No 1.
At West Bromwich, he has reasserted the value of long experience, which includes successful stints as a national coach for Switzerland, Finland and the UAE, and impressive work at Internazionale before returning to the English game with such a sound touch at Fulham.
This is the profile of a serious football man of knowledge and strong views about how the development of young players should proceed. He is not in himself a cheap alternative to Harry Redknapp, however the FA has come to make it look. So why is his impending appointment a source of such chagrin?
Apart from the suspicion, which lingered yesterday despite the firmest denials, that it might have something to do with an ancient dispute born at West Ham between Redknapp and the FA's director of football, Sir Trevor Brooking, there is the fear that the ruling body has ridden a populist tide and, having seen it lose much of its strength, finished up with a relatively safe option.
Redknapp's recent discomfort on the Spurs touchline means that his being overlooked now is likely to provoke only the mildest eddies of disagreement, as opposed to an inevitable major storm if Gareth Bale and Luka Modric and Rafael van der Vaart were still cutting down the opposition with uninhibited freedom. However, does it also mean that Redknapp's achievements over recent years, and not least the cultivation of a young English player of the quality of Kyle Walker, have disappeared beyond recall? It is, at the very least, an extremely discouraging possibility.
What Redknapp represented – and still does if we can get our heads from under the tyranny of the latest results – is a force of innovation and the precious knack of seeing the potential of players.
Under Redknapp, Bale has become more than a startling young talent. He is a magnet for the likes of Barcelona and Real Madrid. In Modric, Chelsea have seen the possibility of a new dimension. At £7m, Van der Vaart is a running reproach to so many transfer deals twice and three times more expensive.
Such is the appeal of Harry Redknapp. It is especially compelling if you happen to believe that the killing problem of the England team for so long has been a failure to integrate properly the best of the native talent, most graphically illustrated in the eventually terminal failure to absorb such outstanding club performers as Steven Gerrard and Frank Lampard.
Redknapp could never guarantee a new way for England, who could? But he had a case, and some exciting achievement, and the very least he was due was a decent and respectful hearing. His treatment has been nothing short of abysmal.
In real world, Chambers deserves a second shot
Naturally, another flurry of indignation follows the expected confirmation that Dwain Chambers is now free to run in the Olympics.
We are told, yet again, it is an affront to the purity of the vast majority of athletes who have fought their way to the greatest stage of track and field. In some cases, no doubt, this is true and it is to the honour of those who have turned their back on the course of action that many brilliant sprinters, including Chambers, have chosen in the belief that it was their only chance of levelling the track on which they raced for gold medals and world records.
However, the protests of the British Olympic Association, whose right to impose lifetime bans has been overturned under the force of legal argument, would be better directed not at some dreamy moral absolutes but a greater willingness to live in the real world.
Chambers received a two-year ban after testing positive and, effectively, saw the prime of his career ruined. He had nobody to blame except himself, of course, but he did face up to this reality, he did vow to rebuild his competitive life after serving his statutory ban. After giving a harrowing account of his fall from grace, he also vowed to do it cleanly.
A proper reaction to this, you have to believe is not the stamping of feet and the suggestion that Chambers belongs to some minuscule, shameful minority.
It would be to say that the war against drugs will never end, not with any certainty, and the best response is to impose new levels of punishment. The current regime will be reviewed by the World Anti-Doping Agency after the Olympics.
The consensus is that the current maximum two-year suspension will be at least doubled. This is in line with reality, unlike the relentless branding of Dwain Chambers as a lone and unforgivable cheat.
Join our commenting forum
Join thought-provoking conversations, follow other Independent readers and see their replies