James Lawton: Henry has never been an angel. Now he is beyond redemption
Against Spain Henry fell to the ground faking injury and won a decisive free-kick
James Lawton: Henry has never been an angel. Now he is beyond redemption

Show all 3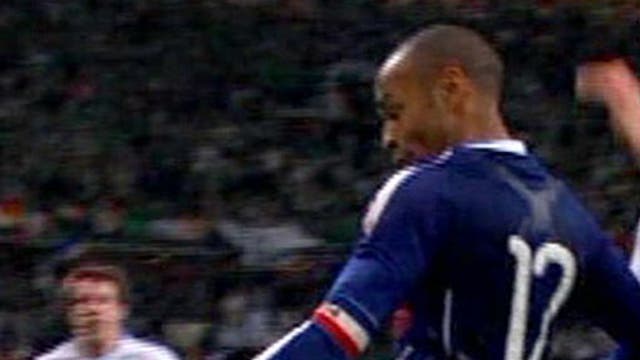 Irish football is entitled to believe it has never seen anything so cynical, so far removed from the spirit of sport, as the devilish hand played by Thierry Henry to deny Giovanni Trapattoni's team a place in the World Cup finals that would have been so thoroughly deserved.
But then how do you draw up a ranking table of deceit when you know how far, how sickeningly, the list of precedents for Henry's action stretches back – and how feeble has been the reaction of the authorities?
England will never forget Diego Maradona's "Hand of God" in Mexico in 1986 and Spain, who would be crowned as brilliant European Champions two years later, also have reason to reflect on a level of deceit that even now, three years after it happened in the last World Cup, makes the blood run cold and the senses revolt.
This was also authored by the supremely elegant Henry, the player who for so many and for so long had been among the football angels for his exquisite talent and his philosophical panache.
Remember how it led to France's all-important second goal in the second-round match against Spain in Hanover, when Henry fell to the ground faking a head injury after a brush with defender Carlos Puyol? Henry won a decisive free-kick – and the less enviable reward of announcing himself a specialist cheat.
In the Stade de France this week Henry did not carry his guilt easily, especially when he sat down sheepishly beside Richard Dunne and accepted a fraternal, touching gesture that was remarkable in the circumstances, and which seemed to say, "You behaved like a conscienceless bastard but, hey, this is football... this is where almost everybody does it – and, like you, so often gets away with it."
What was so sad this week and back in Germany in 2006 was the willingness of a great footballer, a man of apparent style and feeling, to live with the instant reality that whatever his cheating brought in the way of revulsion, however deeply it violated the principles that we used to think the best sportsmen would always hold dear, it could be justified in that Les Bleus would be going to South Africa and not the Fighting Irish, the team who had just outstripped them in both moral and football terms.
Henry said as much when he shrugged and suggested it was not his problem but the referee's. Football being what it is, rather than what we would like it to be, there is only one caution against the wrath of the Irish, and the conspicuously dignified expression of it by their Italian coach.
If Ireland's most skilled player, Damien Duff, had handled the ball and in his euphoria at helping to take his team to the final failed to inform the referee that he had just made the wrong decision, how strenuous would have been the protests – or the shame – back home? The trouble is that each time someone like Maradona or Henry – or, as he did once in a friendly against Hungary, England's Steven Gerrard, successfully hoodwinks a referee, the acceptance of cheating seeps a little deeper into the psyche of the game.
Certainly we have evidence from Henry that some time before he conned the referee in Germany he had maybe crossed the line that separates honest performance from institutionalised cheating.
Earlier that year he claimed, after Arsenal had lost the Champions League final to Barcelona in Paris, he had been roughly treated by Puyol. He said, "Next time [he met Puyol] I'll learn to dive. Maybe I will, but I'm not a woman." What then? Simply someone prepared to win at all costs. After that incident, which shaped the win that gave France the momentum to reach the final, Henry said, "We have shown that we are a team. Now you know what can happen later in the tournament. We showed to our people back in France that we are a team."
A team, this was, shaped by its willingness, and its ability, to make fools of match officials, and it may just possibly have brought a particle of comfort to the Irish in the Stade de France that even the moral acrobat Henry could not raise the nerve to talk loftily of a team success.
About one thing we can be certain. The veteran Trapattoni has surely underlined the wisdom of his appointment. He brought his side to their most important game in a superbly competitive frame of mind that deserved much more than the dismal status of victimhood.
Under Old Trap, Ireland travelled a huge distance to a point of betrayal. They became a team, they saw some thrilling possibilities and now, surely, they must be paid-up members of the club which argues that cheating has become the ultimate threat to the popularity of the world game.
In any argument for the swift imposition of TV assistance for match officials it is hard to imagine stronger supporting evidence than the rerun of the goal that Henry stole and which the scorer, William Gallas, had the decency to celebrate with an expression that might have been more comfortable on the face of a bodysnatcher.
Until such vital reform business is conducted, Ireland at least have a degree of pride that, whatever he achieves in South Africa, will now always elude Thierry Henry.
Henry: the beautiful talent, the deeply compromised soul.
Join our new commenting forum
Join thought-provoking conversations, follow other Independent readers and see their replies