James Lawton: Sir Alex Ferguson's exit from Manchester United leaves a yawning vacuum but values of ambition and loyalty are still in place
He may have absorbed the declaration of Walter Hagen that some time everyone must stop to smell the flowers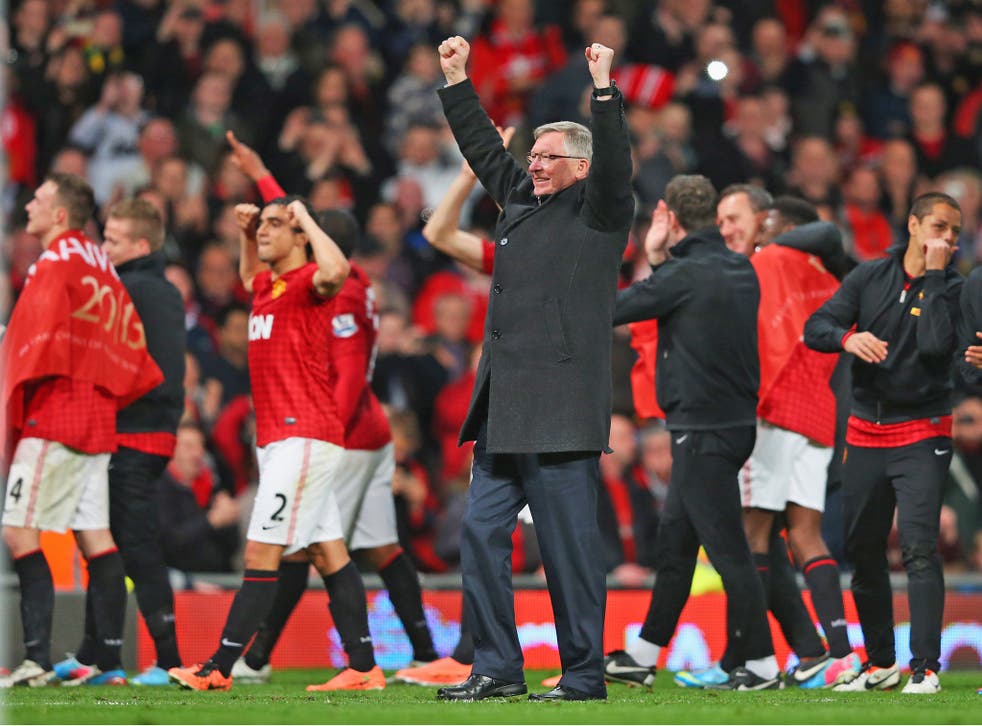 You may have hated the harsh, even brutal swagger of his nature. You might always argue that no one ever pursued his advantages more cynically, more relentlessly. But then if you also love football, its power to capture the attention of the world, what do you inhabit today?
It is the vacuum, the great yawning space at the heart of the game, once occupied by Sir Alex Ferguson.
Football without Ferguson, we had reason to believe, is going to be like tonic without gin, soda without Scotch.
It is a cocktail separated from one of its biggest kicks. But the kick, we have to ask, of what? It is the kick and the thrust of a desire to win which so often appeared to be as important as life itself. Only Ferguson would say that losing to Manchester City made him feel like a criminal when he walked into the street. Only he could have remained so restlessly unappeased for so long by the biggest accumulation of trophies in the history of British football.
Not only did he outstay as a pure winner all of his contemporaries, his longevity exceeded that of the heroes who helped shape his ambitions, men like Jock Stein, Bill Shankly and his great Old Trafford predecessor Sir Matt Busby.
Their achievements were legendary but Shankly and Busby left office when they turned into their sixties, 10 years younger than Ferguson today, and Stein died in Cardiff during a World Cup qualifying game between Scotland and Wales when he was 62.
Until today, Ferguson's life seemed expressly designed to deny such vulnerability.
His retirement had to happen at some point because not even a man of such extraordinary will and energy can fight indefinitely the erosion of commitment and energy that is borne by the years.
Yet the announcement of his retirement after the merest flicker of speculation was still shocking if not disorienting. It not only removed from the front line of English football the man who bestrode it with ever increasing self-belief and quite stunning stamina for 27 years.
Also taken away was the most glorious certainty, an ineffable ability to rise to every new challenge not as a trial but a celebration of the fact that you were still fighting, still punching, and, more than anything, still alive in the place you most wanted to be.
Some friends of Ferguson offer an explanation for his leaving that runs deeper than his need for hip surgery in the summer and Manchester United's requirement to satisfy the New York Stock Exchange on the coherence of plans for the future that inevitably centre on the question of the managerial succession.
They point to the alacrity and enthusiasm with which Ferguson and his wife, Cath, fly off to New York to stay in their apartment on the East Side beside Central Park.
They report murmurings from the previously obsessed football man that he may have finally encountered, and absorbed, the declaration of the great golfer Walter Hagen that sooner or later everyone must stop to smell the flowers. They also hint that in recent years his summer retreat to the bougainvillea of the French Riviera may not have been quite enough.
More sceptically, others say that the departure of his fierce, long-time ally David Gill as United chief executive persuaded Ferguson that it was a little too late in the day to rebuild such an alliance with the new financial decision-maker at Old Trafford, Ed Woodward.
Maybe it is a converging of such factors but, if we are unlikely ever to get a definitive version of the promptings which finally persuaded Ferguson it was time to go, we will never have to speculate on the meaning of his career.
We will never have to delve into the deepest crevices of his character, or the influences to which he was exposed, to explain the sheer force of it.
He did a pretty good job, after all, when he concluded his autobiography, Managing My Life, which was written in the full flush of his ultimate achievement, the 1999 treble of Premier League, FA Cup and Champions League. When he ran along the Nou Camp touchline after the extraordinary defeat of Bayern Munich, one which could have only been produced by a team of quite extraordinary motivation, it was the rejoicing not so much of a battle-hardened warrior but someone who would never lose a part of his youth.
And then he said, "I relate to ambitious individuals but I appreciate that in millions of lives talk of ambition is an insulting irrelevance.
"Sometimes I joke about recognising people's nature in their choice of ideal holidays. Some people want to go to Blackpool, others to Spain and some want to go to the moon.
"I tell myself I identify with the last group. Then I remember the people I was raised among in Govan and how some people could never afford a holiday and would go to the local Elder Park or a Bellahouston Park in order to be surrounded by a little greenery. For the men it was a respite enough to be spared the noise and the grime of the shipyards, to escape the hammer of the Clyde for a little while.
"Ambition had nothing to do with their lives. Survival was the essence. Yet there was incredible warmth of fellow feeling among them, a loyalty that was deep in the marrow. It could be a rough world but there were wonderful values at the heart of it. Loyalty has been the anchor of my life and it is something that I learned in Govan."
Of course, in football he learned many other things. Not too many of them were so selfless. Indeed, many were quite ruthless – and a trawl through some of the greatest of Old Trafford celebrity players provides plenty of witnesses, including Roy Keane, Jaap Stam, Ruud van Nistelrooy and David Beckham.
It is also maybe significant that as he walks away, Ferguson leaves an unresolved debate over the future of Wayne Rooney. Potentially the greatest English player of his generation, and certainly the most talented, Rooney is now obliged to fight for his career with Manchester United. Ferguson may be gone now, but Rooney cannot escape the need to meet the implacable demands of his former manager.
He may, or may not, draw some comfort from the fact that they are no less than the ones Ferguson always set himself, first as a raw-boned striker of inextinguishable ambition and then as arguably the most ferociously committed manager football has ever seen. It is certainly not his fault that they no longer do flights to the moon.
The Ferguson Years: 1986-1995
May 1994: United at the Double
Chelsea, having defeated United twice in the Premier League, are vanquished 4-0 in the FA Cup final. Ferguson's young team thus become only the fourth in the 20th century to win the "Double", Ferguson stalwart Brian McClair completing the scoring.
January 1995: The wrong sort of kick-about
Cantona, sent off at Crystal Palace, launches a kung fu kick on an abusive home fan. He is suspended until September and ordered to undertake community service. Ferguson decides to stand by him but Blackburn take United's Premier League crown.
August 1995: You can't win anything with kids
After a youthful Ferguson side crash 3-1 at Aston Villa, Match of the Day's Alan Hansen questions their lack of depth and declares, "You can't win anything with kids." Cantona returns and scores the Double-clinching goal against Liverpool at Wembley.
The Ferguson Years: 1996-2008
May 2008: Another European Cup
Fifty years after the Busby Babes were destroyed at Munich, Ferguson delivers his second European Cup when Edwin van der Sar saves a penalty by Chelsea's Nicolas Anelka in a Moscow shoot-out. United had already beaten Chelsea to the championship.
May 2007: Ronaldo to the rescue
Ferguson's controversial signing Cristiano Ronaldo monopolised the individual awards, including Footballer of the Year, as United's first title in four years makes it nine in 15 seasons. In the FA Cup, Chelsea, under the departing Jose Mourinho, deny them the Double.
May 2005: Hard times, despite £790m
US sports tycoon Malcolm Glazer takes over United for £790m, creating a period of uncertainty for Ferguson. In arguably the most difficult year of his reign, Arsenal beat his side in the FA Cup final and linchpin Roy Keane moves on.
October 2004: A slice of the action
Arsenal's 49-match unbeaten run ends at United. In a post-match scuffle, dubbed "Pizzagate" and "the Battle of the Buffet", a slice of pizza allegedly strikes Ferguson's face and, according to then Arsenal player Ashley Cole, "rolled down his nice black suit".
February 2003: Beckham gets the boot
Ferguson, giving the "hairdryer" full blast after United's 2-0 home defeat by Arsène Wenger's Arsenal in the FA Cup, reputedly throws a boot which hits David Beckham on the forehead, causing a cut. Within months, Beckham is sold to Real Madrid.
December 2000: Fergie decides he's not retiring type
Ferguson announces his intention to retire as United manager at the end of the 2001-02 campaign, saying, "There are other things I want to do", and promising no Frank Sinatra-style comebacks. He eventually signs a new contract in February 2002.
May 1999: United come up on the treble chance
A league, FA Cup and European Cup treble looked remote when Middlesbrough won 3-2 at Old Trafford in December 1998. Yet United mount a 33-match unbeaten run, culminating in the 2-1 defeat of Bayern Munich in Barcelona with two stoppage-time goals.
The Ferguson Years: 2009-2013
May 2009: Home comforts, but a Euro lesson
United become the first English club to win three consecutive league titles twice, and also claim the League Cup. But Barcelona give them a football lesson in the Champions League final, Ferguson admitting, "We were beaten by a better team".
September 2009: Best-ever derby
Irked by Manchester City's "Welcome to Manchester" poster after United's newly wealthy "noisy neighbours" had captured Carlos Tevez from Old Trafford, Ferguson revels in a 4-3 win after Michael Owen's last-gasp goal settles what the Scot calls "the best-ever derby".
May 2010: Fergie's modest long-service award
A historic fourth successive championship eludes United on the final day, Chelsea and Carlo Ancelotti prevailing. Ferguson is left with the relatively modest return of the League Cup to mark the year in which he becomes the club's longest-serving manager.
March 2011: Ryan Giggs and United set more records
Ryan Giggs, given his first-team debut by Alex Ferguson as a 17-year-old, overtakes Bobby Charlton's club record of 606 league appearances during the run-in to United's record 19th league title. Ferguson's ambition was once to "knock Liverpool off their f****** perch". Now they had done it.
April 2012: Cross-City blues
"Squeaky bum time" – in Ferguson's immortal phrase to describe a tight title race – sees City, trailing QPR in injury time, triumph 3-2 to pinch the title from United's grasp. It is the first time in 23 years goal difference has decided the champions.
August 2012: Van the main man
Arsenal striker Robin van Persie opts to sign for Ferguson in a £24m deal rather than City's Roberto Mancini. The manager likens his impact to Eric Cantona's, with the Dutchman's stunning hat-trick against Aston Villa the following April confirming United's 20th title.
May 2013: The end is near...
After 39 years and 49 trophies, Ferguson announces his retirement as a manager. He will step down after United's final Premier League fixture, at West Bromwich Albion on 19 May, his 1,500th competitive match since leaving Aberdeen for Old Trafford.
Join our new commenting forum
Join thought-provoking conversations, follow other Independent readers and see their replies