Jason Roberts: Reluctant to give up on footballing dream
After innocuous injury 15 months ago veteran striker never thought he would have to hang up his boots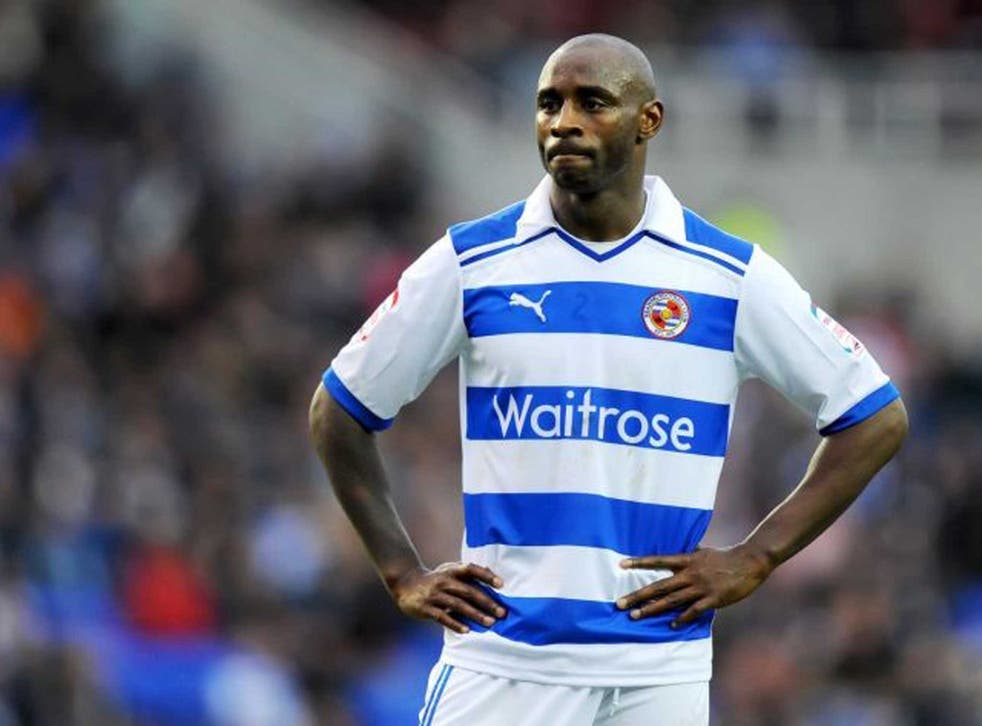 Watching Ryan Giggs spraying passes all over Old Trafford in midweek, it was possible to form the impression that with a little bit of luck and a lot of yoga, footballers can go on for ever; or at least into their fifth decade. In reality, the profession's grim reaper has normally knocked down the door well before that.
So it was with the 36-year-old Reading striker Jason Roberts, who on Thursday finally announced the loss of a battle that had consumed him since picking up an apparently innocuous hip injury 15 months earlier. The official statement looked on the bright side, counting blessings like his "amazing" 17-year career with "fond memories".
In an interview with The Independent on Sunday, however, he detailed how hard it can be to accept that a career is over just as men and women in many other walks of life are beginning to approach their prime.
"You work in the gym for over a year on the assumption that you want to get back playing," he said. "And it was only a couple of months ago when we had our latest setback that I started to recognise that this was not going to work. You keep breaking down, and mentally that's really tough to take – you're so close, but so far."
Confusingly for supporters, all this had stemmed from a match at Southampton in December 2012, when he completed the 90 minutes. "I was feeling what seemed to be a problem in the groin area, but I took three or four big hits that game and although I stayed on the pitch, the next day I couldn't walk."
Treatment would typically start in the early morning with "yoga, the swimming pool, rehab, treatment, more rehab – six days a week". A first operation involved having bone shaved away from the ball of the hip, which was then micro-fractured to encourage growth of the cartilage.
An enthusiastic communicator on Twitter, Roberts kept his 105,000 followers up to date with every sign of improvement, but inevitably in that medium there was abuse as well. "Of course there's frustration from people who wanted me out on the pitch, but believe me they were no more frustrated than me.
"There seemed to be less sympathy for someone who finishes a game and then is missing for a year, whereas if people had seen me carried off with a broken leg, there would maybe have been more understanding. But it's hard not to be offended if someone accuses you of not wanting to play. Why would you not play if it was at all possible?"
The routine of home life, dressing room and the football week was replaced by continued uncertainty. "As a footballer, there's always a short-term aim, a game coming up Wednesday or Saturday," he said. "Take that out and the days merge into weeks and months. It's been part of my life since I was 10 years old.
"It's hugely difficult as well, having to watch while your team-mates train and go out and play, and missing all the dressing-room camaraderie. In the last year I felt like a ghost because I couldn't contribute. And I've not been great to deal with at home either, I'm sure."
There will be sympathy from those team-mates – if only on the basis of "there but for the grace of God" – but according to Roberts' experiences, surprisingly little emotion. "The culture in football is 'the king is dead, long live the king'. There isn't a long goodbye. I've seen players who have been at a club for 10 years, who've become legends there, saying 'right, I'm off, boys'. One handshake and that's it, gone. I don't think there'll be any big parties or tears, and I understand that."
In some ways the last few weeks have been the easiest, once the final outcome was accepted. He has been able to look forward more positively to the rest of his life, building on some of the bricks he had put in place, including the Jason Roberts Foundation, which supports young people in Grenada – the Caribbean Island he represented on 10 occasions – and his childhood district near Wembley; media work; and recently passing exams in corporate governance.
As a member of the Professional Footballers' Association management committee and an anti-racism campaigner, he has been vocal in criticising the Football Association and the organisation Kick It Out over issues like the John Terry case and now says: "It's an important moment, a time for change. The FA Commission is a good idea but the composition of it was a huge disappointment.
"A high proportion of the youngsters in the English game are from the BME [Black and Minority Ethnic] community. So you'd think diversity and equality would be at the heart of what we're looking at."
However, stepping out for the second half of his life in civvies rather than football kit, he wants to emphasise gratitude. "I feel blessed that I've been able to play at the level I have since non-League football with Hayes. These things happen to 19-year-olds. I couldn't imagine what that's like, having it all taken away at that age. Who am I to complain? I've had a fantastic time."
Register for free to continue reading
Registration is a free and easy way to support our truly independent journalism
By registering, you will also enjoy limited access to Premium articles, exclusive newsletters, commenting, and virtual events with our leading journalists
Already have an account? sign in
Register for free to continue reading
Registration is a free and easy way to support our truly independent journalism
By registering, you will also enjoy limited access to Premium articles, exclusive newsletters, commenting, and virtual events with our leading journalists
Already have an account? sign in
Join our new commenting forum
Join thought-provoking conversations, follow other Independent readers and see their replies